WMATA secures $104 million grant to accelerate transition to zero-emission buses
The secured $104 million grant will not only facilitate the conversion of bus garages but will allow WMATA to procure new battery electric buses, while also fostering workforce development and training initiatives.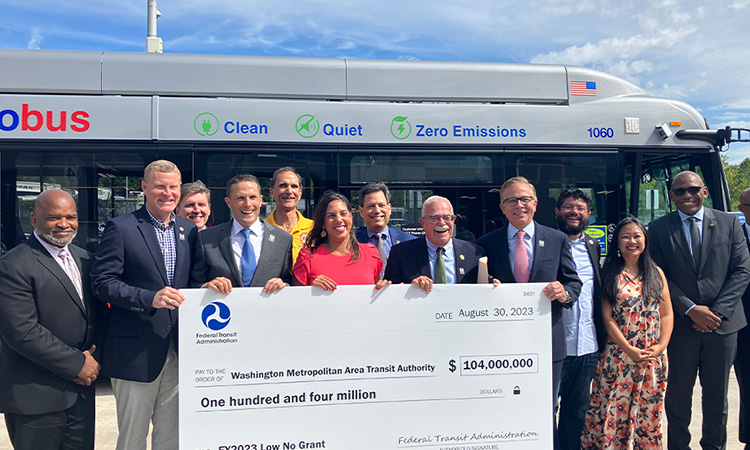 Credit: Washington Metropolitan Area Transit Authority
The Washington Metropolitan Area Transit Authority (WMATA/Metro) has announced that it has secured a $104 million grant from the Federal Transit Administration (FTA). These grant funds will be directed towards the transformation of the Cinder Bed Road Bus Garage, exclusively dedicated to accommodating battery electric buses.
Part of the Low or No Emission Vehicle programme, this grant is a pivotal component of WMATA's ambitious plan to convert nine bus garages and approximately 1,600 buses to zero-emission vehicles by 2042. 
WMATA has teamed up with Fairfax County to re-shape the Cinder Bed Road facility into a hub for eco-friendly buses. The facility will also accommodate the county's all-electric bus rapid transit (BRT) service, anticipated to run between Fort Belvoir and the Huntington Metrorail Station by 2030.
In addition, the grant covers the procurement of battery electric Metrobuses for the region. Furthermore, the funds will support workforce development and training initiatives, ensuring a skilled workforce to manage the transition.
"FTA is proud to support WMATA's renovation of the Cinder Bed Bus Garage as it moves toward achieving its ambitious goal to replace its entire fleet with electric buses that run on greener and cleaner fuel sources," said FTA Administrator Nuria Fernandez. "Riders and residents in the capital region can be proud that WMATA is leading the charge."
UITP India and ICCT collaborate to accelerate zero-emission bus transition in Bengaluru
WMATA Board Chair Paul C. Smedberg said: "I'm excited to see electric buses leaving this garage to provide our customers with safe, clean and efficient transit, and look forward to partnering with Fairfax County on their all-electric Bus Rapid Transit service out of this facility."
"Transitioning our bus fleet to zero-emissions vehicles will provide customers with a better experience and help Metro achieve its mission to be a climate change solution for the National Capital Region," said WMATA General Manager and Chief Executive Office Randy Clarke. "We're thrilled to accelerate our transition to zero-emission buses thanks to the support of the FTA, and we look forward to seeing electric buses serving our customers in the near future."
WMATA has already received the first two out of 12 battery electric buses planned for its initial zero-emission bus phase. These buses will serve various routes across DC, Maryland and Virginia, with a focus on marginalised communities.
The grant's impact extends beyond WMATA's fleet, encompassing charging infrastructure, facility upgrades and bus acquisitions. The agency is constructing new bus garages, including the Northern, Bladensburg and Western locations, designed to accommodate zero-emission buses.