Transdev UK launches reduced fares to maintain boost in bus ridership
In order to maintain and promote bus ridership, Transdev will continue to offer Lancashire's residents with its £1 after 19:00 single journey fare, along with a series of fare reductions across West Yorkshire and Greater Manchester.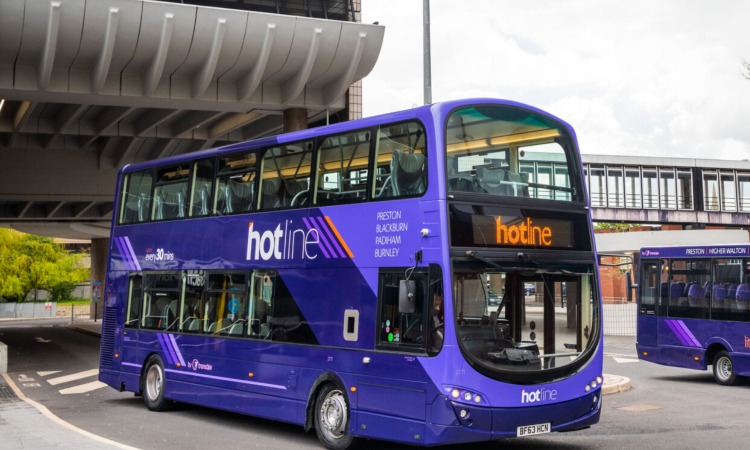 Credit: Transdev
Transdev in northern England has announced that its £1 after 19:00 single journey fare – introduced during the COVID-19 pandemic to attract more customers back to bus – is to continue in Lancashire after it sold a million tickets in 14 months and boosted evening bus ridership by 72 per cent across the county.
As a result, any journey wholly within Lancashire after 19:00 on buses run by The Blackburn Bus Company, The Burnley Bus Company and Rosso – including Burnley to Preston, or Blackburn to Rawtenstall – will still be only £1.
This news follows a review of Transdev's fares, as it prepares for October's launch of cheaper one-way and all-day multi-operator tickets in West Yorkshire and Greater Manchester.
Transdev's reduced flat fare for any single journey on any evening after 19:00 was first launched by the bus operator during the COVID pandemic in June 2021, as part of a package of measures designed to encourage more people to get out and about across the region.
Early reaction proved positive with numbers on-board during 2021 reaching 85 per cent of pre-pandemic levels – having significantly fallen to just five per cent at the peak of the first lockdown in March 2020.
Greater Manchester becomes first major conurbation outside London to cap bus fares
Transdev UK's Commercial Director Paul Turner said: "We originally planned it to continue until the end of September 2021, but as it was clearly helping to attract more people back to our buses, we extended it to the end of last year and kept it going through 2022. The popularity of the offer is such that we can now carry on with it for evening journeys in Lancashire. In West Yorkshire and Greater Manchester, the new £2 one-way and £4.50 all day tickets will represent a significant price reduction for many of our customers. We hope that these lower fares will prove popular and will help many people to continue enjoying everything the region's town and city centres have to offer."
From 4 September 2022, in partnership with Mayor Andy Burnham and Transport for Greater Manchester, all journeys wholly within Greater Manchester will cost no more than £2, with the any bus, any time System One day ticket also reduced to £5.
In addition, from the same date and working with the Mayor of West Yorkshire Tracy Brabin and the West Yorkshire Combined Authority, all journeys on Transdev's buses within West Yorkshire will cost no more than £2 – with the any bus, any time Day Saver ticket also reduced to £4.50.
Furthermore, Transdev's popular range of seven and 28-day tickets, including KZONE and Leeds Bradford passes, will continue to be available and offer savings for commuters who only need to use its buses to make regular journeys.