Seattle unveils ambitious green transportation plan
Seattle has unveiled a comprehensive plan to move towards greener transport in the city, including the introduction of 'Green and Healthy Streets' and aiming for 100 per cent of shared mobility trips to be zero emissions.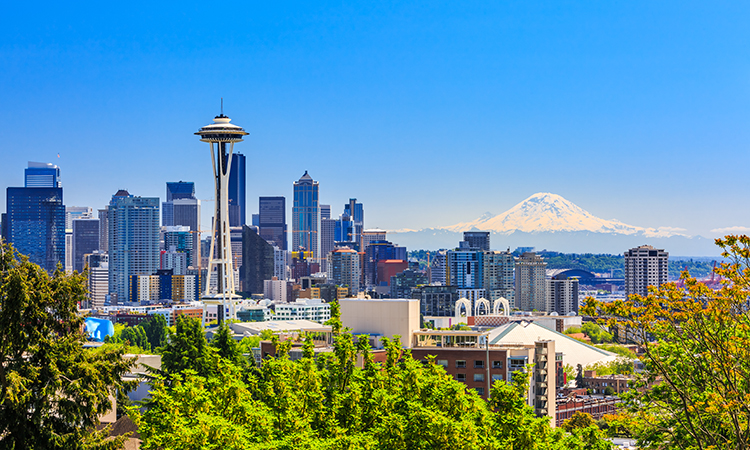 The plan involves 100 per cent of shared mobility journeys in Seattle being zero-emissions by 2030 emissions
The City of Seattle has released a city-wide plan, which it says outlines how the city will move towards a more sustainable transportation system in order to reduce climate emissions and air pollution, increase electric mobility options, and create a pipeline of green jobs and workforce diversity. 
"Right now, as our city and residents recover from the COVID-19 pandemic, we have the opportunity to build our city back better to prioritise our residents' health, safety, and quality of life," said Mayor Jenny A Durkan.
"While the city is committed to reducing car trips, these efforts alone are not enough to meet our climate goals – we must electrify everything that moves people, goods, and services in and around Seattle. By banning natural gas in buildings and electrifying our transportation system, Seattle can lead the nation in reducing our emissions and addressing climate change."
According to the Mayor's Office, transportation is the number one source of greenhouse gas emissions in Seattle. This degrades air quality and contributes to water pollution, all of which disproportionately harm Black, Indigenous, and People of Colour communities, according to the Mayor.
This effort was co-led by the Office of Sustainability and Environment, Seattle City Light, Seattle Department of Transportation, and the Office of Economic Development to incorporate a wide range of expertise in climate policy, innovation, infrastructure, transit, mobility, economic development and workforce development to ensure an equitable transition. 
"Seattle's Transportation Electrification Blueprint is a comprehensive, cross-cutting effort of multiple city departments working together to set ambitious 2030 policy goals and near-term actions to electrify Seattle's transportation system," said Amanda Eaken, Director of Transportation, NRDC, American Cities Climate Challenge. "This bold plan is a model for cities across the nation to follow." 
The Transportation Electrification Blueprint calls for the Washington city to take immediate action to plan for the policy-changes, infrastructure investments, and partnerships that will be required to meet these ambitious 2030 goals for the city: 
100 per cent of shared mobility to be zero emissions  – as services such as bikes, scooters, taxis, Uber, Lyft, carshare services and others continue to expand in Seattle, the city will ensure those options are electric and emissions free. 
90 per cent of all personal trips to be zero emissions  – To reach its climate goals, by 2030 nine out of ten trips must be taken by walking, biking, electric transit or in an electric vehicle (or avoided all together). 
One or more 'Green and Healthy Streets' in Seattle   – Seattle will ensure a major area of its city will have zero emissions from transportation including streets or blocks that are closed to cars and promote walking, biking, electrified transit, and electric goods delivery and services. 
Electrical infrastructure required to stay ahead of Transportation Electrification adoption is installed and operational – Infrastructure investments will enable a rapid transition to an electrified transportation system. Seattle City Light will work strategically to make sure the grid is reliable and built to enable rapid adoption of emerging electric transportation technologies and vehicles.   
"Seattle has a vision for a fossil-fuel free future, where the air is clean and our communities thrive. People will take electric buses, ferries, or light rail to work, shopping and other destinations," said Andrea Pratt, Climate and Transportation Program Manager with Seattle's Office of Sustainability and Environment. 
"A robust bike lane network will make it easy for to use bikes, e-scooters, or walk. Ships at port are plugged in, every package delivered to your doorstep comes on an electric van, truck or e-bike. Silent, clean, electric trash and utility trucks will service neighbourhoods. This is a future we all deserve, and through this Transportation Electrification Blueprint, we're ready to get to work."