GTR trials app to enhance assistance for blind and partially sighted passengers
By providing innovative solutions like the Aira app, GTR aims to empower and enable all individuals, regardless of their disabilities or need for assistance, to travel across its rail network with confidence.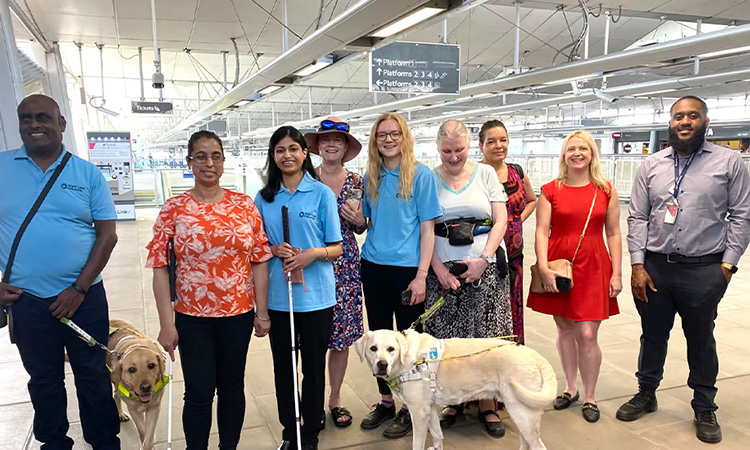 Credit: Govia Thameslink Railway
Govia Thameslink Railway (GTR) has announced that it is conducting a trial to enhance accessibility on the region's rail network. The trial involves the use of a mobile app that connects blind and partially sighted individuals to remote advisors who assist them in navigating railway stations using their smartphones' cameras.
Passengers at Brighton, Stevenage, London Blackfriars and East Croydon can seek help from advisors via phone, who can assist with various tasks, such as checking departure boards, locating platforms, finding staff members, ticket machines, or toilets.
GTR will cover the cost of this service in the four participating stations during the trial. The app, called Aira, is a well-established third-party application available for download on the Apple App and Google Play stores. The roll-out of the trial is being supported by Sight Loss Councils, regional groups of blind and partially sighted volunteers funded by the Thomas Pocklington Trust.
The accessibility of public transport is a significant priority for the councils, as revealed in research conducted during the Thomas Pocklington Trust and Sight Loss Councils Listening Month campaign. The survey found that 65% of blind and partially sighted respondents considered access to public transport to be of utmost importance. 
UK Transport Committee investigates accessibility laws for disabled people
Carl Martin, GTR's Accessibility Lead, said: "We want everyone to have the confidence to travel with us, no matter what their disability or need for assistance, so we're always on the lookout for innovative ways to improve. All our staff are trained to assist our customers, whatever their needs. We hope this app can improve the support we already offer blind and partially sighted customers to put them in control of their journeys."
London Sight Loss Council member Amrit, who is totally blind, shared her experience of using the app to locate the ticket office and the lift: "It was absolutely amazing. For some this could be absolutely life changing, liberating."
David Smith, Sight Loss Council Engagement Manager, said: "We believe everyone should be able to travel independently and safely, and live the lives they want to lead. We are proud of our ongoing work with transport providers to make this happen through developing new ways of working and trialling new apps."
The trial of the Aira app at London Blackfriars commenced on 12 June 2023, with positive feedback from participants like Vidya, who found the experience to be a confidence boost, knowing that someone had been there to ensure their safety and guide them to their destination. The trial represents a significant step forward in making public transport more inclusive and empowering for the blind and partially sighted community.