Madrid City Council increases bus lane network by 6km across eight districts
Madrid City Council's addition of 6km to the city's bus lanes brings the Spanish capital's total network of bus lanes to nearly 200km – reflecting Madrid's commitment to promote public transport use and sustainable mobility.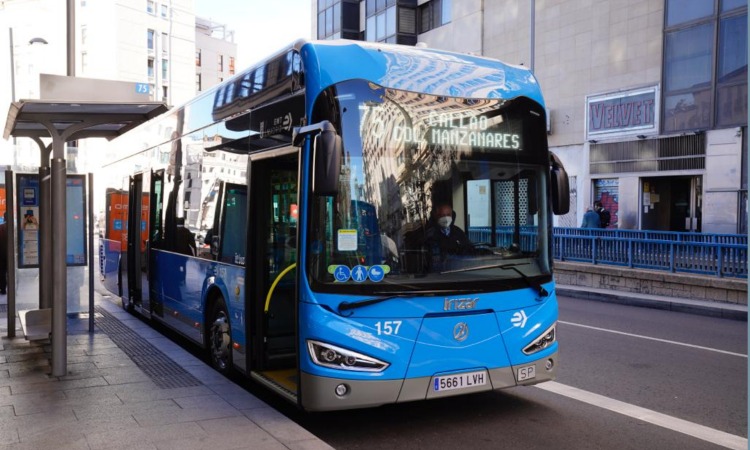 Credit: EMT Madrid
The Empresa Municipal de Transportes de Madrid (EMT Madrid) has announced that Madrid City Council has increased the current network of bus lanes in the city by 6km. This extension will affect 11 streets with high traffic density, spread over eight districts of the capital.
Intended to facilitate the circulation of collective transport, this will have a direct impact on improving the commercial speed of EMT Madrid's buses. With this latest increase, Madrid now has 196.6km of roads reserved for bus lanes.
The implementation of these new sections represents a commitment by the city council to promote both the use of public transport and sustainable mobility that is respectful of air quality, as stated in the Madrid 360 Environmental Sustainability Strategy.
Mayor of Madrid announces historic investment for EMT Madrid
"It is the mandate where more bus lanes have been executed, a key action with which it is intended to improve the public transport service in the city. Madrid has 12 million journeys, and they must necessarily pivot on public transport and on EMT, which carried 1.6 million passengers in the pre-COVID-19 period and now, 1.3 million," said the Environment and Mobility delegate, Borja Carabante.
The new extension of bus lanes will benefit eight districts of the capital, which includes Chamartín, Salamanca, Carabanchel, Chamberí, Latina, Retiro, Moncloa-Aravaca and Tetuán. The plan has prioritised streets with especially high traffic density, such as Goya in the Narváez direction and Isaac Peral Street in the Julián Romea direction and towards Cristo Rey square.
In addition, the new bus lane sections will also improve circulation on other roads, such as Sinesio Delgado in the direction of Paseo de la Castellana, on Calle Velázquez towards Joaquín Costa and on Velázquez in the direction of María de Molina. A 588m bus lane has also been installed on Calle de Serrano in the Pedro de Valdivia direction, in the Chamartín district. On Avenida de los Poblados, 1.5km of bus lanes have been reserved in the direction of the Aluche interchange and in the direction of Eugenia de Montijo Park.