Lime launches 1,000 electric scooters in New York City
As part of NYC DOT's East Bronx scooter sharing pilot programme, Lime will operate 1,000 e-scooters in New York City, with a main focus on safety, equity, sustainability and affordability.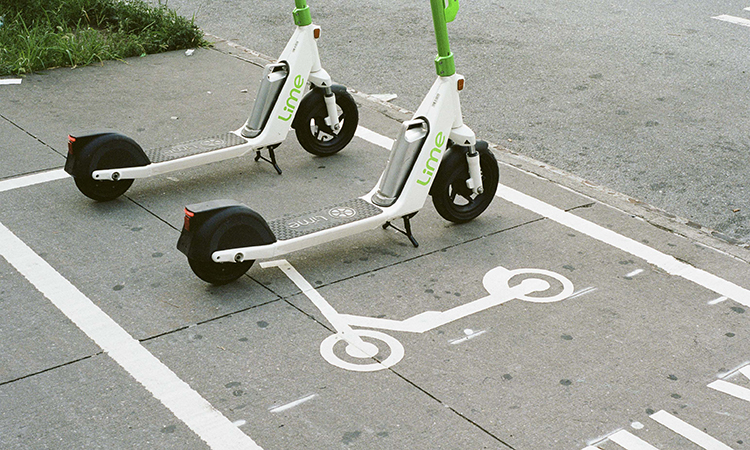 Credit: Lime
Lime has announced the launch of 1,000 electric scooters in New York City as part of the New York City Department of Transportation's (NYC DOT) East Bronx scooter sharing pilot programme.
Lime's operations in New York City will focus on safety and providing an equitable, sustainable, affordable way to get around the city, seamlessly connecting residents to subway stations and bus stops. 
The scooters are accessed via the Lime app, with riders scanning the QR code on the scooter to start a ride. Riders will also complete their rides via the app by taking a picture of the scooter to ensure that it is parked properly – riders will be required to park the scooters within DOT-designated e-scooter corrals in denser areas. The scooters travel at a maximum speed of 15mph, but new riders will be capped at 10mph for their first three rides as they acclimate to the new mode.
Lime scooters will also be available via the Uber app, allowing riders to unlock and use Lime vehicles within the Uber app and drastically increasing the reach and functionality of Lime scooters in New York City. 
"Lime is honored and grateful to once again serve New Yorkers, and we're excited to get rolling with shared electric scooters in the East Bronx," said Lime's CEO, Wayne Ting. "Today is the culmination of years of community outreach, establishing trust and building meaningful relationships to finally bring a shared scooter programme to New York City, and we look forward to continuing to earn the trust of all New Yorkers over the coming months and years. Our scooters will provide East Bronx residents and visitors with safe, affordable and accessible transportation to get around their neighbourhoods, all while reducing congestion and connecting people to public transit. We're laser-focused on operating a safe and equitable micromobility programme in the greatest city in the world, as we hope to demonstrate to cities globally the tremendous benefits of shared electric vehicles in revolutionising transportation." 
The electric scooters add to Lime's fleet of shared electric mopeds, which launched April 2021 and operate in Manhattan, Brooklyn, Queens and the Bronx. Lime's launch of electric scooters makes it the only multi-modal micromobility operator in New York City.
This is not Lime's first time operating micromobility in New York, as it previously provided shared electric bicycles as part of NYC DOT's dockless bike share pilot programme in the Rockaways and Staten Island, serving more than 300,000 trips.
Lime hosted a series of six safety training sessions in summer 2021 as part of an extensive community outreach programme in the East Bronx that was focused on safety and equity. Lime's demos at the Pelham Houses, Eastchester Gardens and West Farms provided tips on safe, responsible riding and proper parking techniques to more than 100 Bronx residents. Lime also encouraged eligible residents to sign up for its equity pricing initiatives, Lime Aid and Lime Access, which provide discounts to frontline workers and all residents receiving state, local and/or federal assistance, respectively. 
Over the past three years, Lime has worked with advocates, legislators, delivery workers and community partners to legalise electric scooters on New York streets, both at the state and local levels, leading to state legislation in 2020, followed by the introduction of a pilot programme at the NYC Council. In applying to take part in the pilot programme, Lime put forward a comprehensive vision for what a world-class scooter programme could look like in New York – which is one of the few remaining global cities without shared scooters – prioritising safety above all else. 
As it does in every city that it operates in, Lime also prioritised equity in its proposal to ensure that historic underinvestment in racially and socioeconomically diverse communities were not barriers to accessing sustainable transportation options. Additionally, Lime strove to guarantee access for persons with disabilities, extend opportunities for workforce development to local residents, build connections to transit and educate residents about proper parking. Lime led the way in community outreach, working for years to build meaningful relationships with leading community-based organisations and advocates in the East Bronx and around the city. Lime partners with BronxWorks to hire locally and is currently building a team of as many as 50 to 60 local hires.
New York's decision to award Lime a permit for its e-scooter pilot programme is the latest in a series of permit awards for the company from major cities around the world over the past year. Lime's differentiated approach, operational excellence and its extensive track record of being a reliable partner to cities has earned the leading micromobility operator permits in Paris, Chicago, Seattle and Denver – the biggest cities to run competitive permit processes, often with more than a dozen applicants. Lime is now the only micromobility company to operate in all of the world's biggest cities with e-scooter or e-bike programmes, also including London, Berlin, Rome, Seoul, Sydney, Los Angeles, Madrid and San Francisco. 
Safety
Safety is Lime's top priority, which is why riders' first three scooter rides will begin in training mode, capping their speed at 10mph as they acclimate to riding scooters. Lime encourages riders to wear helmets and ride either in bike lanes or to the right of car traffic. Riding on sidewalks is prohibited, and Lime will use its geofence technology to prevent scooters from being ridden in restricted areas, as well as outside of the pilot zone. 
Lime partnered with the League of American Bicyclists to develop a safety quiz that riders will be required to complete before their first ride. Lime will be constantly evaluating its programme in order to improve safety initiatives in real time and will continue to hold its signature First Ride Academy safe riding lessons, as well as educate its riders via email, in-app messages and more. 
Equity
Equity was at the heart of Lime's plans for New York City from the beginning. Through its Lime Access programme, it will provide free 30-minute rides and $.04/minute thereafter to New Yorkers receiving public assistance, Pell Grants or unemployment, Fair Fare participants, SSDI recipients and all NYCHA residents.
In addition, Lime offers text-to-unlock options for those without smartphones and cash and alternative payment methods for the unbanked. To support the New Yorkers who got the city through the pandemic, Lime also instituted its Lime Aid programme to provide significant discounts to frontline workers, teachers, people in the performing arts, non-profit and hospitality sectors, as well. 
Sustainability
Lime will help New York City to achieve its OneNYC2050 goal of achieving carbon neutrality. Lime will provide New York City with a certified 100 per cent carbon neutral fleet, certified through the globally respected Carbon Neutral Protocol. Lime's Gen4 E-Scooters are anticipated to last at least five years, and its Gen 3 have lasted two years in the field and are still in use. Its service is powered by 100 per cent renewable energy, zero emissions operations, extensive repair and reuse of scooter parts and the systematic reuse and then recycling of materials and batteries. Lime is also working with Uber on a global sustainability initiative to encourage everyone to ride green as often as possible. 
Accessibility
Lime will offer a library of accessible vehicles, available on-demand, and use its technology and operational excellence to prevent interference with public rights-of-way. Lime worked with disability advocates and community leaders to develop its New York City E-Scooter programme, as well as the development of its accessible vehicle library, and they will continue to advise Lime throughout the duration of the pilot. Through its one-of-a-kind Lime Able programme, it will offer an on-demand suite of adaptive vehicles. The vehicles will be available for free daily rental in-app, by phone or at community organisations.