An insight into the UK shared e-scooter trials
Intelligent Transport's Sam Mehmet gives an overview of some of the confirmed participants in the UK's shared e-scooter trials, and hears from those with plans to take part in the near future.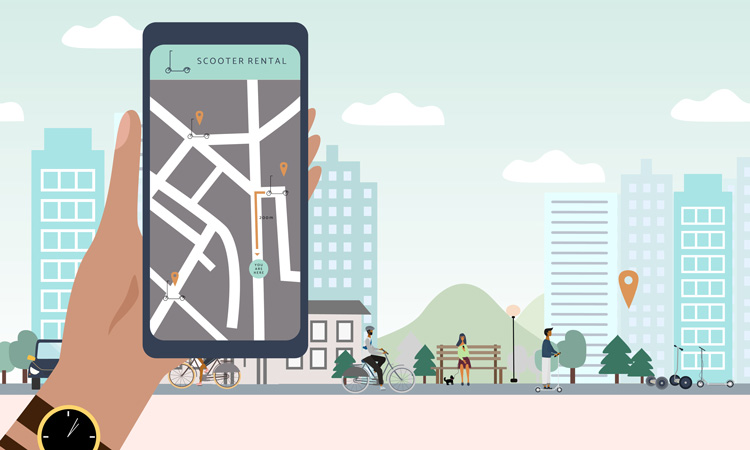 On Saturday 4 July 2020, new regulations allowing the trials of rental e-scooters came into force in the UK. Originally planned for 2021, the decision was made to bring the regulation forward as a way to boost the green recovery from the pandemic and to help mitigate the impacts of the ongoing climate crisis.
The Department for Transport (DfT) hopes that the trials will help to understand whether e-scooters can truly reduce motor traffic in the UK and be efficiently integrated into existing networks, as well as assess their safety implications for riders, pedestrians and other road users.
"E-scooters may offer the potential for convenient, clean and cost-effective travel that also help ease the burden on the transport network, provide another green alternative to get around and allow for social distancing," said Transport Minister Rachel Maclean. "The trials will allow us to test whether they do these things."
Regulation
For e-scooters to be permitted in the UK trials, they fall within the statutory definition of a motor vehicle. Alongside riders having to meet certain criteria, the DfT defines the sub-category of an e-scooter as being a motor vehicle that:
Is fitted with no motor other than an electric motor with a maximum continuous power rating of 500W and is not fitted with pedals that are capable of propelling the vehicle
Is designed to carry no more than one person
Has a maximum speed not exceeding 15.5mph
Has two wheels, one front and one rear, aligned along the direction of travel
Has a mass including the battery, but excluding the rider, not exceeding 55kg
Has means of directional control via the use of handlebars that are mechanically linked to the steered wheel
Has means of controlling the speed via hand controls and a power control that defaults to the 'off' position.
The first trial
Now, fast forward to September 2020 and the first rental e-scooter trial is well underway. Middlesbrough saw an initial fleet of e-scooters rolled out with the operator, Ginger, responsible for device charging.
Paul Hodgins, CEO of Ginger, said: "We are extremely proud to be working with Tees Valley to introduce e-scooters to the UK. With all the pressures on transport from climate change, air pollution, congestion, and now COVID-19, we urgently need better options for getting around. Smaller e-vehicles, including e-scooters, provide those better options, and will become a major part of local transport in the years to come. The UK needs to be a leader in micro e-mobility, and it is great that Tees Valley and Middlesbrough have shown the ambition to lead within the UK. Ginger shares that ambition."
E-scooters may offer the potential for convenient, clean and cost effective travel that also help ease the burden on the transport network
However, despite initial welcomed press, not all has been positive as the trial progressed. According to The Independent1, a second pilot due to launch on 15 July in nearby Hartlepool had to be postponed amid misuse of vehicles in the initial pilot. There were reports of e-scooters being used on busy dual carriageways and through shopping centres, provoking concern amongst local MPs and residents.
Ginger has reportedly said it is still planning on launching the next trial, but has not yet confirmed a date.
Confirmed and future trials
Despite these uncertainties, operators from across the world have been announcing their hopeful involvement in future trials. The likes of Bird, Lime, TIER, Beryl, Wind, Zipp Mobility, ZWINGS, Spin and Voi have all hinted at or announced their entry into the UK arena.
In order for operators to be considered, the DfT has been assessing scooter models and policies in order to confirm their eligibility for the trials. The government body noted that local areas must "work openly" with e-scooter operators and ensure that processes are put in place to assess, select, and procure the right services from them.
Voi
Stockholm-based Voi recently announced that it has secured a 12-month trial in Cambridge, in partnership with Cambridgeshire and Peterborough Combined Authority, to operate the "first large-scale trial". It also announced an exclusive trial period in Northampton and Kettering in partnership with Northamptonshire County Council and an exclusive contract for the West Midlands where it will work with Transport for West Midlands to bring e-scooters to Birmingham, Coventry, Kenilworth, Sandwell (West Bromwich), Solihull, Walsall, Wolverhampton and Warwickshire. The trial will cover the largest market in Europe awarded by tender to a single operator. 
Voi will begin to roll out scooters in September and has committed to working closely with local transport providers. Richard Corbett, GM of Voi UK and Ireland, told Intelligent Transport: "We are confident that the trials will demonstrate to everyone, including policymakers, commuters and potential leisure users, that e-scooters can transform the way we move around cities.
"People are keen to get out of their cars and want greener transport choices. Cities that are serious about cutting pollution and congestion see that this is a huge opportunity to introduce a mode of transport that can radically improve how we travel around urban areas.
COVID-19 has been hugely detrimental for communities and economies, but it has allowed us to plan for a greener and more environmentally friendly recovery
"During the trials we will demonstrate that e-scooters are not only convenient but also sustainable. We have three e-scooter models approved by the DfT including Voiager 3X, our latest model, which has a swappable battery which is a break-through technology in that emissions are 50 per cent lower when used, due to the reduction in trips necessary for charging and maintenance. We have also pledged to make 20 per cent of all the materials used in our scooters recyclable and will use only electric vehicles for charging and maintaining the fleet.
"The pandemic has put huge strain on public transport. At the same time, it has encouraged people to get out and about with more cycling and walking, which has resulted in temporarily falling emissions in the region's cities. While there remains a need to get people back to work with social distancing, e-scooters can alleviate the strain and allow people who are anxious about being in crowds to travel with greater confidence for short journeys."
Spin and Lime
Milton Keynes Council has selected Spin – Ford's micromobility unit – and Lime to provide e-scooters for public hire across the town. Cabinet Member for Sustainability, Cllr Lauren Townsend, said: "While the grid roads and general layout in MK helps to keep our air quality high, transport is undeniably one of the UK's most polluting sectors. We have ambitious plans to make MK a leading green city, and that includes showing other areas what can be achieved with a bit of innovation. It's great that we're home to the country's first large scale e-scooter trial, following on from our track record with shared e-bikes and autonomous delivery robots. I hope lots of people give the e-scooters a try so we can learn what's possible and share our findings with others."
Lime has deployed approximately 500 scooters in Milton Keynes, and Spin has confirmed that it is applying for a number of other tenders for the local trials in order to expand the company's presence including West of England, Oxford, Solent and Canterbury.
With recently announced plans to become carbon negative by 2025, Spin views the Milton Keynes trial as an opportunity to implement some of its forward-thinking environmental and sustainability goals, including utilising Ford's Transit plug-in electric hybrid vehicles to collect and recharge its e-scooter fleet over using diesel vans.
Bird
American-based firm Bird announced in mid-July that the DfT also approved its Bird One scooter model to be used in local micromobility trials throughout the UK.
"We're honoured to bring our robust operational experience and unrivalled vehicle engineering to the UK," said Caroline Hazlehurst, Bird's Vice President of operations in Europe. "Transport Minister Maclean has made it clear that safety and sustainability will be at the core of the upcoming micromobility trials, and the decision from the DfT demonstrates our readiness to help local governments respond to these critically important issues."
With the DfT's approval now given, Bird said it will be ready to announce its first trial launch in the UK in the very near future.
Wind
European firm Wind also announced that the DfT granted a Special Vehicle Order for its Wind 3.0 e-scooter model, allowing it to operate in the UK trials. Wind's permanent license has now been granted, with Eric Wang, Wind Mobility's CEO and Founder, explaining that the firm's e-scooters are "well-suited for the upcoming trials across the UK." The firm also announced that it will integrate helmets into its service to ensure added safety precautions for riders.
The UK needs to be a leader in micro e-mobility
"The integrated helmet that will be introduced to the UK market is another milestone in creating the safest e-scooter out there," Wang said.
"In light of COVID-19, we have been seeing increased demand for micromobility in all our markets, and cities welcoming e-scooters as an alternative mode of transport that allows for social distancing," he continued. "Certainly, also in the UK, COVID-19 has accelerated the setup of the e-scooter trial programme and we are looking forward to working with UK councils in providing a healthy and sustainable solution over the next 12 months and beyond."
TIER
Fred Jones, General Manager UK of TIER, told Intelligent Transport: "We very much welcome the government's decision to introduce e-scooter trials in the UK and we are currently involved in tenders with cities up and down the country. We believe that e-scooters can bring huge benefits to our cities, but only if delivered in a responsible way, and we want to work closely with local authorities, TfL and DfT to ensure that these trials are both safe and successful.
"COVID-19 has been hugely detrimental for communities and economies, but it has allowed us to plan for a greener and more environmentally friendly recovery and e-scooters can play an important part in this, helping people to travel in a more sustainable way, while being an addition to public transport that allows for social distancing."
Conclusion
Across the UK, more than 50 councils and regional authorities are in the process of planning and putting in place e-scooter pilots. Cities including Liverpool, Coventry, Wolverhampton, Dudley, Milton Keynes and Southampton are said to be amongst those expressing interest. Discovering whether these all come to fruition, and whether they are ultimately deemed a success, is simply a matter of time.  
Reference 
1. https://www.independent.co.uk…
Disclaimer
Information correct at time of writing.