Meet LECIP at the ITS World Congress 2019
LECIP is pleased to be showcasing the next generation PIS system and Validator at Stand 515 during the ITS World Congress in Singapore on 21-25 October 2019.
Next Generation PIS system
Last year, LECIP provided an upgraded Passenger Information Display System (PIDS) for 50 newly launched Diesel Hybrid Single-deck Buses to Land Transport Authority (LTA) of Singapore. The PIDS receives bus information from the LTA backend server, to provide exterior and interior display content, such as Bus Service Destination, upcoming 3 Bus Stops Information, Digital Clock and upcoming bus stops with MRT Stations, indicating MRT Service Lines and the number of bus stops away from a current bus stop. To enhance passenger travelling experience further, there will be Audio Announcement for exterior and interior passengers at various locations during the bus trip.
LECIP believes that such an informative and enhanced system, inclusive of Electronic Destination Signs (EDS) and LCD Display Panels, will connect people and places in a convenient and efficient way.
Today, LECIP is working on developing our next generation system to provide more information to passengers, together with our partners, as a one-stop-solution provider for buses.
Next Generation Validator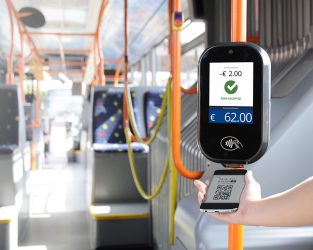 LECIP launches its new LV-700 validator taking clients to the next level of Automated Fare Collection Systems. The LV-700 series is designed for fast and smooth cashless payments, with a high-speed processor and large capacity memory for demanding ticket data processing. It supports various types of media such as ISO14443 A/B standard, EMV contactless (L1), QR/Aztec and 2D bar code and ISO 18092 (NFC Forum Reader/Writer mode).
For easy integration, the LV-700 series comes with an extensive Software Development Kit (SDK) and LECIP's software libraries gives great time efficiency for developers.
LECIP will continue to support public transportation by providing a customised solution to help make bus operation more comfortable.
Related organisations
Lecip