Rotterdam orders six additional Light Rail Vehicles for metro system
Posted: 22 December 2015 | Katie Sadler, Digital Content Producer, Intelligent Transport | No comments yet
Rotterdam Transport Company (RET) has ordered six additional Bombardier FLEXITY Swift Light Rail Vehicles (LRVs) in an agreement worth €26.1 million. RET have exercised an option included in a contract for 42 vehicles signed with Bombardier in December 2007. The delivery of the six additional vehicles is scheduled for 2017. The vehicles will be part […]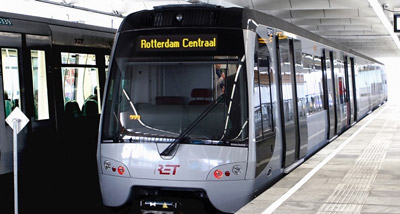 Rotterdam Transport Company (RET) has ordered six additional Bombardier FLEXITY Swift Light Rail Vehicles (LRVs) in an agreement worth €26.1 million.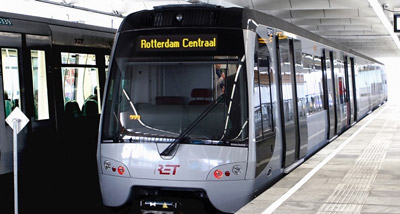 RET have exercised an option included in a contract for 42 vehicles signed with Bombardier in December 2007. The delivery of the six additional vehicles is scheduled for 2017.
The vehicles will be part of the RandstadRail fleet to increase frequency on line E of the metro network between The Hague and Rotterdam. Bombardier has previously delivered 81 metros to RET between 1998 and 2002, 22 vehicles for the new RandstadRail line and 42 vehicles for the existing metro lines between 2008 and 2012. An additional 16 vehicles were ordered in 2014 for the Hoekse Lijn and and will be delivered by the end of next year.
Additional Light Rail Vehicles will increase frequency on RandstadRail line E
Each vehicle is 43 metres long consisting of three modules which can accommodate up to 270 passengers (104 seated and 166 standing). The interior incorporates two multi-purpose areas which provide ample space for wheelchairs and prams while seven double doors on each side of the vehicle ensure a smooth passenger flow. A modern passenger information system also provides passengers with relevant travelling information.
Pedro Peters, CEO RET said, "The metro in Rotterdam is becoming more popular every year. This success shows that our clients appreciate its high frequency and comfort. Metro line E from the Hague to the south of Rotterdam is our latest connection. When we started this line in 2006 it was used by 10.000 travellers per day. Nowadays up to 39.000 travellers per day use it. We need these six extra metros to increase the frequency on the line and to offer comfortable vehicles."
Carsten Bopp, Head of Light Rail Vehicles, Bombardier Transportation, commented, "This fourth order underscores RET's confidence in our proven FLEXITY vehicles and constitutes yet another milestone in our long-standing and successful partnership. Together with RET, we have developed a metro which can be adapted to perfectly meet operator and passenger demand and help relieve congestion in the conurbation of Rotterdam."