TfWM introduces drone team to reduce traffic congestion
Transport for West Midlands' drone team will help combat traffic congestion and enhance public safety by providing real-time footage and filling coverage gaps in the region's existing CCTV network.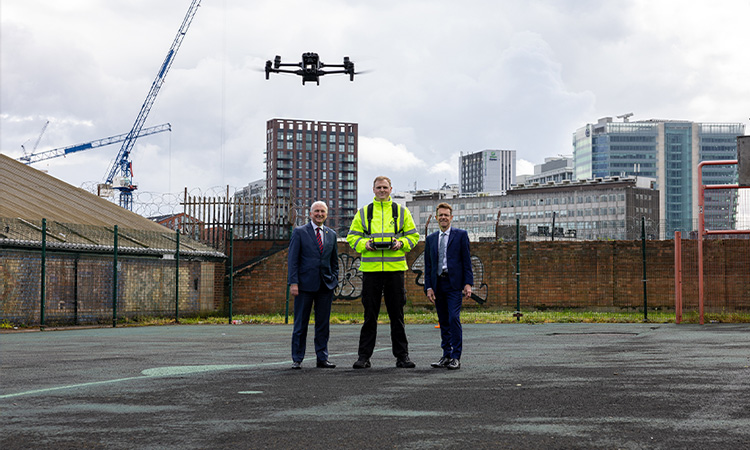 Credit: Transport for West Midlands
Transport for West Midlands (TfWM) has announced that it has introduced a drone team to aid regional transport managers in tackling traffic congestion. These drones will fly over congested areas, accident scenes and road closures, providing live footage to transport managers to help them plan diversions and keep the public informed about traffic conditions.
TfWM's Regional Transport Coordination Centre (RTCC) acts as a hub for various transport authorities, agencies and operators, ensuring smooth transportation during major events and incidents. 
While the RTCC and Safer Travel Command Centre already receive images from over 2,500 fixed CCTV cameras covering major road, rail and tram networks in the West Midlands, coverage gaps exist. These gaps prevent monitoring traffic congestion in some areas. The drone team aims to fill these gaps by relaying live images to the command centre, providing a cost-effective alternative to static CCTV cameras.
This new capability allows for better traffic management during incidents and enables the provision of accurate and timely advice to the public through its social media channels.
The drone team, funded and managed by TfWM, may also be made available to emergency services, enhancing public safety. Drones have been deployed in Birmingham, Coventry, Walsall and Sandwell to identify road network issues.
Exploring the future of transportation in Coventry: The journey towards autonomous vehicles and beyond
The drones' panoramic overviews have proven instrumental in managing and minimising congestion at junctions. In an upcoming trial, an automated drone system will be tested, launched from the roof of Walsall Bus Station in collaboration with drone safety specialists Skybound Rescuer. This trial would be the first of its kind in the UK. Five staff members have been trained to pilot the new drones, including transport safety officers and members of TfWM's network resilience team.
To enhance capabilities, the drone team has added three new drones to its fleet, including the state-of-the-art DJI Enterprise M30T. Equipped with a thermal image camera and x200 zoom, this drone can operate for up to 35 minutes in adverse weather conditions such as rain and strong winds.
Andy Street, Mayor of the West Midlands and WMCA Chair, said: "Since it was launched three years ago, our Regional Transport Coordination Centre has been at the forefront of innovation in transport management – playing a major role in the success of last summer's [2022] spectacular Commonwealth Games. Now we're building on the existing provision of hundreds of CCTV cameras covering our road, rail and tram networks by bringing drone technology into our repertoire to further improve coverage."
Kerry Blakeman, Accountable Drone Manager for TfWM, said: "We want the public to know what we're doing and the reason why. So we record all our flights on www.dronesafetymap.com, which allows the public to see why we're in their neighbourhood and helps improve safety as other drone pilots can also use this map. We are constantly looking to develop the capacity and improve the quality of information available to our transport co-ordination centre, which is why we have launched this trial at Walsall Bus Station."