National Express trials innovative mirrorless coaches in the UK
In addition to improving visibility for coach drivers, the use of a camera monitoring system instead of wing mirrors will help remove blind spots, give improved night vision and reduce the risk of minor collisions.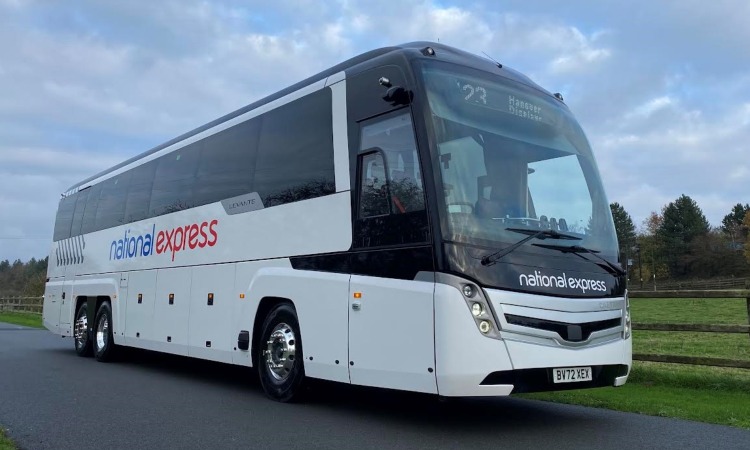 Credit: National Express
National Express has announced that it is trialling a state-of-the-art camera monitoring system (CMS) in place of conventional wing mirrors on its coaches. The latest innovation in safety is set to hit roads across the UK in the coming months. 
The CMS will help improve visibility around the coach, remove blind spots, give improved night vision and reduce the risk of minor collisions. Furthermore, the removal of wing mirrors will also help improve fuel efficiency, due to the slick aerodynamic design.
Other new features of the Levante IIIA are electric driver alerts, drawing drivers' attention to potential hazards, such as vulnerable road users or obstructions within the blind spot area. The cab design has also improved, enabling drivers to easily navigate controls such as heating/air-conditioning and wheelchair lift deployment.
Over the coming months, the coach operator will have two of the new vehicles on trial, working with partner operators Clarkes of London and Bruce's Coaches to run a range of short, medium and long-distance routes.
Rear-view cameras: Promising technology now road testing in Montréal
Tom Linnecor, Head of Engineering at National Express, said: "Working closely with Caetano, the majority of the latest changes implemented have stemmed from feedback from our drivers and engineers. In addition to improved visibility for drivers, the mirrorless coaches will also deliver significant fuel savings."
The camera monitoring system consists of two internal monitors, with two external cameras mounted in the area where the usual mirror brackets would be located. Both monitors contain an ambient light sensor which adjusts the brightness depending on the environment. In addition, a third camera known as the 'kerbside' view will soon be available and will enable a direct view of the front of the vehicle.
The blind spot warning is a function that alerts the driver if a vehicle is positioned in the blind spot. This system is designed to reduce the risk of accidents caused by a lack of visibility in this area. The approaching vehicles are detected via radar sensors that are fitted on each side of the vehicle, located directly behind the front wheels.
As part of the trial, National Express will review driver feedback and make any necessary specification changes before the vehicles are then rolled out across the fleet from spring 2023, in line with the company's continual replacement programme.