EMT Madrid's 2023 budget to reach €855 million
EMT Madrid's increased 2023 budget will allow the municipal company to advance its transition to a zero-emission bus fleet, improve transport infrastructure, as well as acquire more bicycles for its BiciMAD service.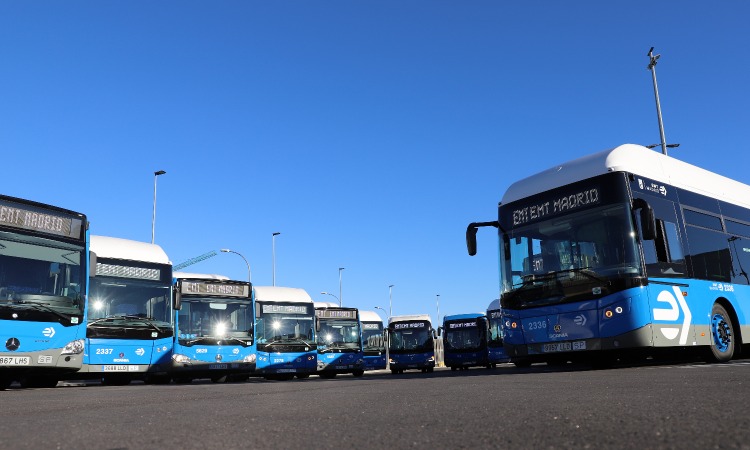 Credit: EMT Madrid
Empresa Municipal de Transportes de Madrid (EMT Madrid) has announced that its 2023 budget will reach €855 million, according to the draft economic budget for next year – representing a growth of 15 per cent compared to the budget for 2022.
EMT Madrid's objectives for the next financial year includes increasing bus services by creating new lines; improving the quality of customer service; further advancing its electrification strategy and renewing its zero-emission fleet; acquiring fuel cell buses and constructing a hydrogen generator in the Entrevías operations centre – in line with its commitment to make use of green hydrogen; transforming the recharging infrastructures of the Carabanchel, Sanchinarro and Fuencarral operations centres, and advancing the urban project of the future Las Tablas operations centre.
Within the mobility services of the municipal company, 2023 will be a key year for the BiciMAD service, as the system will undergo a technological revolution that will affect both bicycles and stations, expanding its coverage to 21 districts in the city of Madrid. A total of €45.5 million will be allocated to BiciMAD, with €20.4 million allocated to the acquisition of new bicycles and €24.9 million in the heading of technical installations.
Madrid City Council to launch EMT bus pilot in Rejas neighbourhood
In addition to the €855 million euros budget, EMT Madrid will allocate €234.5 million to the investment item. Of this total, €66.9 million will be financed by the European Union, specifically, by the European Regional Development Fund and by the Next Generation funds.
The municipal company will maintain its commitment to a sustainable fleet and more than €118 million will be used for the purchase of 255 new buses; 150 electric, 95 compressed natural gas (CNG) and 10 powered by fuel cells. More than €31 million will be used to advance technical and technological facilities in operation centres, which will be fundamental in transforming transport infrastructure.
Of the total budget for the 2023 financial year, more than €759.5 million will be allocated to current spending, including personnel spending, consumption, supplies and services. In addition, over €104.5 million will be allocated to energy due to the increase in gas prices, in comparison to €28.5 million in 2022.