Building passenger trust to support future growth
Sharon Cooney, Chief Executive Officer of the San Diego Metropolitan Transit System, discusses the various programmes that MTS has launched to encourage passengers back on-board its public transport services, as well as how building trust with passengers formed the foundation of the agency's post-pandemic recovery efforts.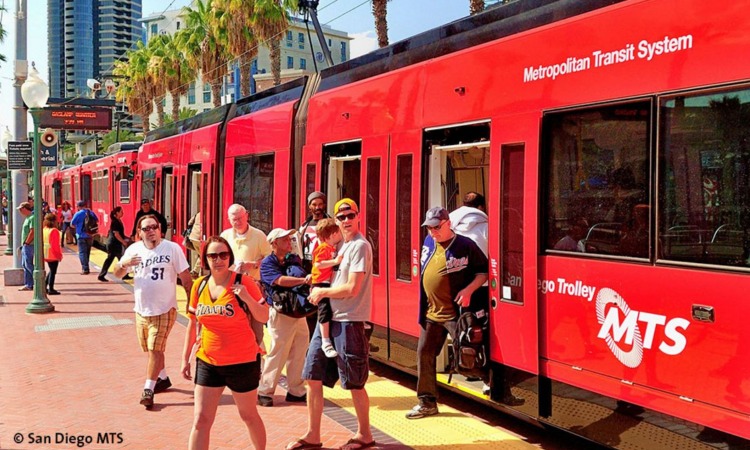 Credit: San Diego Metropolitan Transit System
Back in March 2020, like most transit systems, San Diego Metropolitan Transit System (MTS) experienced a 70 per cent per cent decline in ridership, forcing us to shift gears in our operations. During the pandemic's early stages, our primary focus was not on ridership, but on building trust with our passengers. Our goal was to help them to feel safe on-board, and to ensure that MTS was a stable service in the midst of the unknown.
This transparency and trust building was the starting point for MTS's ridership recovery efforts. Building on this momentum, and over the next two years, MTS introduced a new youth ridership programme, a next-generation fare collection system and an 11-mile light rail extension.
All of this and more has helped to get MTS back to 88 per cent of pre-pandemic ridership levels. There are still challenges – such as budget shortfalls and workforce shortages – but we are confident that our phased approach to ridership recovery will help us to thrive for years to come. Here's how it transpired.   
Transparency leads to trust
MTS made a concerted effort to improve cleanliness and build trust with riders in 2020. We launched the 'Clean Ride' campaign, which included installing handwashing stations, using Centers for Disease Control and Prevention (CDC) recommended cleaning products and implementing fog treatments to kill viruses during post-service cleanings. We had also created videos and posted notices throughout the system to let riders know about our efforts to keep them safe. This campaign was the primary focus of our communication materials, and it was important to us that our riders knew how much we cared about their health and safety.
In fact, MTS won the American Public Transportation Association's (APTA) Gold Award for safety because of Clean Ride; the success of this campaign would become critical to regain the trust of our riders and pave the way for ridership recovery. But, even more than winning an award, Clean Ride has helped us to win over the hearts and minds of our riders.
Carrying projects forward
In addition to what we were doing to win over riders, what we weren't doing was just as important. We weren't cutting service in the face of stay-at-home orders. A local study from Circulate San Diego found that 35 per cent of San Diego transit riders are essential workers. We knew that our reliability and efficiency as an agency would be essential for riders who depended on our service. If we were loyal to our riders, they would be loyal to us.
As we moved into 2021, MTS not only kept service levels high, but also launched some of the most important changes to our system in decades. In September 2021, MTS introduced a new fare collection system, PRONTO. We focused messaging on the new digital features of this new fare collection system, which included some 'new normal' features, such as contactless payments, digital fund deposits and fare capping options.
In order to ease riders into this significant change, we provided one month of free transit for all. This allowed regular riders to familiarise themselves with a new payment system, and it was an incentive for non-riders, or people who hadn't ridden transit in a long time, to get on-board (metaphorically and physically) with PRONTO. During September's Free Ride Month in 2022, MTS experienced a ridership increase of 14 per cent over the previous month.  
Service expansion and projects continued to grow
Prior to the pandemic, one of our largest system expansions was underway and, in November 2021, we launched service on the Blue Line Trolley extension. This $2.1 billion expansion added 11 miles to our system, serving one of the region's most dense education and employment centres.
Throughout the pandemic, ridership remained strongest on the Blue Line, which operated from the U.S. – Mexico border to downtown San Diego. Overall, light rail ridership on our system has now topped 104,000 passengers per weekday – best in the nation according to 2022 Q3 data from APTA.
New programme brings youth on-board
Not only did a service expansion help ridership recovery, but MTS has also had ridership boost from a new youth fare pilot programme. In May 2021, MTS partnered with our regional Metropolitan Planning Organization to launch a year-long programme offering free rides to youth 18 and under. The Youth Opportunity Pass (YOP) had long been envisioned by community advocates, and it was exciting to see it come to life. Over the first six months of the programme, youth ridership has gone up an average of 38 per cent, and youth riders now make up a significantly larger percent of our overall ridership (eight per cent pre-YOP versus 12 per cent average in the last six months, with in-school months averaging over 15 per cent).
Looking ahead
While the YOP programme has helped to increase ridership, the long-term funding source remains undetermined. At this time, MTS is facing a budget deficit of about $37 million. But, thanks to better-than-expected ridership numbers, we've been able to stretch our federal stimulus dollars to last until 2027.
As we know from experience, longer service spans and higher frequencies are industry-tested ways to increase ridership. In order to build on the momentum from our light rail expansion, MTS will be introducing a new bus rapid transit (BRT) route along a popular transit corridor in 2023 near the U.S. – Mexico border. This will be our first all zero-emission BRT route, and will offer high-speed trips with limited stops, as well as connect to the Blue Line Trolley for easy transfers.
Growing the system in these ways is a critical step for ridership recovery, but we've also identified areas of improvement looking ahead. One, hiring the workforce necessary to keep service levels high and two, improving the customer experience. 
Re-building the workforce
As of now, our biggest challenge to stabilising ridership is a consistent workforce. Bus operator shortages started causing missed service in Autumn 2021, leading to two service cuts in January and September 2022. With bus service down by about nine per cent across the system, recovering this service on core routes will be the first step.
To address the competitive hiring landscape, we have implemented aggressive recruiting techniques at MTS. New bus operators are offered a $5,000 sign-on bonus, and we have increased wages by $2 per hour for new and existing operators. We are also hosting in-person pop-up hiring events and will significantly increase our advertising efforts with a more widespread recruiting campaign.
We're hopeful that these efforts will lead us to restoring the cuts in June 2023.
Improving the customer experience moving forward
Lastly, as we've conducted outreach on our system, it's clear that there are major challenges for riders and prospective riders when it comes to choosing transit. System cleanliness and safety have emerged as top concerns that we need to address.  
In 2023, we will conduct focus groups and market research to understand what the barriers are to riding MTS and engage with those currently not using our system. We'll also invest more money from our capital budget in new cleaning equipment to improve safety for riders and crews. These efforts will help us to better understand our riders and improve their experience.
We'll be implementing a customer experience campaign internally and externally, with the same goals that we had when we launched Clean Ride in 2020. The goal is to build trust with our riders by demonstrating that we are listening to their needs and concerns, and being transparent with our riders about the changes that we're making at MTS and the ways in which we're working to improve their experience.
Our hope is that, as we do these things, riders will not only get on-board, but stay on-board. Stay tuned – I look forward to seeing what comes in the next few years.
Sharon Cooney is the CEO of the San Diego Metropolitan Transit System and has held many senior positions at MTS during her 15-year career, including the Director of Government Affairs, Director of Planning, Chief of Staff and Deputy Chief Executive Officer. Sharon has been integral to the success of two of San Diego's largest infrastructure projects ever accomplished, the Trolley Renewal Project and the Mid-Coast Trolley Extension Project.