Live COVID-19 briefing: expectations for innovation and infrastructure in the post-COVID future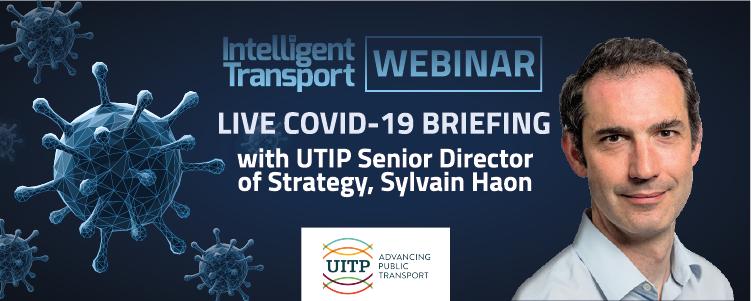 Sylvain Haon, Senior Director of Strategy at UITP, took charge of the most recent COVID-19 briefing from Intelligent Transport and UITP, as we looked ahead to the tech-led solutions that can help public transport and its associated infrastructure get back to business as usual after the pandemic.
As governments around the world look to ease their stern lockdown rules and ease society back to some kind of normality after the COVID-19 pandemic, it's time to assess the ways in which technologically-led transport solutions can help, and what changes to infrastructure might be required to support them.
Register
Register to watch this on-demand webinar
Key Learning Points
KEY LEARNING POINTS:
What kind of technology can help urban transport get back to 'normal'?
Insight into everything from ticketing and payment systems to passenger counters.
What role to do tech-enabled services have to play?
From on-demand services to micromobility, find out how the integration of these services into urban transport networks can help support public transport in the transition back to regular service.
How can existing infrastructure be used and repurposed to support new social distancing norms, as well as potential modal shift to more active transport?
Analysis of cities' use of 'pop-up' infrastructure and the opening on roadways for cyclists in the pandemic, and how this will translate post-pandemic.
How will smart, connected infrastructure help cities and their transport networks return to normal after the COVID-19 pandemic?
A look at the importance of keeping on top of traffic and people flows for cities and transport providers to ensure they can match supply and demand.
Speakers
SPEAKER:
Sylvain Haon, Senior Director of Strategy at UITP
With more than twenty years of experience, Sylvain is a leading voice in urban mobility and sustainable development. Educated at the Science Po in Strasbourg and the London School of Economics and Political Science, Sylvain is responsible for driving the direction and focus of UITP's global vision. Sylvain was previously Secretary General of the Polis Network, as well as Head of Brussels office of SNCF directorate of European Affairs. Sylvain's focus is on sustainability, policy and planning.
Related organisations
UITP