High value chip and PIN payment transactions at ticket machines
The contactless payment terminals of cVEND are the optimal solution not only for public transport applications but also for integration into ticket machines, rental bikes, charging stations or vending machines.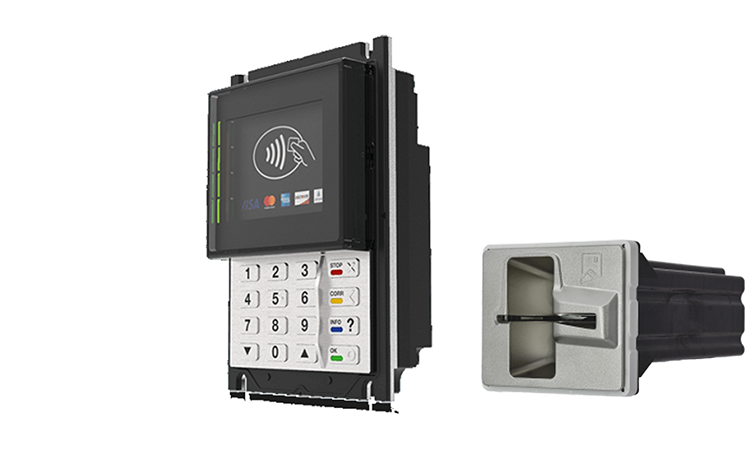 In public transport, the terminals are used primarily in validators, on-board computers, access gates and ticket machines. For this, different variants are available: OEM terminals for flush integration into non-conducting environments (cVEND plug) and payment terminals with a robust housing for integration into metallic environments (cVEND box/box+).
Certified according to EMV and PCI PTS they provide secure, fast and easy payment with contactless credit-, debit- and customer cards (open loop and closed loop) or payment-enabled mobile phones.
The latest development for contactless payment at ticket machines is a PIN pad terminal with integrated NFC unit (cVEND PIN) for high value Tap & PIN transactions. This robust, handicapped accessible terminal reduces installation and maintenance efforts for the operators notably, since one less opening in the machine must be provided and fewer components must be wired. Also available is a SmartCard reader for contact cards, specially designed for an optimal interaction with the cVEND PIN.
FEIG saves its customers a lot of effort by obtaining the PCI P2PE (P2PE stands for Point-To-Point-Encryption) component certification.
Thus, FEIG provides its customers an important component to enable them to develop and certify their own PCI P2PE compliant solutions based on cVEND. FEIG acts for the P2PE solution as a component service provider for key material as well as key loading and the customer has not to care for those security requirements which were met by the cVEND, already.
You will find FEIG ELECTRONIC at UITP Global Public Transport Summit in Stockholm at booth A3070.