Scoot to add electric bicycles to San Francisco fleet
Scoot addresses the needs of San Francisco residents, reduces pollution and decreases congestion by adding e-bikes to their fleet…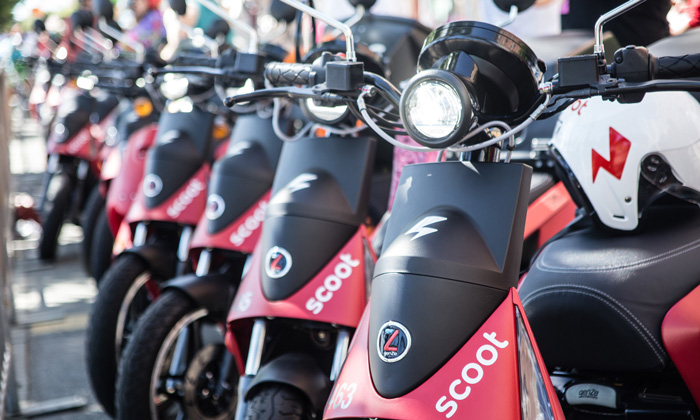 Scoot Networks, the leading provider of shared, light electric vehicle (LEV) services, announced it is adding a full fleet of electric bicycles to its service in San Francisco which are available to hire through the same app that gives access to Scoot's shared electric scooters. 
Scoot has been operating a fleet of 700 electric two wheelers in San Francisco for five years, serving tens of thousands of riders who have accumulated more than 3.9 million miles. During that time, Scoot's riders have collectively eliminated over 1000 metric tons of CO2 from entering the atmosphere in San Francisco while simultaneously reducing congestion on city streets.
Adding e-bikes to the fleet advances the company's mission by addressing the needs of San Francisco residents who are seeking more affordable and valuable transit options in their daily lives.
"Scoot's mission is 'Electric Vehicles for Everyone'. Offering electric bicycles allows us to reach more people at a lower price point and gives our current riders a new, convenient option for electric transportation," said Scoot Founder and CEO, Michael Keating
Scoot is also applying for San Francisco's dockless bike-sharing permit with the hope it can meet the permit's strict requirements for operations and community inclusion.
According to Eli Saddler, Scoot's Head of External Affairs: "Scoot has always worked closely with the city to make sure we are contributing to San Francisco's transportation goals. We look forward to meeting and exceeding the city's expectations for data sharing; providing affordable service to all San Franciscans."
Scoot's bicycle will have an electric motor to assist with pedalling but will still require the rider to pedal to propel the bicycle up to a top speed of 20 MPH. Scoot will start with hundreds of the new electric bicycles in the early springtime and grow the fleet to meet demand. More scooters and other types of the electric vehicles will also be added to its app in 2018.