MTA launches fare-free bus pilot across New York City boroughs
In addition to improving accessibility and equity within the city's public transportation system, the fare-free bus pilot will allow MTA to collect valuable data to inform future decisions regarding fare structures and service enhancements.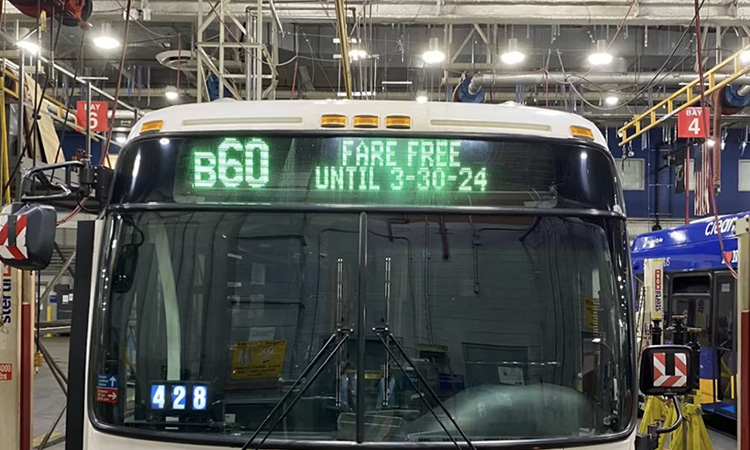 Credit: Metropolitan Transportation Authority
The Metropolitan Transportation Authority (MTA) has announced the launch of a fare-free bus pilot programme across five carefully chosen routes, one in each of the city's boroughs, for a period of six to 12 months. These selected bus routes currently serve approximately 43,900 daily weekday riders.
MTA's decision to implement fare-free buses on these routes has been based on a meticulous assessment of various factors, including minimising route overlap with other transportation services like buses and subways, the availability of automatic passenger counters (APCs) for efficient ridership monitoring, addressing fare evasion issues, service frequency and capacity to handle potential ridership increases. The initiative also aims to promote equity for low-income and economically disadvantaged communities while improving access to employment and commercial activities.
Frank Annicaro, NYC Transit Senior Vice President of Buses, said: "The MTA carefully selected one route in every borough to study potential benefits and impacts on ridership, operations and other factors, and the buses are ready to roll."
LA Metro's GoPass programme empowers students with fare-free access to transit
This pilot programme will provide MTA with valuable data to analyse the impact of fare-free buses on ridership, the quality of life for commuters, performance metrics and general operations. Similar to other agencies with fare-free bus initiatives, paratransit trips within three-quarters of a mile of each of the fare-free route areas will also be made fare-free.
The launch of this pilot programme is in addition to a series of phased subway service increases announced earlier in May 2023, thanks to a $35 million contribution from the FY 2024 New York State Budget to boost subway service. The most recent subway service expansion occurred in August 2023, benefiting weekday midday service on the C, N, and R lines, as well as weekend service on the 1 and 6 lines.
To help commuters identify fare-free buses, vehicles on routes included in the pilot programme will be clearly marked with "Fare Free" signage on destination boards, on-board digital displays and decals inside the bus, as well as covers on fareboxes and OMNY readers. It is important to note that customers must still pay their fare when transferring to other bus routes and subway lines.