King County Metro launches new anti-harassment campaign
King County Metro's anti-harassment campaign outlines ways riders can get help when in an emergency situation and encourages people to report such incidents even if an immediate response is not necessary.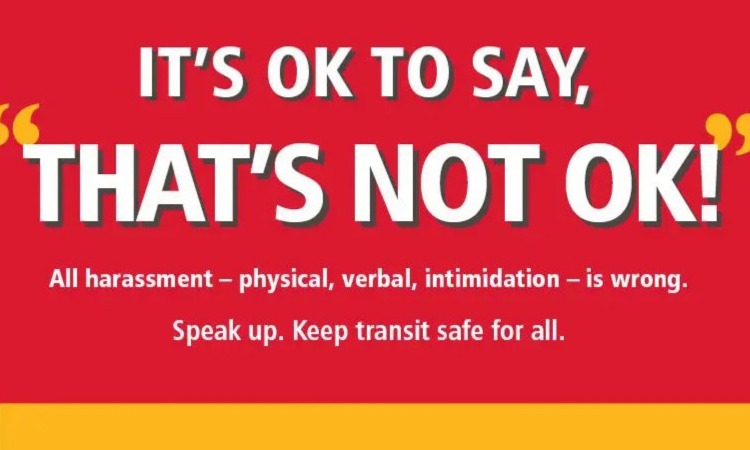 Credit: King County Metro
King County Metro has announced that residents across the region can now see a new, multilingual effort to keep transit services safe for all. Developed in co-ordination with community members and employees, the campaign outlines a clear expectation for respectful behaviour. The signs also let riders know how they can get help in an emergency and encourages reporting.
Leading with the headline, "It's OK to Say, That's Not OK", the signs then include specific language referencing the authority's Code of Conduct. "All harassment – physical, verbal, intimidation – is wrong," reads the ads. "Speak up. Keep transit safe for all."
Depending on the situation and the person's own comfort level, there are three actions for riders to choose from:
Tell the driver
Fill out an online comment form ( kingcounty.gov/metro/ride ) or call the customer service office (206-553-3000)
Call or text 911 if there is an emergency
Available in King County but not nationwide, people can also send a text to 911 if they are deaf, hard of hearing, speech impaired or in an unsafe situation.
MDOT MTA launches campaign to reduce sexual harassment on transit
King County Metro has also said that it is important for people to let it know if they have experienced an incident, even if an emergency response is not necessary, through the online contact form or its customer service office. Reporting allows the authority to better allocate resources and to continue to improve the customer experience.
In addition, Metro has stated that although it has created this campaign at the request of and in partnership with organisations that are disproportionately affected by harassment and violence, the visuals intentionally do not show specific communities to avoid amplifying hate or reinforcing stereotypes.
The "It's OK to say, that's not OK!" campaign now appears across King County Metro in English, Chinese (simplified and traditional), Somali, Spanish and Vietnamese.