STM launches real-time vehicle tracking feature for its paratransit service
The new feature will provide Transport adapté customers with a wealth of real-time information, such as the transit vehicles' current location and whether or not a customer is next in line to board the vehicle.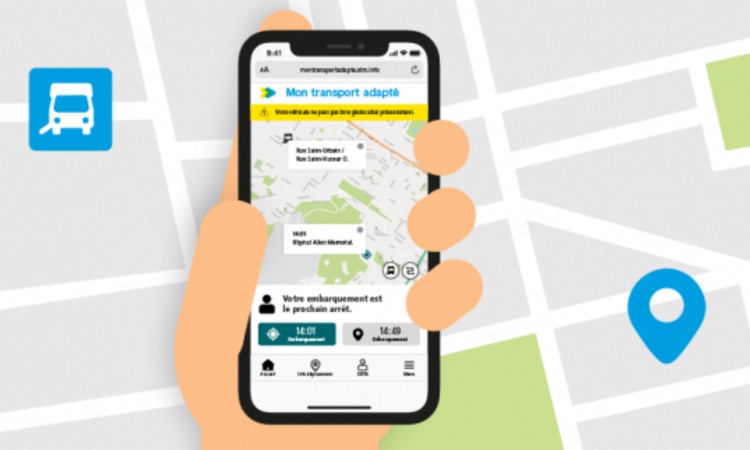 Credit: Société de transport de Montréal
The Société de transport de Montréal (STM) has announced the launch of the latest feature on its SIRTA online reservation system – which is applicable to all minibuses and taxi partner vehicles – for customers of Transport adapté, the operator's paratransit service. The feature allows customers to track their vehicle's real-time location on a map.
"This is excellent news for customers who use SIRTA, because the new feature means that they can now look at a map and track the vehicle that is going to pick them up," said Éric Alan Caldwell, Chair of the STM Board of Directors. "The new feature is a testament to STM's expertise in paratransit and our desire to drive innovation and improve the customer experience."
"This new feature will give customers more information about the timing of their trips with Transport adapté," said Serge Poulin, General Director of RUTA Montréal. "This is beneficial because people using paratransit services will be able to better manage their time with this information at their disposal."
Vehicle tracking information can be accessed with a computer, tablet or smartphone. The data shows up 10 minutes before the start of the pick-up window and remains available until drop-off at the customer's destination.
The new feature will provide customers with a wealth of real-time information, such as:
The vehicle's current location
Estimated pick-up and drop-off times
The type of vehicle making the trip (taxi or minibus)
Whether a customer is next in line to board the vehicle, or whether someone else is first
An alert when the vehicle arrives.
"This new feature is a great complement to the other customer service tools available through Extra Connecte, our real-time trip management system," said Marie-Claude Léonard, Interim CEO of STM. "Extra Connecte was introduced in 2018 and also sends customers a notification by text, call or email when their vehicle is about to arrive. In accordance with our 2025 Strategic Organizational Plan, which aims in part to enhance the customer experience, this new feature presents a major benefit for our customers in telling them exactly where their vehicle is located. Being the result of close collaboration between various STM teams and the disabled community, the feature was also designed to meet accessibility criteria."
STM has provided door-to-door paratransit services for people with disabilities since 1980. This reliable and safe specialised service contributes to the social, professional and economic inclusion of these groups. Around 35,000 customers use the service to travel on and around the Island of Montréal, with 86 STM minibuses providing 12 per cent of the trips and eight regular and accessible taxi services providing 88 per cent of the trips.