EMT Madrid announces electrification of Line 75 buses
As Line 75 joins the 100 per cent electric bus network, EMT Madrid moves a step closer to achieving 25 per cent of a fully electric fleet by 2025, with 16 electrified bus lines now operating in the capital.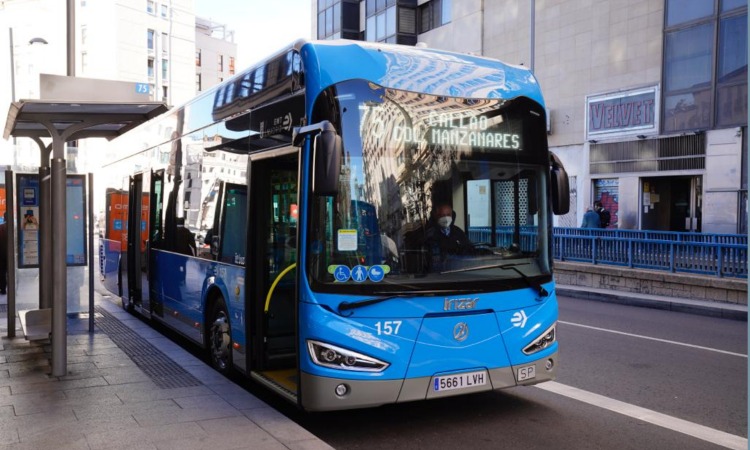 Credit: EMT Madrid
Empresa Municipal de Transportes de Madrid (EMT Madrid) has announced that Line 75 has joined its 100 per cent electric bus network following testing carried out by Borja Carabante, the delegate of the Mobility and Environment Area of ​​Madrid City Council, and Alfonso Sánchez, the Managing Director of EMT Madrid.
The arrival of these new zero-emission buses will not change the current frequency of Line 75, with service on weekdays scheduled with an interval of nine to 15 minutes between 06:00 and 21:00, and from 13 to 20 minutes from 19:00 until the end of service.
With the electrification of Line 75, Madrid now has 16 municipal lines that work only with vehicles powered by electricity, following the sustainability and environment commitments that were made by the City Council and EMT Madrid.
EMT Madrid incorporated fully electric vehicles on Lines 33 (Príncipe Pío-Casa de Campo) and 50 (Plaza Mayor-Avenida del Manzanares) in July 2021 and, at the end of September 2021, also assigned only electric vehicles to Line 41. Subsequently, in October 2021, 100 per cent electric vehicles were also introduced on Line 81.
In line with the Madrid 360 Environmental Sustainability Strategy, the municipal company continues with its firm commitment to the gradual electrification of the Madrid bus fleet, with the aim of reaching 25 per cent of the electric fleet by 2025, as reflected in its plan strategy. In January 2021, EMT Madrid published a tender for the supply of 150 standard electric buses, with a base tender budget of almost €100 million.