Spin launches e-cargo bike trial to charge batteries
Spin will use e-cargo bikes to pick up low-charge batteries and deliver them to charging points across Colchester, which it hopes will reduce congestion in the UK town.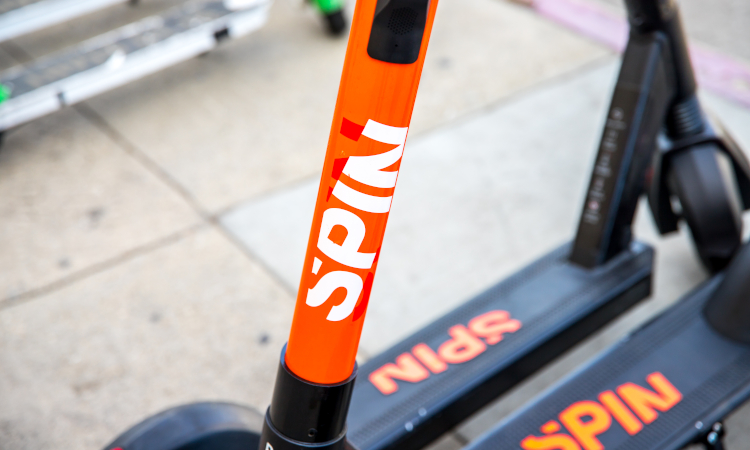 Micromobility company Spin has launched two new e-cargo bike trials in the UK county of Essex. In Colchester, working with a new local community-based initiative – the Colchester E-Cargo Bike Delivery Project – Spin is trialling an e-cargo bike delivery service to replace and recharge drained e-scooter batteries.
Elsewhere, in Chelmsford, Spin is kicking off a trial of what it claims is the UK's first custom-made, ultra-lightweight vehicle for e-scooter operators, the EAV 2Charge, which Spin says will provide greener logistics for e-scooter distribution and battery exchanges.
"Combating climate change is the defining challenge of our time and through our network of partners, including like-minded UK innovators and local businesses, we aim to transform how we operate the logistics side of our business," said Steve Pyer, UK Country Manager at Spin.
"E-cargo bikes have the potential to deliver e-scooters faster, cut congestion and improve road safety in urban areas when compared to vans. That's why we have integrated e-cargo bikes into our daily operations when it comes to replacing batteries and moving around e-scooters to meet local demand as it fluctuates throughout the day."
Launched earlier this year during lockdown, Colchester E-Cargo Bike Delivery service supports a range of local independent businesses, and now Spin, with a zero-emission delivery service utilising e-cargo bikes.
Through the initial three-month trial Colchester E-Cargo Bike Delivery Project founder Lee Pugh and his team will replace approximately 20-30 low charged batteries a day across Colchester and take them to be charged at various points across the town, while they are running deliveries for other customers with four e-cargo bikes. With this trial, Spin aims to reduce the use of its vans on the road to help mitigate congestion in the local area.