Wearing your fare: LA Metro's TAP Smart Card Program
Robin O'Hara, Executive Officer in charge of TAP Customer Experience at LA Metro, tells Intelligent Transport how the operator is piloting wearable fare media for its customers, and how an extension of the pilot could have ease-of-access benefits across various user demographics.
What was the thinking behind introducing a transit-specific wearable for your riders?
Several years ago, we became aware of some companies having wearable devices that use the same type of smart chip as our current TAP cards. We did some research and ended up doing a small RFP for some wearables where we could design the look ourselves, customise them to look like TAP and have our own brand. We came out with three different styles: TAP Stretch, TAP Flex and a TAP keychain.
TAP Stretch is an elastic stretchy fabric that has a TAP chip in it. Users only need to dip their wrist and the validator will read the chip exactly like it would read a TAP card.
The TAP Flex has a different type of band – more like a soft polymer than elastic – that is adjustable rather than stretchy. For riders, the functionality is the same – tap and go – but the band comes in two different colours, black and our TAP blue colour. The TAP Flex has been a little bit more popular than the stretchy variant so far.
Although sales on the TAP Flex have been the best so far, we are seeing the most recent interest in the TAP keychain. It's not strictly a wearable but having it on your keys – something you almost always carry with you – means we classify it as such. The keychain is fitted with a TAP chip in the same way as the other accessories, and can be very convenient to find and touch on the validators on our system.
It will be interesting to see how the reduced fare version for seniors, disabled users and students will perform
Currently, the wearables are only being piloted at four of our customer centres. Each of the accessories can be registered to an account on our website. Primarily, wearables make travelling easier for customers who don't necessarily want to have to dig around in their pocket or bag for their TAP card every time they need it. It works on bus fareboxes, at fare gates for the subway and light rail, and on the standalone validators that we have on some of the platforms where gates can't be included due to access rules. Perhaps most importantly, the wearables also work in conjunction with all of our municipal operators. There are 26 agencies on TAP right now, including Metro, which is the largest. All operators in Los Angeles County accept TAP, so all of these accessories will be able to be loaded with whatever TAP fare customers want. It's been a really fun and interesting foray into something different so far. We do a lot of commemorative cards here, but the wearables are something new and there has been a lot of interest since we first released them.
What has the uptake been like so far?
We only have very limited amounts in circulation at the moment because we're still at the pilot stage, but we have sold over 1,100 so far at just four customer centres. It's not a huge amount because it's a pilot and it was not advertised. The only place for people to see the sign for it is within those four customer centres. For only four centres to sell1,100 items, we feel there's strong enough interest from customers to expand the programme and actually do a full marketing campaign to let our customers know that these wearables are available. We would also like to make them available online to make it easier for people to order them rather than having to go to a specific centre to buy it in person.
What kind of demographics are buying the wearables at the moment? Is there an ease-of-access appeal for people who might find it difficult to find their normal TAP card every time they need it?
With the ordinary TAP card there is a reduced fare variant that is coloured orange, but our existing wearables only charge the full fare. There is definitely a need for the reduced fare users to be included because they're the ones that are more likely to have disabilities or needs that might make it difficult for them to find their TAP card. We're working with the company that produces the accessories to make an orange TAP Stretch and orange and black TAP Flex. These will be released in spring 2020 so that our reduced fare customers can also be included.
It will be interesting to see how the reduced fare version for seniors, disabled users and students will perform. The student version could be interesting – we have a lot of parents whose children lose their TAP cards, so this is a great way for them to keep their fare with them.
Primarily, wearables make travelling easier for customers who don't necessarily want to have to dig around in their pocket or bag for their TAP card every time they need it
I expect that demand in the disabled community will be relatively high, since users don't have to dig around for a TAP card, or try to pull it out of a wallet. We're assuming that they haven't already bought the regular fare wearables because they don't want to pay the more expensive fare, so we'll be interested to see what happens when those reduced fare versions come out.
There has been strong interest from collectors, but we have also seen several corporations approach us to say they'd like to buy them in bulk for their staff, so that has given us something else to think about. For the pilot, the price point has been relatively high while we gauge whether there is genuine interest in what we're doing. At $10, it's quite a bit more expensive than the regular TAP product; you can get a TAP card, even a commemorative TAP card, out of a ticket vending machine for $2. The interest they've received in the short period of time they've been available is significant enough that we think if we were to reduce the price and make it a little bit more affordable, they would pretty much fly out the door.
How do the wearables integrate with the rest of the TAP system in terms of users being able to load fares?
They can be loaded online, in person at a ticket vending machine, or at one of our third-party vendor locations in Los Angeles. TAP cards and wearables can also be loaded with stored value aboard any one of our metro buses.
The wearables act exactly the same way as a TAP card because they use the exact same chip. It can accept any of the products that we offer, from stored value to regional easy passes, to any of the individual passes available on TAP.
We currently have 750 fare products on offer that can be loaded onto a wearable. Each of the wearables has a TAP card number on it, so customers can go online and register them. This means if they were to lose it, they can have their balance restored.
When it comes to launching our app, it'll be interesting to see how the wearables perform because people will then be able to use their phones to TAP
We think their appeal may stretch beyond regular users. It could be fun for tourists coming into the city too, in the same way you might get a wristband when you go to Disneyland or Universal Studios.
LA County is a large space that is constantly growing, especially at the present moment in time, as we passed a half-cent sales tax that funds our transportation system in perpetuity. Our system is just growing so quickly, it can be hard to keep up with it, but what's great about TAP – whether it's a card or the wearables – is that no matter where we expand to, people will be able to travel to any of those new places.
We really want to maximise convenience for our customers. We're working on a mobile app, but with the wearables, you're even able to tap your wearable on bike-share, as TAP accounts are supported on our bike-share system. We have a truly multimodal network, so they can be used on all of the different bus systems and also Metro – our largest. Metro itself has over 2,000 buses and more than 150 rail stations. We're one of the fastest growing cities for transportation and transit in America – and possibly in the world.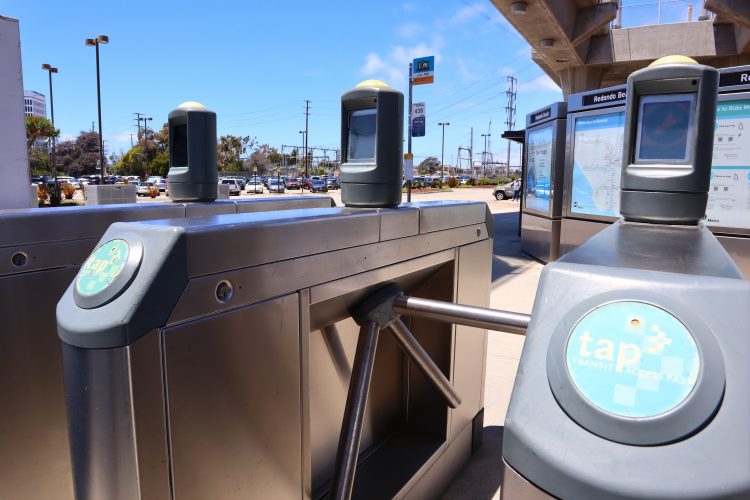 What has customer feedback on the wearables been like so far?
People seem to be very excited about them. When we introduced them there were some queues to come and buy them. We're close to selling out our first pilot amount as well, so I think that shows the response has been good – and, of course, sometimes no news is good news, too.
The accessories are well made so we have had very few complaints about them not working or not staying on people's wrists. The people I've talked to that are using them really like them. Naturally, the collectors that collect all of our commemorative cards and memorabilia have gone crazy for them too.
What comes next for this programme?
I'm looking forward to bringing our reduced fare riders into it, which I expect will make LA's citizens even better served. The convenience we can bring to that community is really exciting.
When it comes to launching our app, it'll be interesting to see how the wearables perform because people will then be able to use their phones to TAP. Time will tell whether people are interested in keeping their wearable or whether tapping a phone will be more useful, but the most important thing is that our customers have options. 
Biography
Robin O'Hara is the Executive Officer and Head of Customer Experience for the regional TAP Smart Card Program at LA Metro. The TAP Program consists of 26 agencies serving 10 million people in Los Angeles County. O'Hara possesses a combination of technical expertise and communications/marketing experience, enabling her to lead complex technical projects while keeping an eye on the customer experience.