Sydney Metro: a game changer for passengers
A metro revolution is underway in Sydney, with the New South Wales capital home to the biggest urban rail infrastructure investment in Australian history. For Intelligent Transport, Jon Lamonte, CEO of Sydney Metro, explains how greater capacity and rail connectivity is providing more opportunities and better experiences to the city's residents.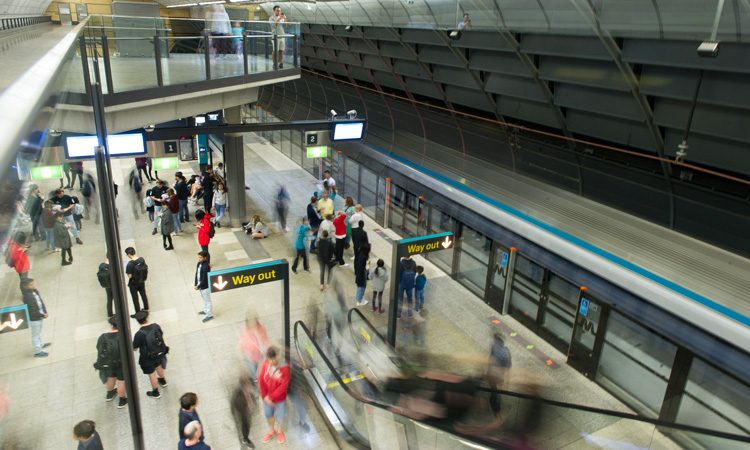 More than four million customers have now travelled on Sydney's newest public transport system – Sydney Metro. This game-changing project for Sydney has run close to 20,000 services between Chatswood in Sydney's northern suburbs to Rouse Hill in the growing north-west since it started operations in May 2019.
So far, the response has been overwhelmingly positive, with customers reporting how much they have enjoyed travelling on the new line, benefiting from reduced travel times and cost savings.
The uptake tells the story; within the first two weeks of operations, more than a million journeys had been taken on the brand-new North West Metro Line.
Not only has the opening of this new line had an impact on people's lives, the wider transport and road system of Sydney is also already seeing the benefits. The T1 Western Line has seen up to a 20 per cent reduction in usage at key stations during the morning peak period and the M2 saw 107,000 fewer cars between 27 May and 29 July 2019 when compared to the same period in 2018.
Seamless, reliable and accessible for passengers
Metro is a brand-new form of railway, the first of its kind in Australia. At the heart of the customer experience are levels of comfort, technology and ease of access that haven't previously been experienced on public transport in Australia.
Sydney Metro is not only the first metro in Australia, it is also its first fully-automated, fully-accessible railway. Driverless trains take passengers up and down the North West Metro Line on smooth and seamless journeys.
It is the first reliable mass transit system Sydney's north-west has seen and it is a key part of the NSW Government's plan to improve transport and help give people more choice on how they get around Sydney. Metro rail means a new generation of world-class, fast, safe and reliable driverless trains that easily connect customers to where they want to go.
Adding to the customer experience, the metro is a turn-up-and-go service. With a train every four minutes in each direction at peak times, there is no timetable – people can just turn up, catch the next metro train and be on their way to their destination.
As Australia's first fully-accessible railway, the metro incorporates design features that are second to none when it comes to making journeys easy for everyone. Each metro train has two wheelchair spaces per carriage, as well as dedicated priority seating for those with additional mobility needs. Each train also has two multi-purpose areas for prams, luggage and bicycles.
The metro stations along the line also support an easy journey for everyone, with lifts directly to the platforms and wide Opal gates for station access. Metro stations include features such as audio hearing loops as well as unique design features like lighting to assist people in finding their way to the trains. Features such as tactile flooring and braille on help points allow for visually-impaired customers to navigate the stations with ease.
Working with user groups, including disability groups, was key to the development of the stations and trains, with a number of design features incorporated into the line based on user feedback. As future Sydney Metro lines are developed, lessons learnt from Sydney Metro North West and feedback received from users will continue to be incorporated. The customer is at the centre of everything we do, and we want to continue to improve as we build new railways for Sydney.
While the opening of North West Metro was hailed as a huge success, Sydney Metro also acknowledges there have been a few challenges early on. The early operating days of the new line have in fact provided a great opportunity to fine tune the systems and take on board customer feedback.
The new North West Metro continues to get better and better in terms of customer experience each day. While customers will continue to enjoy the metro for the next few years, Sydney Metro customers are also excited about plans and real-life projects already underway to expand the network, bringing metro rail to new suburbs and communities across Sydney.
Part of the community
Creating this brand-new railway for Sydney hasn't just been about providing a world-class service but providing world-class locations around the stations. Sydney Metro has delivered stations that will integrate with the growing communities they serve, where clever planning, a focus on customer experience and the expression of local identity will make the station more than just somewhere to catch a train.
As part of this, Landcom and Sydney Metro are working together on the long-term planning and development of government-owned land surrounding the new Sydney Metro North West stations, working together to achieve well-connected and vibrant places for people to live, work, shop and play.
The communities along the North West Metro are already seeing the benefits of these place-making outcomes, with the temporary Tallawong Pocket Park – which is adjacent to the station – providing an appealing location for community activities long before the first home is even built. There's also the newly re-opened Arthur Whitling Park in Castle Hill, which will be followed by the Bella Vista pocket park later in 2019, while a range of art installations, events and activities are also programmed.
Not only will the communities of Sydney North West enjoy world-class public transport that connects them with the rest of Sydney, but new communities will grow along the line, bringing convenience to even more people.
There will be up to 11,000 new dwellings delivered over the next 10 years. An early example is the Tallawong Project, where the first stage of planning approval is already in place. Along with open spaces and new community facilities, the Tallawong Project will provide a range of housing to meet the needs of different people at different life stages, including affordable rental housing. Tallawong Station Precinct South will be the first place to be delivered as part of the Tallawong Project.
The customer is at the centre of everything we do, and we want to continue to improve as we build new railways for Sydney"
Extending Sydney Metro from Chatswood into the Sydney central business district (CBD) and beyond to the south west is already underway – tunnelling has started and services are expected to begin in 2024, when Sydney will have 31 metro stations and a 66km standalone metro railway. Designed to grow with the city it will serve for generations to come, this metro will have the capacity for a train every two minutes in each direction beneath the CBD.
The door-to-door benefits of Sydney Metro will help customers achieve their daily tasks, whether it's getting to work, meetings, education, sport, a day out or running errands – and, of course, getting home. Faster travel times will bring more opportunities to more people – whether it's new jobs, better education options or recreational activities.
A boost in capacity
The benefits to customers and communities across Sydney will only increase as the metro grows over the next few years. This new-generation railway will have the capacity to move almost twice as many people in an hour – more than 40,000 – as an existing suburban railway line.
Sydney's new metro, together with signalling and infrastructure upgrades across the existing Sydney suburban rail network, will increase the capacity of train services entering Sydney's CBD from about 120 an hour currently to approximately 200 services an hour beyond 2024 – an increase of up to 60 per cent in capacity across the network to meet customer demand.
New metro rail will be extended to Western Sydney in the second half of the 2020s. The Sydney Metro West project will link the Sydney city centre with Greater Parramatta, doubling rail capacity between these centres and linking communities along the way with a new underground railway.
Metro rail will also service the new Western Sydney Airport, linking it with the rest of Sydney. The Australian and NSW governments are equal partners in the delivery of the project by 2026, when the airport is scheduled to open. 
Biography 
Jon Lamonte joined Sydney Metro as Chief Executive in November 2018, relocating to Sydney from his role as CEO of Transport for Greater Manchester. Prior to this, Lamonte was the CEO of Tube Lines from 2011-12, where, as part of Transport for London, he was responsible for the maintenance, renewal and upgrade of the underground infrastructure on the Jubilee, Northern and Piccadilly lines. He joined from the Royal Air Force (RAF) where he fulfilled a number of senior operational roles and led major project delivery. He achieved a PhD in History from Birmingham University in 2011.