Trafi providing accurate transit data: the cornerstone to progress in urban mobility
Find out how to make poor mobility data more accurate with Trafi's special data management platform to provide transport operators and authorities with accurate itineraries and ETA, and deliver better journeys for passengers.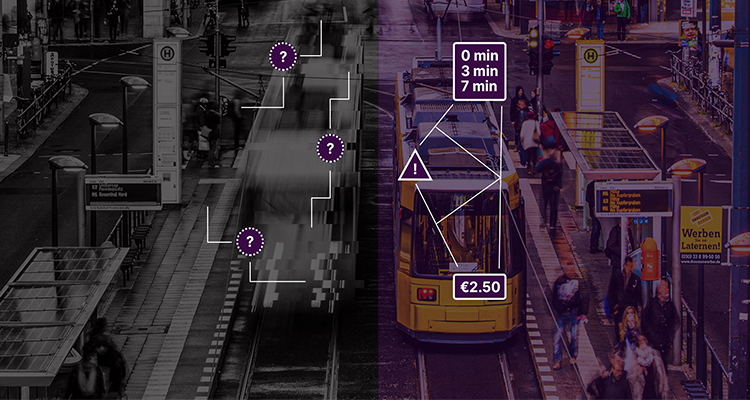 In today's mobility sector, the biggest overarching challenge we face is the inconsistent quality of public mobility data, varying from 'poor' to 'good enough', but never 'perfect'. As a result, public transport services are forced to enter an unfair fight to compete with other means of transportation. Who has never given up on waiting for an overdue bus by choosing a different mode of transport, just expecting that the timetabled two-minute wait will be closer to 20 minutes?
Public transport data is not always accurate
The map of public transit data availability and quality shows that the situation varies worldwide. Europe is gradually but steadily moving towards standardising public transit data sharing. Today in the EU, mobility data is regulated and it needs to be publicly available. However, the regulation does not assure the quality of it. In some cities, it is a matter of agreement between mobility providers and authorities whether or not to grant access to it. Meanwhile, some countries do not provide any data at all, as schedules are generated by hand on paper (for example in parts of Africa or Asia).
The need to simplify data formats and access
In most cases, accessing data sources is not an easy task. Usually, there are several data providers per city, for example, public transport authorities (PTAs), public transport operators (PTOs), and several different transport agencies. Their datasets are kept in different places in different formats and accuracy is hugely variable. In some situations, timetable documents amount to no use as they aren't even machine readable.
In order to provide reliable services that passengers can trust, companies need to be able to access the data, and then fix, enhance and merge a number of different data sets from different providers. This is often a lengthy, error-prone process and affects the company's efficiency, even preventing them from scaling and innovating in some cases. 
Enhanced data quality and accuracy: the key to retaining customers
Accurate data is the foundation on which mobility services will be built; without it, operators will only damage passenger experience and trust. Today, even one inaccurate suggestion based on poor data is enough for public transport users to lose trust in a service. Imagine, a proposed routing is showing an incorrect route or wrong departure time and, as a result, a passenger misses a flight or job interview; there is a good chance they would never trust the service again! To avoid this type of scenario and retain customers, data needs to be consistently accurate. If the source provides ever-changing quality data, it cannot fulfil customer expectations. 
Unfortunately, there is no organisation that monitors the quality of provided public transit data. When working with so many sources, with each having their own quality standards, we face many data challenges, such as inaccurate estimation of journey time, wrong distances, wrong directions, inaccurate route shape, or simply missing data points. 
Trafi's data management platform: making poor data good
To provide trustworthy public transit services, companies and organisations need to turn their poor data into good data – and this is where Trafi has managed to propose a solution which is used even by Google Maps. In today's mobility industry, there is no single platform where companies – public or private – can collect, edit and enhance transit data at scale. in response to this, Trafi has built its own data management platform (DMP) product software in-house – a task that required years of development and knowledge building. The platform can be used as a third-party DMP solution to help integrate data from any source and of any format, plus identify, validate, fix and enhance it at scale. After, the platform can export the data in one unified format and provide it for usage. Moreover, since data changes both rapidly and continuously, the DMP works instantly to deliver data quality and scalability out of the box.
Renew trust in public transport
Good data enables operators and authorities to ensure the stability of infrastructure, providing travellers with consistently accurate and reliable public transit information. This helps users optimise their travel time, ensure that they will reach their destination on time, and rebuild trust in public transport. The platform is not only useful for public transport, it can also be used by any mobility service provider, enabling them to collect the data from each of their sources and edit them at scale. The output would be unified into one format, for example General Transit Feed Specification (GTFS) format documents. As a result, serving a city, whole region or country with a journey planning or routing solution becomes easy, scalable and reliable.
The need for standardisation
We can hope that there will be a space (such as the cloud) where public mobility data will be uploaded and stored, but it will also need to be in a standardised format. Until then, Trafi's DMP can work as a pipeline through which incoming data can be fixed, cleaned, enhanced and provided in one format. This would enable any company or organisation that accesses this data to immediately put it into work. 
Related organisations
Trafi