How TfL's Dial-a-Ride service has been helping London families during the pandemic
James Mead, General Manager of TfL's Dial-a-Ride, explains how the door-to-door service has been serving its communities during the COVID-19 pandemic, from delivering equipment to 'pop-up' hospitals, to helping provide food for those in need.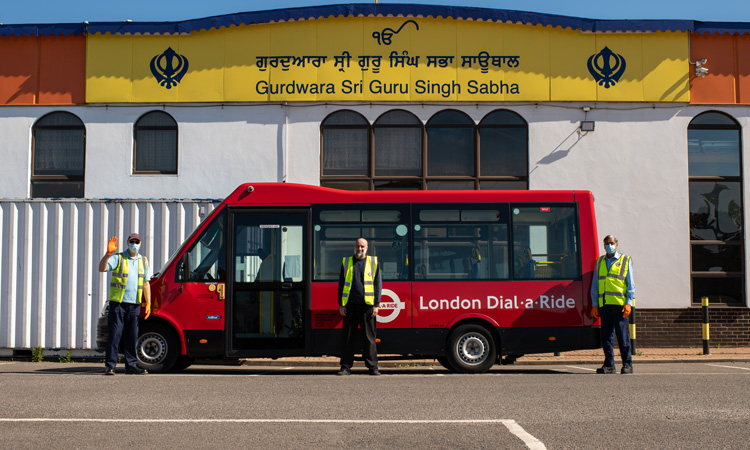 The coronavirus pandemic has presented huge challenges to organisations, businesses and people across the world. TfL has been no different. Our network has been impacted enormously while we have worked with the Government and the Mayor as part of a national effort to limit the spread of the virus. Ridership is down across all of our services but we have still kept the majority of our trains and buses moving to allow essential journeys to be made. 
Dial-a-Ride, our free door-to-door service for people with disabilities or older people who have difficulty accessing the transport network, has also seen a huge drop in journeys.  With so many of our members unable to travel, the service wound down to a reduced operation in March. Communicating with our members has been vital, they've been reassured that the service is still there if they really need it and that we'll keep them updated about how and when we will be safely reintroducing more services.
While the day-to-day role had changed, we were presented with an opportunity to use our spare capacity and work with other agencies, including local authorities, local transport groups and the NHS, to discuss the challenges they were facing in delivering their own services as the pandemic rapidly unfolded. This collaborative approach led to an agreement whereby Dial-a-Ride would help on an ad-hoc basis, alongside TfL's black cab subcontractor CityFleet Network, to deliver a range of goods to homes, offices and facilities across London.
One of the first things we did was assist in the set-up of the Nightingale Hospital at ExCeL London before its opening in early April, with our staff making five deliveries of equipment, including computers and printers, to the facility.
A driver recently told me that you can see it in people's faces that they're happy to see our staff arrive at their house, which is just brilliant."
In west London, we partnered with Ealing Community Transport and the Gurdwara Sri Guru Singh Sabha Southall in an initiative helping an estimated 700 families in Ealing and the surrounding boroughs. A dedicated team of gurdwara volunteers has been cooking hundreds of meals, five days a week in the temple's kitchens, with Dial-a-Ride drivers delivering them to families who would normally benefit from free school meals. A driver recently told me that you can see it in people's faces that they're happy to see our staff arrive at their house, which is just brilliant.
Through this same initiative we have been able to provide a means of transport to Ealing Community Transport volunteers, who have been doing brilliant work to safeguard community members shielding themselves from the virus.
On the opposite side of the city, in Newham, Dial-a-Ride staff from our Woodford depot have worked with our subcontractors, Waltham Forest Community Transport and CityFleet, to deliver PPE to council offices, as well as deliver prescriptions, food parcels and meals to around 200 households in the borough.
Safety precautions have, of course, been taken at all times. Our Dial-a-Ride fleet, with its 300 vehicles, are cleaned daily with the same anti-viral fluid that's being used on our Tubes, trains and buses, and our usual service is taking just one member or household at a time to minimise risk. Customers are also reminded that they will need to wear a face covering when travelling.
Coronavirus has had a devastating impact, claiming the lives of thousands of Londoners. We are deeply saddened by the deaths, not least those among our own staff – people who have shown a true commitment to serving London. Our thoughts go out to their families and friends at what must be an extremely distressing time.
It has been great seeing all our staff pull together and offer these different services to help keep communities going during the recent months. We thank them for their amazing efforts and continue to do all we can to serve our great city.
Biography
James Mead is TfL's General Manager of Dial-a-Ride. Joining TfL in 2002, he worked in senior roles across the organisation before taking on his current role in 2016 to oversee the safe and efficient delivery of Dial-a-Ride, the free door-to-door service for people with permanent or long-term disabilities. Prior to this he worked for Cycle Hire, looking after its day to day operations, strategic planning and business development, headed up business operations for Congestion Charge, and spent a period working in stakeholder relations.