Bike rental schemes in Lyon and Nantes reveal record results
Vélo'v in Lyon and bicloo in Nantes, both managed by JCDecaux, have enjoyed significant improvements in user numbers.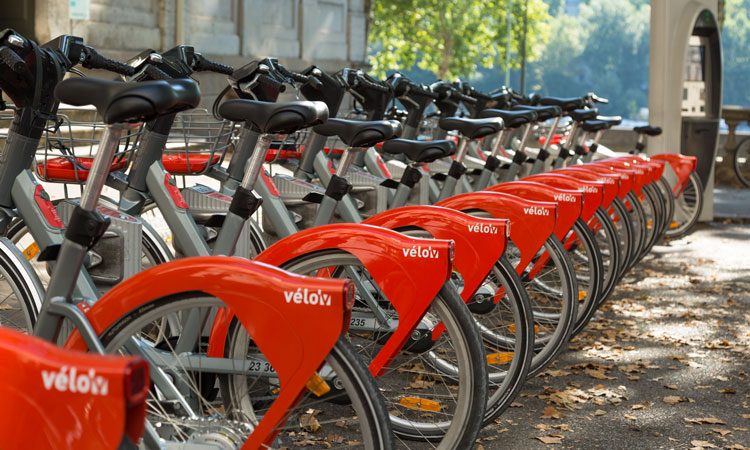 French bike-rental schemes Vélo'v and bicloo, located in Lyon and Nantes respectively, have seen significant growth in rentals and subscribers according to figures released by JCDecaux, which manages the schemes.
Vélo'v in Lyon now has 77,500 annual subscribers (up 12 per cent in six months), while the number of long-term users continues to climb – it is now equivalent to 12 per cent of the Lyon/Villeurbanne population according to a statement from JCDecaux. In the first quarter of 2019, rentals grew by 18 per cent compared to the same period in 2018. In total, 2018 saw 8.5 million rentals – 4.5 million of which came in H2.
These results were partly enabled by the expansion of the Vélo'v scheme in July 2018, when a JCDecaux team installed 4,000 new bikes within Lyon's metropolitan area in just seven night-time hours, without disruption to normal service.
Meanwhile in Nantes, JCDecaux introduced biclooPlus in 2018, an integrated system that includes self-service bikes, medium- and long-term rentals, and designated parking areas. There are now 15,535 long-term biclooPlus subscribers to date (up 59 per cent from 2018) and a sizeable increase in the number of rentals to a cumulative 298,860 since January (21 per cent increase vs. 2018).
The apps that were developed in conjunction with these services are a significant contributing factor their success – 63 per cent of biclooPlus uses come through its app, while the figure rises to 68 per cent for Vélo'v.
The two systems boast impressive availability rates: Vélo'v has 95 per cent actual availability rate at bike stations, while biclooPlus maintains 99 per cent actual availability at its stations. These are particularly impressive figures when considering that for Vélo'v, every bike is used between six and 10 times a day, and biclooPlus' bikes are all used between one and five times per day.
Commenting on the recent successes, Jean-Charles Decaux, Chairman of the Executive Board and co-Chief Executive Officer of JCDecaux, said: "We are very proud of the success of our self-service bike rental schemes in Lyon and Nantes. These results confirm the steadily growing enthusiasm for this green and user-friendly sharing solution. Thanks to our teams, who work tirelessly to maintain and optimise all our schemes, Vélo'v, biclooPlus and their associated services (monbicloo and biclooPark) results have risen consistently since we revamped the schemes, despite a dense competitive environment and the arrival of new players offering free-floating self-service bikes and scooters – and the failure of many of them. JCDecaux has reinvented how we use bikes in cities through a focus on service, schemes carefully tailored to users' needs and a range of contract options. We have made sustainability the priority, transforming self-service bikes into a plus for cities as they offer additional modes of transport and help meet local authority environmental and sustainability targets. These positive results reaffirm the value of our virtuous model for public finances and users, while consolidating our position as the leader in self-service bike rental schemes in France and worldwide. We are energised by this performance and ready to take an even more creative approach to revolutionise sustainable mobility in the months and years ahead."