Companies receive €700,000 in funding to create smart city solutions
Smart Dublin in partnership with Enterprise Ireland want companies to create innovative, smart solutions on a local, national and eventually global level.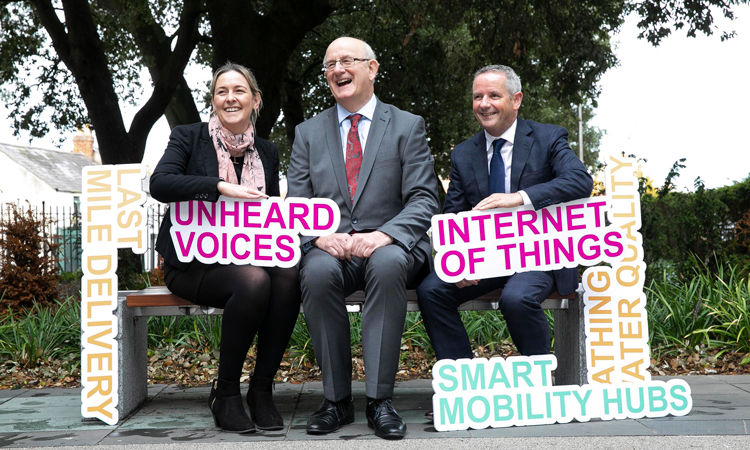 Nicola Graham from Smart Dublin, Tom Kelly, Head of Innovation at Enterprise Ireland and Paul Reid, Chief Executive at Fingal County Council
Approximately €700,000 is to be awarded to companies under Enterprise Ireland's Small Business Innovation Research (SBIR) initiative, enabling local authorities to explore smart city solutions.
Phase One funding has been awarded to 21 companies to help progress the feasibility of their solutions, allowing each recipient to carry out a feasibility study/prototype of their project.
The allocation of funding follows a call for applications in April 2018 under five separate categories:
'Unheard Voices': to encourage engagement of the 'unheard voices' in local authority decision-making
'Bathing Water Quality': to identify and communicate bathing water quality in a more engaging and timely manner
'Smart Mobility Hub': to test shared and sustainable workplace mobility options for staff
'Internet of Things': to facilitate connections to field devices over a radio frequency mesh network
'Last Mile Delivery': to optimise last-mile delivery in urban centres.
Alan Murphy, Smart Dublin Lead, said: "The SBIR process is a fantastic opportunity for Smart Dublin to engage in open innovation; tapping into the open market to explore new ways of delivering Council services for our citizens. This current SBIR round has the potential to significantly address known challenges regarding mobility, environment and citizen engagement."
The announcement was made by Smart Dublin, in partnership with Enterprise Ireland, and the project is supported by Fingal County Council, Dublin City Council, Dun Laoghaire Rathdown, South Dublin County Council, Belfast City Council, Cork City Council, Waterford City and County Council and the Sustainable Energy Authority of Ireland.
Fingal County Council Chief Executive, Paul Reid, said: "We are excited to be hosting and supporting the 2018 SBIR launch. We are always striving to improve and develop our services and through the SBIR process, we have been able to explore and pilot innovative cost-effective solutions that improve local authority services for businesses and citizens.
"Twenty-one innovative start-ups and SMEs have been awarded Phase One funding and we look forward to applying their ideas and solutions across the local authorities involved. The successful companies have proposed a broad range of innovative solutions from looking at blockchain and gamification to encourage engagement from 'unheard voices' to designing urban consolidation centres and dynamic parking solutions to support last-mile delivery."
Tom Kelly, Head of Innovation and Competitiveness, Enterprise Ireland, added: "It's encouraging to see how the four Dublin local authorities have embraced Enterprise Ireland's SBIR initiative over the last few years and are successfully addressing and finding solutions to challenges facing communities. The process is competitive and allows local authorities to collaborate and work closely with innovation-led SMEs to tackle real-life problems. The solutions produced through these collaborations can potentially be employed to improve local, national and even global societies, with far-reaching benefits for both people and innovative SMEs with global ambition."