Multimodal Ventra app in Chicago exceeds two million downloads
The Chicago Transit Authority, Metra and Pace have announced that the Ventra transit app has been downloaded more than two million times.
Less than two years after being launched, Ventra, the free multimodal transit app in Chicago, has been downloaded more than two million times and has been used to purchase nearly $250 million in fares so far.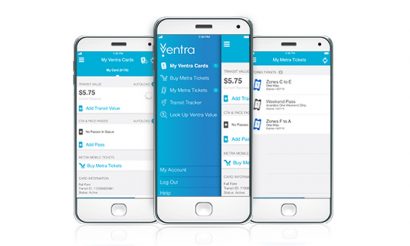 The app, which was developed and launched by the Chicago Transit Authority (CTA) in partnership with Metra (the Chicago area's commuter rail system) and Pace (the suburban bus system) is the first in the US which allows passengers to pay for rides on multiple transit system.
"The fact that the Ventra app has been downloaded more than two million times in less than two years demonstrates why CTA is leveraging technology to improve the transit experience for our customers," said CTA President Dorval R. Carter, Jr. "By making transit easier to pay for and more convenient to use, we help encourage people to take advantage of great public transit in the Chicago area."
Offering a wide range of functionality that not only assists passengers in paying for fares and managing their accounts, the app also allows them to load transit value/passes and buy and display mobile tickets on Metra.
The app can also send real-time notifications for when it's time to purchase new passes or refill accounts as well as a real-time transit tracker information for CTA, Metra and Pace in one convenient location.
"The Ventra app has made our transit system easier and more convenient to use," added Pace Executive Director T.J. Ross. "We're proud to be a part of the Ventra team and extend our gratitude to everyone who worked to achieve this success."
There are plans for future phases of the Ventra app that will offer additional services but for now the app is available for download and use on Apple and Android smartphone and tablet devices via www.ventrachicago.com, the App Store and Google Play