Spotlight on innovations at Transports Publics, the European Mobility Exhibition
The 7th edition of Transports Publics, the European Mobility Exhibition, will be taking place in Paris on June 14-16…
The 7th edition of Transports Publics, the European Mobility Exhibition, will be taking place in Paris on June 14-16. This not-to-be-missed event brings together key players in public transport, with over 10,000 visitors and 250 exhibitors from all across Europe. It is an opportunity to discover the latest innovations for developing sustainable mobility.
The 7th edition of the European Mobility Exhibition reflects a dynamic industry at the cutting edge of innovation. Next June, Paris will be the venue for stakeholders actively promoting and developing public transport: organising authorities, transport operators, councillors, specifiers, politicians, industrial players, manufacturers and subcontractors. In 2014, over 10,000 professionals – more than half were decision-makers – from over 58 countries attended the exhibition. This success bears witness to the social importance of sustainable travel, as well as to its European dimension and international influence. This year, this impact will be illustrated by the presence of the Colombian City of Medellin and Metro de Medellin. On mobility, Medellin has one of the pioneer multimodal systems, with a cable system for mass and public transportation. The city has become an international model for sustainable mobility for social inclusion. Its development plan includes an inclusive mobility through the integration of systems and means of accessible, fluent, safe and quality transportation.
Covering every aspect of sustainable mobility
Increasing mobility requirements means that the whole of the mobility chain must be taken into account when defining a transport policy – all the more when it comes to purchases and investments. Transports Publics 2016 is the only European exhibition to respond to this market need by incorporating every aspect of the mobility business.
The European Mobility Exhibition is an outstanding showcase of expertise and best practice, welcoming 250 exhibitors from all walks of public transport, including manufacturers, service companies and operators from Europe and beyond: urban, intercity and regional travel. They will be displaying the vehicles of tomorrow, innovative systems for passenger information, ticketing, intelligent transport systems (ITS), parking, maintenance, operators' offerings, and more. The whole of the mobility chain will be represented. Startups will also be highlighted, with a special area devoted to them, and as in previous editions, there'll be an area presenting active mobility at the heart of the Exhibition.
As a result, Transports Publics 2016 will be bringing together all the latest innovations in hardware, technology and management from across Europe. "Made-to-measure innovation" is the watchword this year. The idea is to focus on enterprises developing services that make each traveller a unique passenger, enabling them to have a simpler, more personalised journey on public transport.
Exhibitors' profile
Transports Publics is the only exhibition to bring together all sectors and lines of business relating to all sustainable modes of transport from across Europe:
Industrialists, manufacturers and
sub-contractors:
– Rail (trains, metros, trams, tram-trains)    
– Buses, trolleybuses, guided vehicles and coaches
– Car-pooling, car-sharing
– Active mobility (cycling, walking)
Transport operators
Organising authorities
Institutional players
Engineering, infrastructures, public works, civil engineering
Street furniture, passenger operations and information systems, parking
E-money and e-ticketing
Maintenance
Services
Design
Banking and insurance
Energy
Training
Programme at the "Espace Europe" venue
TUESDAY 14 JUNE
11am: Official opening ceremony
11.30am – 12.30am: Codatu – Urban mobility as part of a broader agenda: from COP21 to Habitat III
2pm – 3pm: City of Medellin, guest of honour – Medellin: sustainable mobility for social inclusion
3pm – 4pm: Business France – Export: focus on Algeria, United Kingdom and Scandinavia rail and urban transport markets
4pm: Public Transport Innovation awards ceremony
WEDNESDAY 15 JUNE
9.30am-10.30am: Polis – Europe: the changing landscape of regional public transport
10.30am-11.30am: UITP
– Improving air quality in cities through healthy mobility (Y4PT)
– EU-funded research projects
11.30am: European Talent in Mobility awards ceremony
2pm-3pm: APTA – Developing new mobility system: challenges and opportunities for public transportation in the U.S.
5pm: Golden Bus awards ceremony
THURSDAY 16 JUNE
10am-12.30am: Mobility news from around Europe (Germany, Italy, Netherlands, Switzerland)
1.30pm – 5.30pm: 'First Job' forum
2.30pm-3.30pm: Club des villes et territoires cyclables – Modal interchange for bikes and public transport: time to walk the talk. Comparing France and the Netherlands
3.30pm-4.30pm: ITxPT – Information technology for public transport – Driving ITS standardization in Europe.
 
Exchanging best practices and honouring the best examples
There will be a number of highlights during the course of the three days of meetings and business, promoting various kinds of initiative that are helping the transport and sustainable mobility industry to progress.
The "Espace Europe" venue will be hosting nine roundtable conferences covering the latest hot topics in the business. The Exhibitors' Forum will give an opportunity for exhibitors to present their new products and know-how.
This year, the European Mobility Exhibition is also hosting two new events:
June 14-15: a European Congress organised by GART and UTP focuses on the latest developments concerning the future of public transport, with elected officials and European experts.
June 16: a Franco-German Rail Day organised by UTP and German operators' association VDV. Stakeholders in French, German and European rail transport will be discussing the future of the French and German rail systems.
The "Public Transport Innovation" awards will honour the most outstanding progress in the fields of:
Energy and environment.
Operating and ticketing systems.
ITS: passenger information and services.
Accessibility, fittings, facilities and design.
Made-to-measure mobility (innovation track 2016).
The contest is sponsored by the Ministry of Sustainable Development and attracts entries from across Europe. Award-winners will be selected by a panel of experts at the Transports Publics 2016 Exhibition and widely relayed across Europe.
The "European Talent in Mobility" awards will go to professionals who contribute to the ongoing development of public transport in their day-to-day professional work, throughout five categories:
Best Young Talent.
Best Project Manager.
Best Manager.
"Special career service".
A fifth award will be presented to the winner of an online vote by professionals on the Exhibition website www.transportspublics-expo.com, who will be able to choose from a list of candidates between April 25 and May 11.
The European Mobility Exhibition is organised by GIE Objectif transport public, GART and UTP, with the collaboration of the International Association of Public Transport (UITP) and US Public Transportation Association (APTA). This new partnership will be signed during the Exhibition. The influence of the Exhibition is such that a Promotion Committee has been established to support it. The latter include Asstra (Italy), ATUC (Spain), BAG SPNV (Germany), EPTO (Europe), Federmobilita (Italy), KNV (Netherlands), POLIS (Europe), VDV (Germany) and VOV UTP (Switzerland). It is also supported by the European Union Committee of Regions.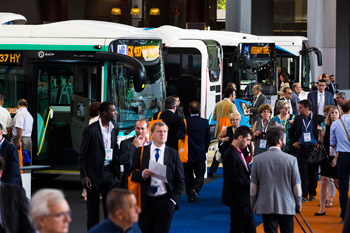 Book your stand:
+33 1 40 24 13 45
[email protected] / [email protected]
Visitors contact:
Free registration online: