Bombardier introduces INNOVIA Metro 300 train for Kuala Lumpur
Bombardier and consortium partner Hartasuma presented the first INNOVIA Metro 300 train for Kuala Lumpur and revealed local assembly facilities in Westport Malaysia.
Bombardier Transportation has completed production of the Bombardier INNOVIA Metro 300 trains for long-term customers Prasarana and train operator Rapid Rail at a local assembly facility in Westport, Malaysia.
Speaking at the ceremony, Prasarana Malaysia Berhad Chairman Tan Sri Ismail Adam said that the new trains will definitely further boost the image of Prasarana and Rapid Rail, the operator of Rapid KL LRT services. "We hope the introduction of the new trains will further encourage more people to use public transport and support the Government's aspiration to increase the public transport modal share," said Tan Sri Ismail.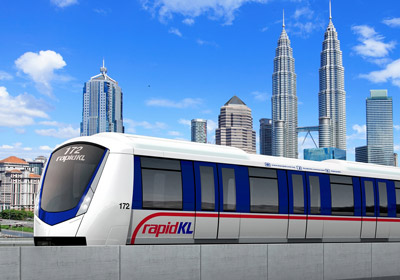 Pierre Attendu, President, Division Systems & Asia/Australia at Bombardier Transportation, said, "Our history with Malaysia's rail industry is denoted by our strong partnerships and today we are pleased to celebrate our continuing business relationships with Prasarana, Rapid Rail and Hartasuma. At this well-equipped production facility here in Westport, the Bombardier Hartasuma consortium will complete the new fleet of INNOVIA Metro 300 trains to the high standards demanded by our customer, the operator and Kuala Lumpur's citizens."
Prasarana orders 14 new generation INNOVIA Metro 300 trains
Prasarana has ordered 14 of the new generation INNOVIA Metro 300 trains for services operated by Rapid Rail on the Kelana Jaya line. The new trains will increase capacity and enhance public transport in the growing city of Kuala Lumpur. Designed, constructed and tested at Bombardier's Centre of Competence for Mass Transit Systems in Kingston, Canada, the trains will be completed by a local production team at the Westport facility in Malaysia. Their work will include the installation of the complete interior, including onboard systems for security and communications, as well as the final completion stages, prior to final testing on the network. The first four-car train is currently in completion in Westport and deliveries are scheduled to start in mid-2016.
The latest generation of INNOVIA Metro 300 trains is designed with sustainability in mind. Equipped with Linear Induction Motor (LIM) propulsion technology, the trains are energy efficient for lower operating costs while providing passengers with a smooth and comfortable ride.