VMS orders additional Vossloh Citylink hybrids for Chemnitz
Posted: 22 July 2015 | Katie Sadler, Digital Content Producer, Intelligent Transport
The Verkehrsverbund Mittelsachen (VMS) ordered an additional four hybrid Vossloh Citylink LRVs (Light Rail Vehicles) for the German city of Chemnitz. VMS, the public transport association for Chemnitz and its surrounding region, signed a contract with Vossloh Kiepe and Vossloh Rail Vehicles for the supply of eight low-floor vehicles in August 2012 with the option […]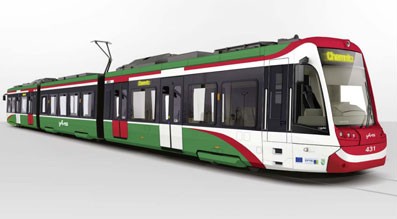 The Verkehrsverbund Mittelsachen (VMS) ordered an additional four hybrid Vossloh Citylink LRVs (Light Rail Vehicles) for the German city of Chemnitz.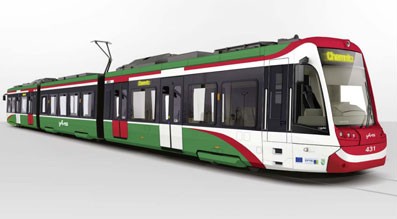 VMS, the public transport association for Chemnitz and its surrounding region, signed a contract with Vossloh Kiepe and Vossloh Rail Vehicles for the supply of eight low-floor vehicles in August 2012 with the option of additional four at a later date. The contractual option has now been agreed by the two parties and the four train-trams will join the eight already on order for the city.
The Citylink hybrid vehicles are dual mode vehicles – able to operate on 600V/750V DC overhead voltage and on diesel power. On the city's tramway network they are powered solely from the overhead power lines, while on the railway network they are diesel powered. The vehicles have two powerpacks fitted to the roof – consisting of a diesel engine and a generator.
The Citylink hybrid LRVs will be specially adapted to the city's infrastructure and the regional tracks on which they run. The doors have a ramp system which ensures that access is hazard-free despite the different platform heights. The adaptations allow the vehicle to be accessed from tramway platform level and still meet the strict collision requirements of regional railway stations.
According to Vossloh Kiepe, The drive system on the light rail vehicles is equipped with four IGBT direct pulse inverters. To comply with the stringent redundancy requirements, each of the four DC asynchronous motors has its own converter. The total motor power of 550 kW installed on two drive bogies provides good acceleration and service brake delay values. The conventional bogies with wheelset axles, developed and manufactured by Vossloh Rail Vehicles, have a secondary air suspension system for improved passenger comfort. Vossloh Kiepe supplies the entire drive technology and vehicle control system, on-board power, HVAC equipment for passenger and driver compartments, safety and passenger information systems, as well as the video monitoring system.