Dubai doubles shared e-scooter trips in 2022
With over 557,000 riders across Dubai having used the micro-mobility service in 2022, an expansion of new e-scooter lanes and permitted riding areas are set to continue throughout 2023.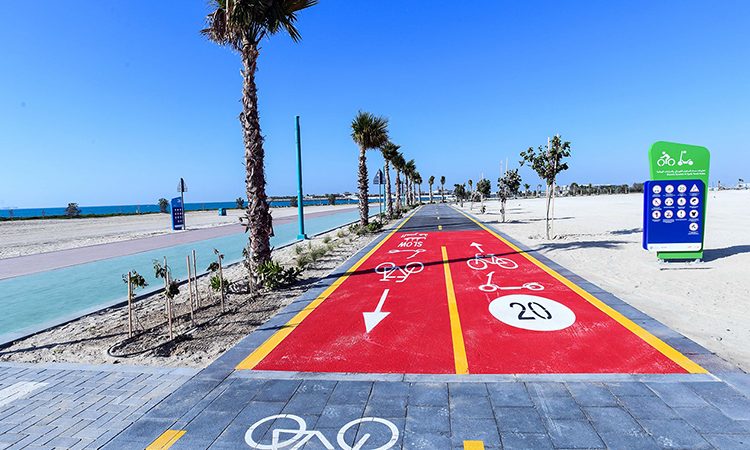 Credit: Roads and Transport Authority
The Roads and Transport Authority (RTA) has announced that shared e-scooters in Dubai have made about one million trips in 2022, doubling the number that had been recorded in 2021, which amounted to 500,000 trips.
The shared e-scooter rental service has become increasingly popular, as e-scooters are shaping up as ideal individual mobility means for short trips as well as first- and last-mile journeys. Over 557,000 riders had used the service in 2022, with the satisfaction rating reaching 76% in comparison to 79% in 2021.
Throughout the first phase of the shared e-scooter scheme, RTA has provided dedicated e-scooter lanes with high safety and quality standards, connecting attraction points and high-demand spots, such as public transport stations and entertainment areas. The authority has also permitted individuals to ride e-scooters on safe roads once they have obtained riding permits. Since the launch of the electronic platform by the end of April 2022, the number of permits granted has grown to about 50,000.
From the first quarter of 2023, RTA had permitted the use of e-scooters in 11 new residential areas in Dubai after completing all engineering and technical procedures and verifying traffic safety issues in the new areas.
Dubai RTA announces launch of e-scooters in 10 city districts
Allowing the operation of e-scooters in 11 new residential areas raises the number of districts in which e-scooters are permitted to operate to 21; more than doubling the total length of tracks dedicated to bikers from 185km to 390km, which includes safe and shared internal roads for bikes and e-scooters across Dubai.
In addition, RTA has converted internal roads spanning more than 200km in Dubai into safe roads, featuring numerous traffic safety measures, such as reducing the speed limit from 40 km/h to 30 km/h and providing directional and cautionary signs to ensure safe mobility for all road users.
As part of procedures undertaken to enhance traffic safety in the new areas, RTA has added ground markings that include introducing a red carpet marking to alert motorists that the use of e-scooters is permitted in this area, installing traffic signs that show the beginning and end of the safe track for riders of individual mobility means, modifying the speed signs, installing traffic and cautionary signs, as well as installing directional signs leading to public transport stations.