LA Metro deploys hundreds of ambassadors to enhance customer experience and public safety
LA Metro's ambassadors will provide critical customer support on its bus and rail system, as part of a re-imagined public safety plan that includes improved cameras and lighting, homeless outreach and crisis intervention teams.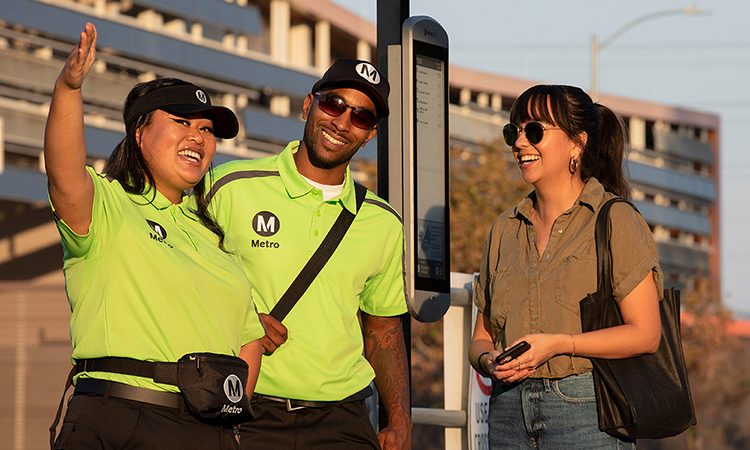 Credit: LA Metro
The Los Angeles County Metropolitan Transportation Authority (LA Metro) has announced that it has successfully trained nearly 300 new Metro Ambassadors in preparation for their deployment across its bus and rail system. 
Metro Ambassadors help riders navigate the transit system, provide extra eyes, ears and support to riders who need assistance. They will welcome riders to Metro, answer their questions, connect them to the resources that they need and report any issues that they see. 
Metro Ambassadors have been deployed along certain routes of the Metro Rail System since the first cohort had been  trained in October 2022, providing critical customer support. As more are trained, their deployment will expand across more areas of the Metro system, as they are needed.
Ambassadors are available seven days a week to help LA Metro customers and are equipped with communication devices, like mobile phones or iPads, to contact appropriate staff to connect customers with resources and report maintenance and safety concerns via Metro's Transit Watch App.
The new Metro Ambassadors are diverse and come from the communities that Metro serves.  All have either lived or have professional experiences with the various types of challenges that are experienced by many Metro customers, which makes it possible for them to perform their job with empathy, respect and skill.
Ambassadors are not security officers and are not replacing existing security staff or law enforcement. Their specific responsibilities are to support riders as they navigate the system by providing a welcoming, visible presence and support that customers can rely on.  They will connect riders to resources that they need, whether it be for directions to get them where they are going, providing information about how to pay their fare, or to connect people experiencing homelessness with the services available through LA Metro's homeless outreach teams. 
RTC Southern Nevada receives $1.68 million to create action plan for safer roads
"Metro Ambassadors are at the core of our efforts to re-envision how to keep people safe on Metro. These ambassadors will serve as the eyes and ears of our system, as a trained, friendly presence to welcome riders to Metro every day," said Holly J. Mitchell, Los Angeles County Supervisor and Metro Board Member. 
To best prepare them to help transit customers, the ambassadors have had to successfully complete a thorough classroom and field training programme that had been specially designed by LA Metro based on the collective experience of multiple agency departments. The ambassadors had been trained on a wide range of critical customer-facing issues that they will likely experience on a daily basis, including conflict de-escalation, disability awareness, trauma-informed care, cultural and situational awareness, Metro Operations and other personal and public safety issues.
The pilot programme has been inspired by similar programmes that have been implemented by San Francisco's Bay Area Rapid Transit (BART) and Philadelphia's Southeastern Pennsylvania Transportation Authority's (SEPTA) transit system. 
The agency is using a $122.8 million pilot vendor contract for up to five years to operate the ambassador programme. The pilot programme is an important component of LA Metro's re-imagined, multi-layered public safety plan that includes Transit Security Officers, law enforcement, improved cameras and lighting, more frequent cleaning as well as homeless outreach and crisis intervention teams.  
"In survey after survey, our customers have told us that they want more wrap-around support for riders on Metro," said Metro CEO Stephanie Wiggins. "Metro Ambassadors are a key part of delivering that support, along with the other layers of our Metro team. We know we've got a lot of work to do to deliver the type of transit service people expect and deserve on our system – and we're far from done."
According to LA Metro, public feedback has been positive; riders have said that they appreciate the presence of the Metro Ambassadors. In addition to helping customers navigate the system, the Metro Ambassadors have helped report sexual harassment, criminal activity and other issues of key importance to riders. In addition, on several occasions, Metro Ambassadors have helped summon emergency medical assistance for riders in distress.