IndyGo hosts ground breaking event for construction of new BRT line
Upon completion, IndyGo's three new bus rapid transit lines, including the ground-broken Purple Line, will help to increase economic opportunity and the quality of life in Indianapolis.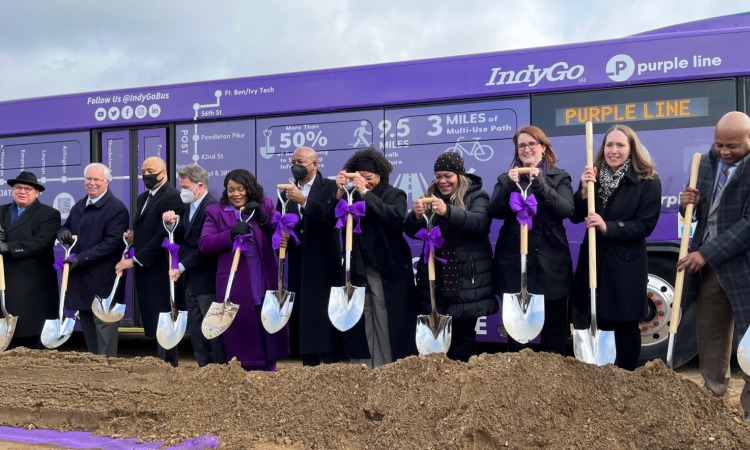 Credit: Indianapolis Public Transportation Corporation
On 25 February 2022, the Indianapolis Public Transportation Corporation (IndyGo) hosted a ground breaking event to mark the start of construction of the second of three planned bus rapid transit (BRT) lines, known as Purple Line, which will help to significantly increase economic opportunity and the quality of life for Indianapolis residents.
"The start of Purple Line construction symbolises the beginning of new opportunity and growth for an entire community," said IndyGo's President and CEO, Inez Evans. "We know that this project will bring unprecedented renewal and phenomenal transformation as residents take advantage of the opportunity to move forward faster."
"Connection and enhanced mobility are key for our city and its residents' success," said U.S. Representative, André Carson. "The Purple Line will take IndyGo's bus rapid transit network to the next level and set an example for the nation on what's possible when you put the community and riders first with faster, innovative, zero-emission transit."
"At the Federal Transit Administration, we've seen how public transportation has benefited cities across the country," said FTA's Regional Administrator, Kelley Brookins. "IndyGo leads the way with one of the largest all-electric fleet BRT lines in the nation, and we're pleased to be able to support their continued efforts with over $103 million in federal funding to continue the extraordinary work."
"The City of Lawrence is greatly looking forward to this project's completion," Lawrence Mayor, Steve Collier, said. "Economic development often follows rapid transit. With the launch of this project, IndyGo's Purple Line will be increasingly important to our city's continued growth."
The 15.2-mile project will connect Indianapolis to the City of Lawrence and significantly upgrade a substantial portion of the existing Route 39 along the East 38th Street and Post Road corridors.
Major infrastructure improvements will include nearly 10 miles of sidewalks, more than 350 ADA curb ramps, new street paving, a multi-use path, storm sewer separation and much more to advance the community.
With the line expected to open for service in 2024, construction is anticipated to begin in early March 2022.