Spin to launch disability awareness module for scooter riders
Spin has partnered up with a leading sight loss organisation to educate scooter riders and protect vulnerable road users in the UK capital.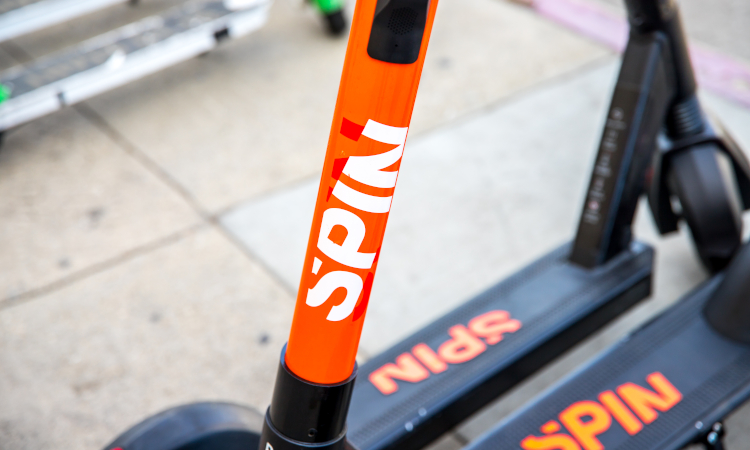 Ford-owned e-scooter company Spin has announced a partnership with London Vision, non-profit organisation supporting visually impaired and blind people in London. Through the partnership, Spin's e-scooter riders will be educated on safe riding and etiquette to help protect vulnerable pedestrian groups in the areas in which the e-scooter provider operates.
London Vision will provide Spin with a framework of training materials that it says it will incorporate into a disability awareness safety module that can be accessed online, in-app and via in-person training events when lockdown restrictions ease.
After completing the disability awareness safety module, it's hoped Spin riders will be able to appreciate the implications of riding a scooter in the vicinity of a guide dog, understand what the different lengths and styles of cane represent, and know how to interact with blind and partially sighted people to support and respect their independence in the urban environment.
"At Spin, safety is our number one priority. We are always looking for new ways to educate our riders on e-scooter safety and rider etiquette," Steve Pyer, UK Country Manager at Spin.
"Partnering with experts like London Vision is a significant step in creating a better, safer, and less fearful relationship between e-scooter riders and blind and partially sighted pedestrians."
Bhavini Makwana, London Vision's Engagement Manager, added: "We are pleased to be working with Spin to advise on training modules that will help to keep blind and partially sighted pedestrians safer.
"Our partnership with Spin demonstrates Spin's awareness of the legitimate fears of blind and partially sighted pedestrians and a willingness to ensure that its riders are well trained and as safe as possible".
To ensure that those who are blind or visually impaired can identity the e-scooter, Spin says all of its e-scooters are equipped with labels in braille, which also include contact information for Spin's customer support team. Riders can also use the bell on the e-scooter to alert pedestrians that an e-scooter is approaching.