Spin app goes live with bike and micromobility lane route optimisation
Spin says it is providing the first in-app safer route feature, coming to 50 U.S. markets and rewarding riders for docking in Spin Hubs.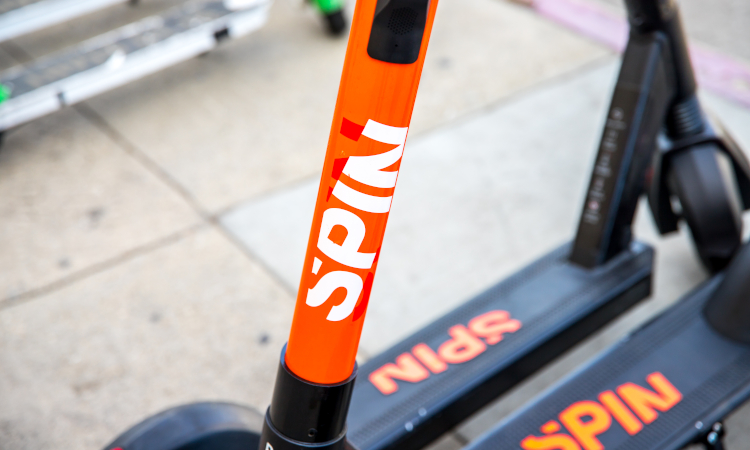 Ford's micromobility firm Spin has revealed a new in-app feature for users that will optimise routes to include bike and micromobility lanes wherever possible.
The new feature is being rolled out as a pilot in over 50 U.S. markets and is designed to provide riders with safer and quicker route options to get to their desired destination.
"Around the world, people are embracing micromobility as a preferred transportation option for socially distanced travel. The beauty of micromobility is that it brings our riders closer to their communities, and injects an element of spontaneity and discovery to their journey," said Maxime Veron, Vice President of Product at Spin. "Spin has always believed physical infrastructure is critical to accelerating the adoption of micromobility. Our hope is that the new destination feature can encourage people to rediscover their cities and help them use existing infrastructure to ensure a safer and more comfortable ride."
According to a recent study from the National Association of Transportation Officials (NACTO), when micromobility is combined with a network of bike lanes, it helps make streets safer for people biking, walking, scooting, and rolling. Nearly 9-in-10 scooter riders in Hoboken, NJ said they would feel safer riding in the street if protected bike lanes were present and more than half of riders in Alexandria, Va. said they prefer to ride in bike lanes over trails, sidewalks, and streets.
With more people opting for micromobility due to social distancing guidelines, this feature will provide riders with a quicker and safer route to navigate around a city. This enhancement in Spin's rider experience follows a number of safety initiatives from the company including Spin Safe Digital and Spin's Safe, Livable and Just Streets programme.
Future versions will include turn-by-turn audio navigation to support riders during their trips. The new in-app feature will also help solve the most frequent complaint from municipalities and citizens – the clutter and poor parking of dockless mobility options. Depending on a rider's location, Spin will suggest and offer options to re-route riders so they can end a trip at a Spin Hub and be rewarded for it.
Related organisations
Spin