The Sustainable Bus Update: volume two
Within the second Sustainable Bus Update, Intelligent Transport summarises the most recent and standout sustainable bus purchases and developments from across the globe.
Stagecoach unveils Greater Manchester's first double-decker electric buses in a £16.5 million investment
32 electric buses will operate on the popular 111 and 43 routes connecting Manchester city centre, Manchester Airport, five hospitals and three universities.
These zero emission buses can travel 190 miles on a single charge and look to help to ease pollution on some of Europe's busiest roads. A double decker bus can already take more than 70 cars off the road and the new e-buses will reportedly save 2,208 tonnes of carbon a year compared to the existing fleet, as well as improving local air quality.
Elisabeth Tasker, Managing Director of Stagecoach Manchester, said: "The introduction of the new electric double-decker buses is a significant milestone in the history of transport in Greater Manchester and represents one of the biggest single investments in electric buses anywhere in Europe.
"We are very proud to have worked in partnership with the Mayor, Andy Burnham, Transport for Greater Manchester and other key organisations to secure the investment needed to roll out the first electric double decker buses for this region.   
"This significant investment will deliver major benefits for our customers, the region and other road users in delivering greener transport on some of Manchester's busiest roads."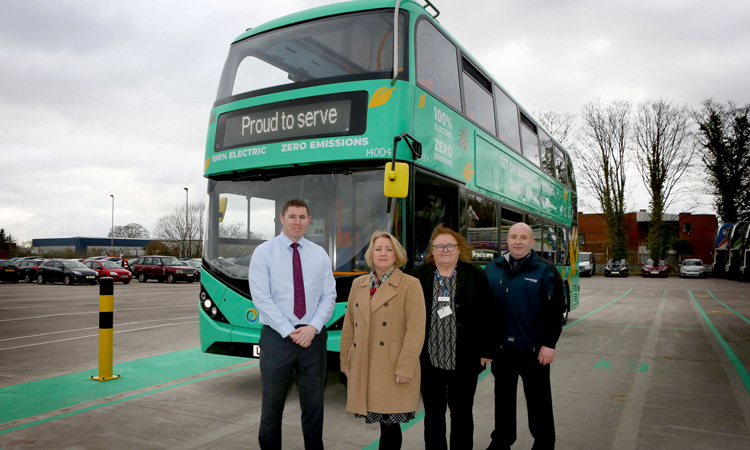 Mayor of the City of Bolesławiec signs contract for Solaris e-buses and chargers
Solaris has secured another contract for the delivery of electric buses on the Polish market. The representatives of Solaris Bus & Coach S.A. have signed a contract with the Mayor of the city of Bolesławiec for the delivery of two electric 8.9 metre long buses and two stationary chargers. Worth gross nearly 4.8 million PLN, the contract will be carried out in February 2021.
Two Urbino 8,9 LE electric will be handed over to the Public Transport Authority (Miejski Zarząd Komunikacji) in Bolesławiec within 11 months from signing the contract. The total value of the order, which covers electric buses, two stationary charging stations and after-sales servicing amounts to PLN 4,792,080.
The ecological battery buses will be propelled by a 160 kW central traction motor. The energy needed to drive the vehicle will be stored in Solaris High Energy batteries with a total capacity of 160 kWh and it will be supplemented via a plug-in connector.
The buses will feature, among others, destination displays adapted to the needs of visually impaired passengers and wheelchair ramps. The passenger compartment will include USB ports which passengers will be able to charge their mobile devices. By order of the contracting authority, the Polish producer will also install a passenger information system comprising, a video surveillance system and a fire detection and extinguishing system.
Bolesławiec is the 28th Polish city where the battery buses of Solaris will be in use.
Solaris to supply 25 hydrogen-fuelled buses to German clients 
The hydrogen bus Solaris Urbino 12 hydrogen, which débuted at the Global Public Transport Summit in Stockholm, has found more buyers. The affiliated transport company of the transport association Verkehrsverbund Rhein-Ruhr, the Wuppertal-based company WSW Mobil GmbH and the RVK Köln carrier, have placed orders pursuant to which Solaris Bus & Coach S.A. is to supply 25 hydrogen-fuelled, environmentally friendly city buses in total.
Ten of the 25 commissioned buses will be in use in Wuppertal, whereas the remaining 15 ones will be operated on lines serviced by RVK Köln in nearby Cologne, Germany. The first of the ordered innovative Solaris Urbino 12 hydrogen buses will make it to both cities this year. The remaining vehicles will be handed over to the two operators by the end of 2021.
Owing to the advanced technology used in them, the buses will be capable of covering up to 350 km on a single refill. In a hydrogen fuel cell, electric power is generated in the process of reverse electrolysis and then transferred directly to the driveline. The sole by-products of the chemical reaction happening in the fuel cell are heat and steam. Consequently, the vehicles do not generate any noxious substances whatsoever.
$24 million announced to support transition to all-electric transit buses in New York State
The State Department of Environmental Conservation (DEC) and the New York State Energy Research and Development Authority (NYSERDA) have announced that more than $24 million is now available to replace diesel-powered transit buses with new all-electric transit buses, which aims to help improve air quality, reduce the greenhouse gas emissions that contribute to climate change, and promote investment in cleaner fuel technologies, among other benefits.
As part of the state's $127.7 million allocation of the federal Volkswagen Settlement, NYSERDA will administer approximately $18.4 million to fund the new electric transit buses through the New York Truck Voucher Incentive Program and the New York Power Authority (NYPA) will manage $6 million for associated charging infrastructure.
DEC Commissioner, Basil Seggos, said: "The transportation sector remains the largest source of greenhouse gas emissions in New York, and by taking action to remove the worst polluters from our roads, communities across the state will benefit, especially those overburdened by pollution in our cities. I thank Governor Cuomo for his ongoing leadership in promoting green and renewable technologies and providing incentives to improve our air quality, reduce emissions, and create a sustainable future for New York's transportation industry."
Sofia, Bulgaria relaunches €14 million tender for 52 new electric buses
Stolichen Avtotransport, the public bus transport company of Bulgaria's capital Sofia, has opened a new tender for supply of 52 new electric buses and charging stations for a total estimated worth of 27.6 million levs ($15.6 million/€14.1 million).
The tender is divided into two lots – one envisaging the supply of 30 buses of 5.5-7.5 metres, and another for supply of 22 buses of 7.6-9.6 metres in length, Stolichen Avtotransport said in a tender notice.
The project benefits from EU funding under Operational Programme Environment 2014-2020.
The initial tender, launched in September 2019, was cancelled in January 2020 due to technical errors in the documentation, but has now reopened.