ElectriCity: Gothenburg's exciting electric bus project
The ElectriCity project enables Västtrafik to offer passengers a quiet journey without harmful emissions. The electric bus on route 55 navigates silently through Gothenburg's inner city with the vehicles and bus stops equipped with free Wi-Fi, electrical sockets and displays providing information and news. In this interview, Hanna Björk, Environmental Strategist at Västtrafik and Per-Erik Lund, Project Manager at Keolis, elucidate the cooperative venture that is ElectriCity. The following explains how the project unites industry, research and society in the development and testing of solutions for next-generation sustainable public transport.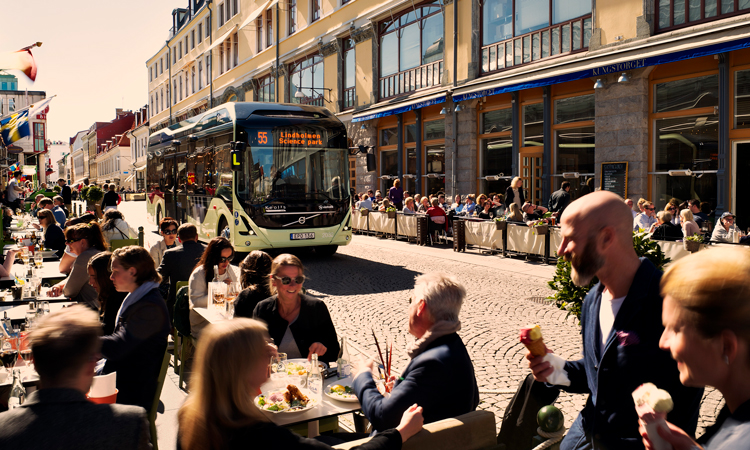 Gothenburg and Västtrafik are at the forefront of the development of new public transport.
In June 2015 the electric bus line route 55 entered service as part of the ElectriCity project; a unique collaboration between business, academia and the public sector. The line runs between Chalmers University of Technology in Johanneberg via central Gothenburg and on to Chalmers Campus Lindholmen on Hisingen.
The bus line also acts as a test arena for the development of new and attractive public transport solutions – including bus stops, traffic management and communications.
Sustainable travel
Västtrafik's participation in ElectriCity is a strategic step forward aimed at driving the development of a sustainable and attractive public transport network, encouraging more people to travel sustainably and increasing the market share of the public along with the vision of the company's owner, Region Västra Götaland.
"Västtrafik is a driving force for the creation of a sustainable city with modern public transport," says Hanna Björk, Environmental Strategist at Västtrafik. "Sweden intends to become one of the world's first fossil fuel-free welfare states and public transport can contribute to meeting 14 of the UN's 17 sustainable development goals."
There is also a great need for research and development in the field of public transport.
Västtrafik envisions an interesting opportunity to work closely with other stakeholders to jointly shape a sustainable society with modern public transport solutions that can be tested in the demo arena provided by the ElectriCity project.
There has been a great interest in ElectriCity, with hundreds of study visits from around the world.
The electric bus line, route 55, is exclusively powered by electricity from renewable sources, such as wind and water, and therefore has an extremely low environmental impact. This is a concept vehicle developed by Volvo Buses to test and evaluate new, environmentally adapted technologies, as well as a variety of solutions that can make public transport more attractive. The electric bus is approximately 80% more energy efficient than a conventional diesel-driven bus. The use of electric and hybrid buses in public transport provides major environmental benefits.
"We believe in a combination of various renewable fuels, all of which have extremely high levels of climate performance – with electricity, along with biogas and HVO, likely to take a larger market share," says Hanna.
The aim of ElectriCity is to create a new bus system that will be integrated with the existing public transport network. Gothenburg will be a living test environment for this new transport.
Hanna continues: "Västtrafik's goals are to double the number of journeys with public transport by 2025 and to ensure that by then, at least 95% of public transport will be powered by renewable energy calculated per passenger kilometre. We believe that our participation in ElectriCity means that we can attract new customer groups as it becomes clear that we are investing in environmentally-friendly and innovative public transport."
Electric bus design
Bus line route 55 is served by 10 green buses of which three are entirely electrically-driven Volvo buses and seven are Volvo electric hybrid vehicles.
The electric buses are 10.7m in length while the plug-in hybrids are 12m-long. The plug-in hybrids have both an electric motor and a diesel engine that charges the buses' batteries.
In early-2013 the plug-in hybrid was tested on line 60 in Gothenburg with good results. The buses were charged using charging stations at each terminus and were 80% electrically driven.
The three electric buses are concept vehicles equipped solely with electric motors. Serial production of entirely electrically driven Volvo buses is planned to commence in 2017.
The driver's seat is located centrally over the front axle. The front overhang is shorter than on a normal city bus. Instead of a traditional door solution, Volvo has opted for a pair of wide centre doors and in practice a third of the side of the bus opens.
The desire for a pleasant passenger environment and practical on-board functions has influenced the design of the electric bus in a number of ways. For example, all boarding and alighting takes place quickly and conveniently through the extra-wide door opening with a low step, greatly shortening the amount of time spent at each bus stop.
The interior of the bus is comprised of a large open space with a flat floor, making life easier for passengers with strollers or wheelchairs.
The interior is also light and airy. The white, arched roof creates a feeling of space and is backlit to provide warm and pleasant lighting. The colour scheme is otherwise dominated by matching shades of green.
Buses are also equipped with Wi-Fi and electrical sockets for those wanting to charge their phones or surf the Internet, as well as displays providing information and news. 
Equipment and function of an electric bus
The electric bus is equipped with an electric motor powered by lithium-ion batteries. Whenever the bus slows down, the resulting braking effect charges the batteries using power that would otherwise be wasted. Recharging also takes place via the main electricity grid at the two end stops at Chalmers and Lindholmen. Full recharging takes approximately six minutes and is more than sufficient for the entire route. The bus requires only four roof-mounted batteries weighing 350 kg. The batteries are quick-charged when the bus is in service.
The bus is also charged at night when standing in the depot, among other things, due to the need to balance the batteries. According to Volvo the batteries have a lifetime of at least seven years and when they eventually require replacement they can be recycled.
The charging stations on the route use 400-600 volt three-phase electricity while night-time charging uses standard 220 volt mains power. At that time the demand on the grid is also at its lowest – meaning that there would be no problem in charging an entire fleet of electric buses.
The electric motor and gearbox together weigh 180kg. The electric motor has 150 kW of peak power and a torque of 1200 Nm.
At around 100 horsepower, the electric buses in service in ElectriCity may seem weak but this is not a problem. As soon as the bus starts, the motor has full torque – providing excellent acceleration as well as climbing ability.
Volvo has also developed an entirely new powertrain with a two-speed gearbox, specifically designed for the electric bus. The gearbox changes gear automatically on reaching a speed of approximately 25 km/h.
According to Volvo, the gearbox contributes to making the bus the most energy efficient on the market, with energy consumption in ideal conditions of 0.8 kWh per kilometre. With a full load, energy consumption is stated as 1.2 kWh/km – 0.3 kWh below its competitors.
Satisfied drivers
The bus company operating route 55 is Keolis Sverige AB. Per Erik Lund, Project Manager at Keolis says: "Participation in the ElectriCity project means a great deal to Keolis. It provides us with the opportunity to be part of the future and shows our ambition to be an environmentally-friendly bus company.
Prior to the launch of bus line 55, 12 drivers from Keolis were sent on a two-week specialist training course in order to familiarise themselves with the buses. "We wanted plenty of feedback from engaged drivers," explaind Per Erik. "We therefore created a small group in order to increase team spirit."
Overall, the drivers have been extremely positive. The buses are responsive and pleasant to drive. The drivers experience an improved work environment with less noise and vibrations.
"This means that the drivers feel more rested and experience less stress. We have noted a decrease in sick leave among drivers on the line 55," says Per Erik.
At first, several of the drivers found it strange to have the driver's seat in the middle of the bus and had difficulty in getting a sense of their position on the road; however, they quickly adapted. Many of them were positively surprised by the power of the motor and the rate at which the bus is able to accelerate.
"Despite numerous concerns early on, the project has exceeded expectations from day one and, from a purely technical perspective, it has been surprisingly problem free with few cancelled services," says Per Erik.
Silent buses give new possibilities
According to the evaluations carried out of electric hybrid buses on line 60 through highly populated areas, residents along the route experienced reduced noise pollution and fewer disturbances than with normal buses.
Today noise is a problem that many towns and cities intend to address. The level of noise from the electric bus is very low, both inside and outside of the bus. Basically, only the noise of the road can be heard. As a result, the electric bus can serve areas that normal buses are unable to enter.
"Electric bus technology will allow urban planners to build-in public transport for new residential areas," explains Hanna. "This gives us the opportunity to come closer to passengers and in the future we may, for example, be able to locate a bus stop on the ground floor of a hospital, library or inside a tower, making it possible to step out of the lift and directly onto the bus without leaving the building." 
Electric buses are equipped with a safety system that warns both the driver and pedestrians or cyclists in the vicinity if someone steps out directly in front of the vehicle.
"Zone management gives us the ability to limit a bus's speed and select solely electric power within specified areas via GPS. In this way we can ensure that buses move quietly and safely through areas where many people gather, such as outside schools," says Per Erik.
New bus stop technology
Line 55 has Sweden's first indoor bus stop, with a lounge adjacent to the stop with a glass façade and green roof.
Västtrafik has constructed several new bus stops with a pleasant room-like feeling, all characterised by innovation and new thinking. During the course of the project, new prototype solutions will be tested at these bus stops. Access to technology such as Västtrafik TV; modernised real-time information displays; touch screens and USB charging outlets, among other things, will be provided. The USB chargers will be powered by local solar panels on the roof of the bus stop.
Buses and bus stops will be equipped with free Wi-Fi, with access to 200 MB of data per login for each passenger. Passengers will only need to login once at a bus stop or on a bus for automatic seamless Wi-Fi roaming, depending on their telephone settings. Consequently, passengers will not need to actively login every time they change bus.
The intention is to offer some form of infotainment and interactive screens where passengers can find journey and timetable information. It should also be possible to interact with map displays, obtain information about ElectriCity and find available rental bicycles.
A popular route among passengers
On average, 100,000 journeys are made on the electric bus line route 55 each month. Buses operate on the route on weekdays between 06:00 and 19:00.
From the launch of the bus route 55 until May 2016, approximately 35,000 scheduled services have been completed. This equates to a service level that comes extremely close to Västtrafik's target of 99.85%.
Customer surveys carried out by Västtrafik show that passengers using the electric bus are generally more satisfied than those using other comparable lines. Above all, they appreciate access to free Wi-Fi and the opportunity to charge their mobile phones.
"Customer satisfaction on the line is 100%, and it can't get better than that," says Hanna.
Background
Sweden faces enormous challenges in its cities because of urbanisation. One of the main obstacles is the growing population in the major cities, and the challenges this presents for the urban planning and housing situation. This increase in urban populations also leads to growing demands for transportation in inner cities. Consequently, there are the negative effects of traffic congestion and poor air quality. The City of Gothenburg attempts to resolve these problems through joint innovation with the private and public sectors as well as academia. The ElectriCity project is an excellent example of this policy, with collaboration from both large and small stakeholders throughout the Region of Västra Götaland.
Facts about the organisation
Beginning in 2013, ElectriCity is a unique collaboration between business, academia and the public sector. Participating in the organisation are the Volvo Group; Chalmers University of Technology; the Swedish Energy Agency; Region of Västra Götaland; the City of Gothenburg; Göteborg Energi; Västtrafik; Lindholmen Science Park; Johanneberg Science Park; Keolis; Business Region Göteborg; Chalmersfastigheter; Akademiska hus; Älvstranden Utveckling; and Ericsson.
Award-winning project
When, for the 14th consecutive year, the CIVITAS Awards were handed out, the second prize in the Transformation category went to ElectriCity. CIVITAS award prizes to the best and smartest initiatives in clean urban transport for European cities in the following categories: Technical Innovation; Public Participation; the CIVITAS City of the Year; and a new category this year – Transformation. ElectriCity was awarded second prize, with the jury motivating its decision as follows:
'The City of Gothenburg took a great step forward with ElectriCity, a cooperative venture that brought together industry, academia and society in developing next-generation, sustainable public transport. The solution has several positive effects, such as reductions in air pollution and noise, that impact positively on both social aspects and urban planning.'
Biographies
Hanna Björk works as an Environmental Strategist at Västtrafik. Hanna has worked with environmental issues linked to traffic for 17 years. At Västtrafik Hanna has the overall responsibility for environmental issues and is often used as a support in everyday operation. This can involve future plans for a fossil-free fleet, setting environmental standards in procurement, environmental adaptation of travel facilities and follow-up of the company's environmental goals. Hanna's main focus currently is to establish environmental ambitions for the city transport with prospects towards 2035.
Per-Erik Lund is a Project Manager and an employee of Keolis which runs Volvo buses on line 55. He has worked in the public transport industry since the 1980s and is specialised in traffic planning and issues related to design and optimisation. Per-Erik regards smart and attractive public transport as key enablers for future urban planning.