The role of 5G in train-to-ground communications
Find out more about what rolling stock operators need to know about 5G train-to-ground communications, as well as how Teldat can assist with specific hardware and software solutions.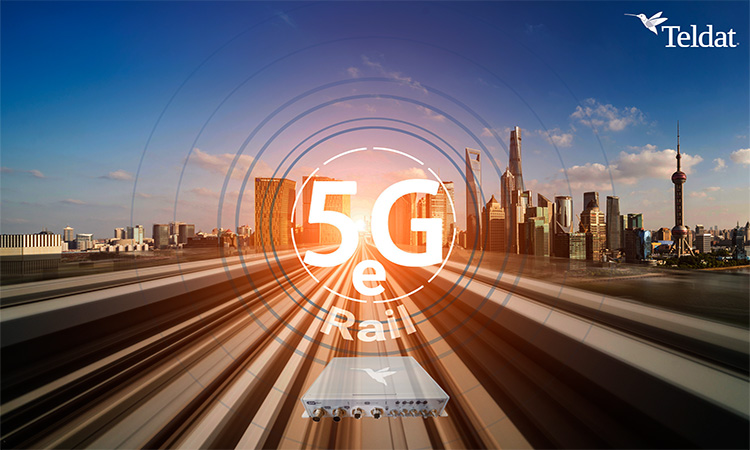 To make connected rolling stock a reality, operators need reliable train-to-ground communications. Because, without external connectivity, it is impossible to realise the benefits of real-time systems, such as Internet of Things (IoT) led predictive maintenance – or, even, to provide on-board Wi-Fi for passengers.
With the advent of 5G, cellular technology has evolved to a point where truly digitalised rolling stock becomes possible. Up to 100x faster than its 4G predecessor, 5G will be critical to the success of real-time operations on-board trains. But, how does train-to-ground communication actually work?
How do train-to-ground communications work?
Historically, digitalised rolling stock would carry out periodic data dumps during routine stops, either at a station or maintenance yard. This asynchronous process precludes real-time operations, however – the information received is already out-of-date by the time it is offloaded. And, without a 'live' train-to-ground link, operators cannot offer services like on-board internet connectivity to their passengers.
Real-time digitalised rolling stock relies on a WAN connection to link the on-board network with the rest of the world. However, because the rolling stock is always moving, traditional fixed links will not work. Similarly, gaps in wireless coverage mean that a single wireless channel is unlikely to maintain the always-on connectivity required for real-time operations.
This means that operators will need a solution capable of delivering WAN connectivity across multiple channels. Onboard Wi-Fi traffic will need to be routed externally across 5G or satellite connections according to connectivity limitations at any point in time.
How does Teldat enable 5G communications on trains?
Train-to-ground communications are the cornerstone of rolling stock digitalisation. Our deployments use a ruggedised router to provide multi-WWAN connections – ready for direct integration with your existing SDWAN configurations. The Teldat router can be retrofitted to any rolling stock to provide train-to-ground connectivity. 5G support is provided through the addition of the 5Ge-Rail, a simple external module seamlessly connected via Ethernet to the central router, increasing available fallback connectivity options and communications reliability. A multi-SIM option adds even more resilience, allowing your rolling stock to automatically switch WWAN connections as and when required to maintain communications, even in challenging environments.
Teldat's router also ensures public and corporate traffic is properly segregated, using point-to-point encryption to prevent network infrastructure attacks. The onboard SDWAN will be instrumental in stopping WLAN interception, limiting unwanted traffic propagation and blocking malware downloads. By enabling rolling stock to connect to 5G networks, operators are able to develop real-time tools and applications that allow them to improve the efficiency of their service and the longevity of their fleet. 2.5Gbps network connectivity offers sufficient bandwidth to collect, analyse and act on IoT sensor data in real-time, for instance. Now able to see the health and performance of their rolling stock, fleet managers will be able to implement proactive maintenance routines before an asset fails, for instance. But the Teldat solution set goes beyond the 5Ge-Rail Router. On-board traffic management can be performed with the H2-Rail Router, for instance. And the APR2044ax Wi-Fi 6 Access Point delivers high-speed Wi-Fi and Bluetooth connectivity for onboard devices – including those belonging to your passengers.
Teldat also simplifies the process of managing IoT sensors and making sense of the collected data. The be.IoT Platform gives improved remote control of on-board devices, reducing the need for physical maintenance or data collection. Sensor data is uploaded in real-time over the on-board 5G connection and collated in the cloud-based be.IoT platform. The built-in Artificial Intelligence (AI) technology then analyses incoming data to identify trends that may indicate a potential problem – or opportunities to further improve operations. And, in the event that your rolling stock travels outside 5G coverage, the router falls back to an LTE alternative – or uses the built-in dual SIM capabilities to switch cellular networks.
It is important to note that Teldat's 5Ge-Rail router is not just a rebadged system – it has been specifically designed to meet the vibration and extreme temperatures present on railway rolling stock. For this reason, the router (and other rolling stock networking hardware) has full on-board train certifications (EN 50155, EN 50121-3-2, EN 301 511, EN 301 908-1, EN 45545-2).
Conclusion
Digitalising rolling stock is becoming an operational priority as operators seek to maximise the value of their assets and to improve operations. Central to these goals will be 5G cellular connectivity, which finally delivers the high-speed, low-latency required for real-time operations. To meet these requirements, Teldat has developed a complete range of rolling stock equipment and solutions to ensure that operators are able to take advantage of the 5G revolution. Our products provide the train-to-ground connection required to build a truly digitalised fleet.