Top trends series: upping the game in mobility and logistics
ABOUT THIS WEBINAR
In the first of our Top trends at ITS European Congress 2019 webinar series, our expert speakers discussed safety and efficiency projects such as 5G-MOBIX which leverages 5G in support of Cooperative, Connected and Automated Mobility (CCAM) and C-MobILE which accelerates the large scale deployment of multimodal cooperative ITS (C-ITS) in eight European cities and regions.
These projects can result in streamlined mobility solutions and a better transport experience for users, with better-managed traffic flows, and access to a wide range of innovative transport services, from automated buses and commuter services to automated valet services for the elderly – the possibilities are endless.
Other discussions were based on logistics and platooning. Speakers delved into ERTICO's AEOLIX project which leverages digital technologies to improve efficiency and to contribute to transport and logistics digitalisation of goods supply chains in Europe. As well as ENSEMBLE, an H2020 project using ITS-G5 technologies, that is paving the way for the adoption of multi-brand truck platooning, to assist drivers and improve traffic safety.
KEY LEARNING POINTS:
Safety and Efficiency gains
Empowering the user
The changing face of logistics
Given the critical importance of mobility and logistics services to our social and economic lives, technologies and solutions that increase the efficiency of these services can have a major societal impact. These inspiring technologies and solutions are the focus of a large number of European R&D and innovation projects, many of which will be showcased at the ITS European Congress in Brainport Eindhoven, the Netherlands, on 3-6 June, 2019.
KEYNOTE SPEAKERS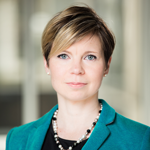 Piia Karjalainen, Senior Manager for Mobility as a Service, ERTICO ITS Europe
Areas of expertise: Urban mobility | MaaS
Piia holds a Master of Science in Economics from the University of Joensuu and she speaks Finnish, English and basic French. Piia Karjalainen joined ERTICO's Clean & Urban Mobility team in June 2017 and she is currently Senior Manager for Mobility as a Service. Her expertise lies within mobility as a service; transport, climate and energy policy; strategic planning; clean mobility; project management and public procurement. Before joining ERTICO, she has worked for the European Parliament and the Finnish Ministry of Transport & Communications.
François Fischer, Senior Manager for 5G | Connectivity & Automation –  ERTICO ITS Europe
Areas of expertise: 5G | Connectivity & Automation
François Fischer holds a Master of Science in IT and Telecommunications engineering from ISEN in Lille, France. He worked as Telecommunications development engineer and then project leader at Siemens in Germany. Then he created a start-up in Sophia Antipolis to lead projects for the validation of Telecommunications and IP networks. At ETSI he participated in many Specialist Task Forces on standardisation and interoperability testing activities and he organised several Plugtests interoperability events, before joining ERTICO in 2011. A French native speaker, François also speaks English and German.
Liad Itzhak, SVP Head of HERE Mobility, HERE Technologies
Liad Itzhak leads HERE Mobility, the Mobility business unit at HERE Technologies, driving the next revolution of the mobility ecosystem. Liad brings with him vast experience as a leader in the world of smart-mobility, with expertise in consumer apps and Big Data. Prior to joining HERE, he built key units at Waze/Google from the ground up, including Data, Maps and QA. Liad also led Data strategy for the company, turning Waze into a data-driven organization.
Jos van Kleef, CEO, Goudappel Group
Jos van Kleef is since 2011 the CEO of Goudappel Group which is a consultancy and IT company on traffic & mobility, market leader in the Netherlands. Goudappel has 250 employees and has been established in 1963. In the last years Goudappel is working on international expansion, specifically in Belgium, Germany, the Nordics and the USA. Jos' experience is for more than 20 years in the ITS world and public transport, like the introduction of the public transport chip card in the Netherlands
Klaas Rozema – International Research Director – Dynniq
Klaas Rozema is presently International Research director at Dynniq, a European Mobility and energy technology company. Klaas is active in the international ITS community serving on the strategy committee of Ertico, the BoD of the ITS World congress and the steering committee of the European TM 2.0 platform.
Within Dynniq Klaas is responsible for the European research programs.