Bus Engineer turns inventor and saves First Aberdeen thousands
First Aberdeen Engineer, Denis Noble, has saved the company thousands of pounds…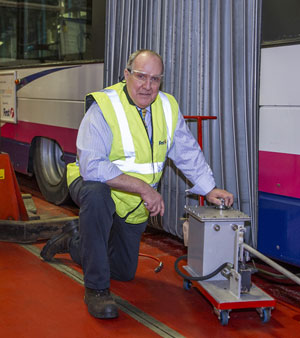 First Aberdeen Engineer Denis Noble
First Aberdeen Engineer, Denis Noble (67), has saved the company thousands of pounds after inventing a new piece of kit which helps maintain First's 32 bendy buses.
Until Denis' invention, First used a specialist contractor outside Aberdeen to repair and maintain 'turntable rams', which are located in the middle section of a bendy bus and help keep the vehicle aligned. However, the cost of taking the bendy buses out of service, transporting them off-site as well as paying the cost of the repairs was proving expensive.
The job can now be done in-house thanks to Denis' design of a unique oil storage tank with pump.
"I was increasingly frustrated with the overall cost to the business," said Denis, who has been an engineer at First Aberdeen for two years. "There seemed to me to be a relatively simple alternative, and so I sketched out some designs, approached a local engineering company and had it built. I was confident it would be successful but it proved to be even more effective than I had anticipated.
"I've made tools for specific jobs before – it's something I enjoy doing," he added. "But for the time being my focus has returned to my day job of ensuring that our buses deliver a good service for customers."
Duncan Cameron, First Aberdeen's Director and General Manager, predicted that Denis' invention will save the company more than £15k a year. "For the few weeks that it has been in operation it has proved incredibly successful. Denis' attention to detail and flair for engineering has certainly reaped rewards. In identifying efficiencies like this and saving the company money, we are able to use those savings to re-invest in the business and improve services for customers."
Originally from Glasgow, Denis has spent his career spanning more than 40 years working in the transport industry. He has enjoyed roles as a driver, mechanic, engineer and director at a range of bus and haulage companies in Scotland. Before agreeing to take on a role at First Aberdeen, Denis was employed by First Glasgow.