Alstom's Citadis Dualis tram-train now in service on Western Lyon's second line
"Citadis Dualis is the result of Alstom's know-how…"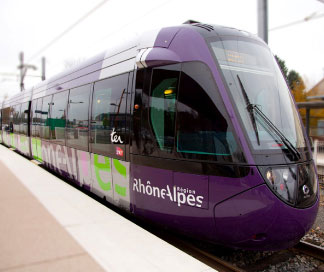 On December 8th, 2012, Rhône-Alpes Regional Council Chairman Jean-Jack Queyranne, SNCF Regional Director Josiane Beaud, RFF Regional Director Anne Lambusson, as well as Gérard Collomb, Senator, Mayor of Lyon and Chairman of Greater Lyon, Michel Mercier, Senator and Chairman of Rhone County Council, and Jérôme Wallut, Managing Director of Alstom Transport France, will all be on hand to attend the official commissioning of Alstom's Citadis Dualis tram-train for the second line in the Western Lyon Area. The new trams will travel on a line linking Lyon's Saint-Paul Station to Brignais. This event will happen two months after the inauguration of the first Citadis Dualis tramway route in Western Lyon, linking Saint-Paul train station to Saint-Bel.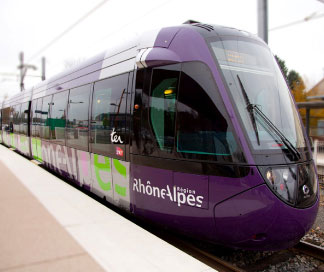 Citadis Dualis contributes in boosting the economy of France's regions, for it is designed and assembled in Alstom Transport's French facilities, including the site in Villeurbanne (on-board electronic and signalling systems) which employs close to 700 employees. Other facilities taking part in its manufacture are Valenciennes (Nord-Pas de Calais Region) for engineering and tram assembly, Le Creusot (Burgundy) for bogies, Ornans (Franche-Comté) for motors and Tarbes (Midi-Pyrénées) for the traction systems.
Designed to bridge city center and its suburb, Citadis Dualis is able to penetrate the city core as a tram and travel along regional railway tracks, thanks to special features involving power, safety and comfort. This kind of configuration makes it a versatile, innovative and efficient mode of transport which can go some way towards fostering a modal transfer from private cars towards public transport. Compared with a standard Regional Express Train (TER), Citadis Dualis' acceleration capacity gives it the means to provide better segmented service within suburban areas, calling at more stations without increasing travel time from one end of the line. As a result, pursuing the development of this kind of tram throughout the Paris Region and across the railway networks surrounding France's major and medium metropolitan areas is clearly a crucial issue in improving commuter travel.
Alstom Transport France Managing Director Jérôme Wallut stated that "Citadis Dualis is the result of Alstom's know-how, shared with its partners in France's rail industry sector. It was designed for and with the regions. Using a French solution that is both technically and economically efficient, it contributes in meeting the new needs in suburban mobility which are emerging all over the country."
In May 2007, SNCF who was acting on behalf of the regions, signed a €650m framework order with Alstom Transport to design and manufacture 200 Citadis Dualis tram-trains, including a firm batch for 31 trams: 7 for the Pays de la Loire region, and 24 for the Rhône-Alpes region. Since then, the Pays de la Loire region has exercised options on 17 additional trams. In all, 48 Citadis Dualis trams were ordered. In the Pays de la Loire region, Citadis Dualis tram-trains have been travelling on the Nantes-Clisson line since June 2011, showing very good results in reliability, availability and passenger satisfaction.