Bombardier to Supply 65 Additional FLEXITY Outlook Trams for Brussels
The Brussels Transport Company STIB, has decided to confirm the acquisition of 65 bi-directional BOMBARDIER FLEXITY Outlook trams…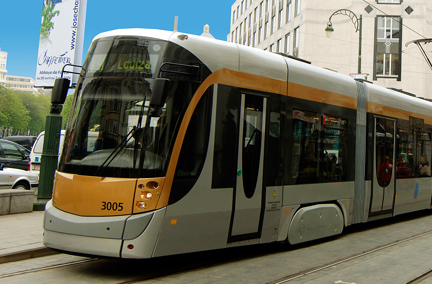 The Brussels Transport Company STIB (Société des Transports Intercommunaux de Bruxelles) has decided to confirm the acquisition of 65 bi-directional BOMBARDIER FLEXITY Outlook trams.
This confirmation results from two contracts signed in 2008 and is valued at 170 million euro ($235milllion US). The delivery of the 100% low-floor trams is scheduled between January 2013 and the end of April 2015.
The trams, 46 of which are 32 m long and 19 of which are 43.4 m in length, are equipped with the reliable BOMBARDIER MITRAC propulsion and control system. They will be manufactured at Bombardier's Bruges site in Belgium, while the bogies will be produced at the Siegen facility in Germany.
Bombardier received its first order from STIB for 46 FLEXITY Outlook trams in October 2003. The first option order for a further 22 vehicles in September 2005, the second follow-on order in January 2008 for 87 additional vehicles and today's confirmation order for 65 vehicles bring the total number of trams ordered from Bombardier for Brussel to 220 trams. This means that STIB now has the largest tram fleet of one vehicle type worldwide.
Alain Flausch, Chief Executive Officer, STIB, stated: "By confirming today this 65 FLEXITY Outlook vehicles order, we aim to reach our strategic objective of acquiring and operating, under competitive terms, a homogeneous fleet of a quality light rail vehicle which has received strong appreciation from our clients" The supervising Minister, Brigitte Grouwels, also fully supports the purchasing programme of vehicles which will provide extra capacity on the STIB network.
"This order confirms STIB's satisfaction with the quality and performance of the FLEXITY trams supplied. We are proud to be able to deliver sixty-five additional vehicles to Brussels and provide STIB with the largest fleet of a single type of trams worldwide," commented Germar Wacker, President, Light Rail Vehicles, Bombardier Transportation.
In 2007 Design Flanders awarded a Henry van de Velde Label 2007 to the FLEXITY Outlook tram and from January 21 to March 21, 2009 two Brussels trams successfully operated in Vancouver during the Winter Olympic and Paralympic Games transporting over 550,000 people.
More than 1,500 FLEXITY vehicles are already in successful revenueservice. Overall Bombardier now has more than 3,000 trams and light rail vehicles operatingor on order in cities across Europe, Australia and North America.