First non-European Secretary-General appointed at the International Transport Forum
The International Transport Forum appointed Dr. Young Tae Kim as its new Secretary-General at the its Paris headquarters on 21 August.
The International Transport Forum (ITF) has appointed Dr. Young Tae Kim as its new Secretary-General.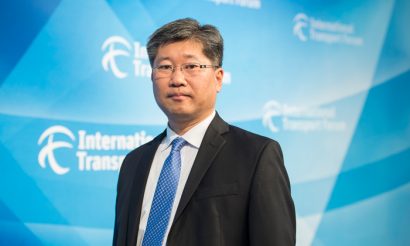 As a Korean national, Kim is the first non-European to lead the world's only all-modes transport organisation and took up his position at the organisation's Paris headquarters on 21 August 2017.
Prior to becoming ITF Secretary-General, Kim served as a Director-General in Korea's Ministry of Land, Infrastructure and Transport. His career also included roles working for the President and the Prime Minister of Korea as well as three years at the Korean Embassy in Washington, D.C.
Kim holds a doctorate degree from the Institute d'Etudes Politiques (Science-Po) in Paris, France.
"It is a privilege to lead an organisation that drives global dialogue for better transport," Secretary-General Kim said upon taking office. "Transport technology and services are changing in dramatic ways that require new policy responses. I want ITF to be a global pioneer of advanced transport policies for the 21st century.
"The ITF is the only global body with a mandate for all transport modes. We are known for our cutting-edge research and policy analysis. Our annual summit is already the world's leading platform for global transport policy dialogue. My ambition is to develop the ITF into a truly interactive platform that will be able to develop core orientations for the future of transport in a time of change and disruption.
"The ITF should continue to grow and become even more global. I want to reach out to further countries in emerging world regions.
"As I am taking over the leadership of ITF, I also pay tribute to my predecessor, José Viegas. His achievements over the past five years provide a strong foundation to build on."
The ITF acts as a policy think tank for its 59-member countries and organises the annual summit of transport ministers. Created as global intergovernmental transport organisation in 2006, the ITF evolved out of the European Conference of Ministers of Transport founded in 1953.