North West guided busway on track for operation
Posted: 17 February 2016 | Katie Sadler, Digital Content Producer, Intelligent Transport | No comments yet
The North West's first guided busway is on track for full service on 03 April 2016, providing quicker more reliable bus connections between Wigan, Salford and Manchester. Operator First Greater Manchester unveiled the Vantage service brand on 20 January 2016. The route will see up to eight low-emission hybrid buses an hour joining communities and […]
The North West's first guided busway is on track for full service on 03 April 2016, providing quicker more reliable bus connections between Wigan, Salford and Manchester.
Operator First Greater Manchester unveiled the Vantage service brand on 20 January 2016. The route will see up to eight low-emission hybrid buses an hour joining communities and business centres along the route. Journey times will be cut from one hour 20 minutes between Leigh and Manchester city centre to as little as 50 minutes.
Eight low-emission hybrid buses an hour
As well as quicker connections, a 4.5 mile traffic-free guided section and bus priority measures along the A580 will mean trips should be more punctual and reliable.
The twenty new low-emission hybrid buses will feature e-leather seating, free wi-fi, USB charging points, climate control and on-board "next stop" audio and visual announcements. Services will begin a 4am and continue to run beyond midnight.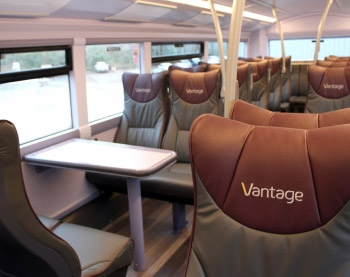 Councillor Andrew Fender, Chair of Transport for Greater Manchester Committee, said: "The Vantage bus service will provide the local communities all along its route with a level and quality of service seldom seen outside first-class travel and it is exciting to see guided busway services getting off to such a great start. It will ensure people living in these areas can access the many opportunities for work, leisure and study anywhere between Wigan, Salford and Manchester. This investment will benefit all the communities it serves by providing them with easy, reliable connections." 
Ian Humphreys, Head of Commercial for First Greater Manchester, added, "First Greater Manchester is proud to be the bus service partner of this important transport project in the region that will provide faster and more reliable connections with high quality services. We're looking forward to delivering a premium service at everyday fares helping connect existing and new customers across this busy corridor."
"The guided busway will open up new opportunities for our communities"
Councillor David Molyneux, Wigan Council's cabinet member for regeneration, said: "The guided busway will open up new opportunities for our communities and bring a huge economic boost to the towns of Leigh, Atherton and Tyldesley and the surrounding areas. It will open up new employment opportunities for our residents and connect our businesses with new customers. We are delighted we are approaching the beginning of this new chapter for public transport in Wigan Borough and want as many residents as possible to reap the benefits the guided busway will bring."