New fleet planned for Merseyrail network
Posted: 4 September 2015 | Katie Sadler, Digital Content Producer, Intelligent Transport
Merseytravel has put forward plans to introduce a new train fleet for its Merseyrail network by the early 2020s. Merseytravel, the executive body that provides professional, strategic and operational transport advice to the Liverpool City Region Combined Authority, has announced plans to introduce a new Merseyrail flee replacing the aging 40 year-old stock which is […]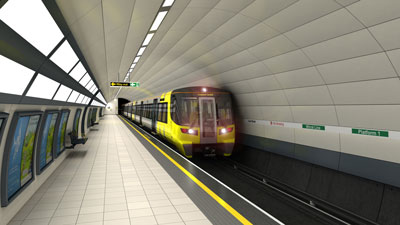 Proposed rolling stock design for Merseyrail
Merseytravel has put forward plans to introduce a new train fleet for its Merseyrail network by the early 2020s.
Merseytravel, the executive body that provides professional, strategic and operational transport advice to the Liverpool City Region Combined Authority, has announced plans to introduce a new Merseyrail flee replacing the aging 40 year-old stock which is approaching the end of its operational life.
The proposed replacement programme follows the development of a detailed business case over many months which looked at all options from refurbished stock to new stock now or in future.
According to Merseytravel, a new set of trains from the early 2020s is considered the best option to support the delivery of the City Region's Long Term Rail Strategy (LTRS) by providing a fleet that could carry significantly more passengers and run on a potentially extended network.
By 2028 passenger numbers are expected to rise by 40 percent, with some parts of the Merseyrail network predicted to be 160 percent filled by 2043. It is hoped the new trains will provide greater capacity and reduce journey times to help meet the growing demand.
The Merseytravel Committee will take a decision at its meeting on 1st October as to whether to approve the commencement of the procurement process for new trains. If agreed, an OJEU notice, which invites bidders to submit their plans will then be published.
Merseyrail passenger numbers expected to rise by 40 percent by 2028
In approving the LTRS, Combined Authority leaders have already acknowledged the need for a new fleet within the next 30 years in order to deliver aspirations of Merseyrail services to places such as Warrington and Crewe.
The investment programme, worth in the region of £400 million, also includes funding in infrastructure such as depots and power supplies at no extra cost to the tax payer.
Merseytravel Chief Executive, David Brown said: "Doing nothing is not an option. The fleet is amongst the oldest in the UK and we want to ensure that we're geared up to maintain the high standards people have come to expect from Merseyrail, as well as ensuring the fleet can cope with a significant increase in passenger numbers.
"This is not just about new trains, but what they will enable us to do. They will help us improve links within and beyond the city region, supporting our own ambitions and those of the wider 'Northern Powerhouse' agenda, as well as benefitting us in very real economic terms, stimulating the creation of jobs and contributing millions of pounds every year to the Liverpool City Region economy."