TETRA – delivering essential benefits and double digit growth
Posted: 12 March 2015 | Phil Kidner, CEO, TETRA + Critical Communications Association
TETRA is the most successful critical communications standard in the world, and continues to advance from strength-to-strength. Phil Kidner, CEO of the TCCA (TETRA + Critical Communications Association), looks at the technology's continued impact on the transport industry.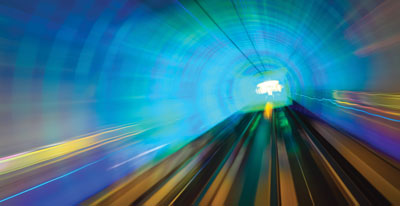 The transportation market is the second largest market for TETRA after public safety – and it continues to grow. According to IHS, the European TETRA transport market is set to grow by 9% over the next five years – with the global market hitting double digit growth with a 12% predicted increase.
This success is well deserved. TETRA delivers all the benefits essential for transport operators to run their networks effectively and safely, including:
Comprehensive, inherent, built-in PMR functionality
Direct Mode Operation, for direct communications outside the main radio network
Fast and consistent voice call set-up even over wide area connections.
Flexibility in choice of frequency bands, especially in UHF – e.g. 350-370, 380-400, 410-430 and 450-470 MHz bands.
Improved spectrum efficiency (four times more channels for communications using an equivalent amount of spectrum) and reduced bandwidth requirements compared with 200kHz GSM-R channels
Operation at the lower end of UHF band – resulting in better coverage and leading to fewer base stations to cover the same distance
Simultaneous voice and data
High speed packet data services (multi-slot packet data and TEDS) for mission-critical and safety critical applications support.
Multi-vendor support and competition for the core system, subscriber radios and peripherals.
The news at the beginning of 2015 from Finland demonstrates the strength of TETRA, as the radio system for rail transport is to be changed. There are moves to stop using the current GSM-R network and to switch over to the authority network VIRVE, which is a TETRA network.
Radio communications technology has made giant strides over the past 20 years since the decision was taken during the mid-1990s to develop GSM-R technology for European railways, in order to enable cross-border operation for international service. It should be remembered that at that time TETRA was in its infancy compared with GSM, and has matured and evolved since then. Today, transport operators around the world are re-evaluating the most appropriate and most cost effective digital radio technology for next-generation radio communications which will effectively complement existing and future operations.
UK, Scotland, Germany, Sweden and Hungary
Elsewhere in Europe, TETRA implementations continue. Significant projects in 2014 include Kapsch CarrierCom's contact win for the implementation of a TETRA network for Nexus, the strategic public transport body in North East England, based in Newcastle, which owns and manages the Tyne and Wear Metro – Great Britain's most used public transport system outside London – which is also a TETRA network.
The Tyne and Wear Metro system is used annually by 37 million passengers. The new digital radio system will be installed on the Metro's fleet of 90 trains, replacing the existing analogue system. It will contribute to safe and smooth operation in the future and it will establish the basis for Nexus to develop and expand its service offerings. The project forms part of the £389 million Metro 'all change' modernisation programme – an 11-year programme of work on the Tyne and Wear Metro funded by the UK Government.
In Germany, Motorola Solutions embarked on a project to modernise and expand the existing TETRA system at the public transport alliance Rhein-Neckar-Verkehr GmbH (rnv), one of the largest traffic alliances in Germany. This is an 11-year contract that includes technical 24/7 support, maintenance and repair, system upgrades and security updates to ensure the ongoing smooth operation of rnv's TETRA digital radio system. rnv operates the suburban railway, tram and bus routes in several cities as well as the regions of Rhine-Neckar, Rhine-Palatine, Bad Dürkheim and Bergstrasse, carrying more than 164 million passengers per year.
TETRA systems can be found all around Europe's transport networks, helping to ensure the safe carriage of people and property. In Sweden, Värmlandstrafik, the main public transport organisation for the Värmland region, has migrated its legacy communication system to Rakel, Sweden's nationwide public safety TETRA network. Värmlandstrafik chose Rakel, which was already widely deployed in the region, for its exceptional audio quality and the vital role that communication plays in the management of efficient and reliable public transport systems. Also in Sweden, Göteborg's Traffic and Public Transport Authority (TPTA) looks to TETRA to help the operation of the largest tram network in Europe, accounting for 60% of commuter traffic on public transport compared with 2% for commuter trains.
In Scotland, the Strathclyde Partnership for Transport (SPT) uses TETRA for its digital communications requirements in the Glasgow Subway, the world's third oldest underground railway, which carries more than 13 million passengers a year.
TETRA is also on Metro Budapest in Hungary, one of the oldest underground systems in Europe and the first fully automated metro – all over Europe, and all around the world, people are travelling with TETRA.
The TCCA (TETRA + Critical Communications Association) has a Working Group focused on TETRA in Transport. The Transport Group provides a platform for everyone interested in TETRA and mission critical broadband implementation in the transportation sector including railways, metros, trams, buses, ports and harbours, and airports. Participants share experiences and information, focusing on the market potential for future projects as well as representing users' interests.
The Group is open to all TCCA members and interested parties from the transport industry and holds regular conference calls and meetings. The main objectives of the group are to understand the industry's changing requirements for mission critical communications and relay these to members and industry; to define additional complementary services which might be required; to assist with standards development working with other TCCA Sub Groups and ETSI, and to assist with the hosting of workshops to share knowledge and information1.
Finland in focus
Finland currently uses the RAILI network as the radio system for rail transport, which is a GSM-R network set up in accordance with EU legislation. However, interference from commercial networks causes problems in the use of GSM-R telephones. Meanwhile, the use of the GSM-R network weakens reception of mobile communications networks on trains. In addition, the network systems are becoming obsolete. The current GSM-R network would have to be completely rebuilt by the end of 2018.
The Finnish Government feels that it would be most appropriate and least expensive to shift over to using the VIRVE authority network pending a decision at the EU level on a new system. The investment and running costs of the VIRVE network would be significantly lower than those which would be incurred from continuing to use GSM-R, in upgrading the radio network and the communications system for traffic managers.
As GSM-R is the only option under EU legislation for a new radio system in rail transport, Finland plans to ask the Commission for an exception to allow the introduction of the VIRVE radio system. Finland can start to transition to the VIRVE network as soon as a request for an exception has been put to the Commission. The Finnish Transport Agency plans to take the VIRVE radio system into use as quickly as possible, in accordance with the decision made by the Cabinet Committee on Economic Policy.
Under the leadership of the Ministry of Transport and Communications, actors in rail transport, telecommunications companies, and offices of the transport and communications field conferred in 2013 to examine ways of improving the audibility of mobile communications on trains. The matter was examined at the request of the Transport Division of the Parliamentary Finance Committee. The primary goal was the elimination of interference on commercial mobile communications networks of telecommunications companies and the railways' own mobile communications network. One of the options under investigation was that the Finnish Transport Agency and VR would decide to start using the authority network VIRVE as a replacement to the railways' GSM-R network.
Why choose TETRA?
Transport has always played its key part in our societies, getting people closer, carrying freight and goods and helping to develop cities and regions. City life is built around solid and punctual transportation infrastructures, backed-up with cutting-edge technologies.
European cities have taken the lead in the construction of new metro lines and tramways for more than 100 years, but this could not have been possible without the deployment and assistance of radio communications systems.
With the appearance of TETRA in the 1990s, digital radio technology started replacing the existing analogue radio systems, offering extra functionality as well as the performance necessary to support any transportation infrastructure, not just for voice transmission, but also for data, enabling new applications such as GPS-based real time location, and signalling.
Teltronic is one of the major players in the TETRA industry, with several hundred TETRA networks deployed and commissioned worldwide. Their transport implementations in Nottingham in England and Bergen in Norway are good examples of the multiple benefits that TETRA solutions can offer.
The tramway extension in Nottingham (UK), operated by the Tramlink consortium, includes the construction of two new lines with an overall distance of 17.5km and 29 stations. The system consists of TETRA infrastructure, supporting portable and fixed desktop terminals. In addition, there are special on-board terminals specifically intended for railway operation. These on-board terminals will be used to manage different train sub-systems, made possible by the outstanding capabilities that the TETRA standard offers: data services to support those applications that demand massive data transmission, whilst simultaneous voice and data functionality guarantees that voice calls will be established at the same time as data applications are running. The customer benefits from cost saving, since there is no need to deploy a second radio network to support data transmission.
With this implementation, there was a challenge as none of the common TETRA frequency bands were available for this particular TETRA system. There is only one way to overcome this – by finding a spectrum portion that is not being locally used by any agency or company and by redesigning all the TETRA RF components to support this new frequency band.
The spectrum portion in between 425 and 446 MHz was available and allocated for the network. Teltronic adapted all the TETRA equipment, making sure that the performance and normal operating conditions were not affected at all and all the current regulations were fully complied with, especially those concerned with emissions and adjacent channel power.
When voice communications are mandatory and data is critical, TETRA supports all these services and applications with a single system. Neither extra investment in further spectrum nor extra radio equipment are necessary, and future applications will benefit from simple scalability by adding new carriers.
The Norwegian city of Bergen recently put a new public tramway line into operation, using best-in-class management and control systems, which count on a TETRA radio communication system.
Among the functionalities provided by the TETRA system, it is worth highlighting voice communications with the driver, interface with the public address system and the intercoms for connectivity between the Operation Control Centre and the passengers. The TETRA air interface also supports train-to-ground communications for traffic regulation and remote monitoring of vehicles.
This project involved a challenge with the integration of third parties supplying these railway traffic regulation and control application (AVLS). Adaptation capabilities and the well-proven experience managing these integrations are essential values to guarantee the project success.
Bergen and Nottingham will profit from all the advantages and strengths provided by TETRA technology. Through voice and data communication services, both operators are currently able to:
Leverage continuous voice communication with all staff as well as passengers
Offer real-time information such passengers
Exchange operational data in order to improve system performance
Manage their human and material resources in a more efficient way
Monitor real-time vehicle status
Count on GPS positioning system and improved data transmission applications to optimise data transmission over the TETRA air interface
Have communication groups based on the work performed or location.
Text courtesy of Teltronic
Keeping Bonn on the move
How do you keep one of Europe's busiest cities moving while making things as easy as possible for the radio network dispatchers? We discover how Bonn keeps the wheels rolling.
Stadtwerke Bonn (SWB) provides the people of the city with public transportation, as well as energy and water. In 2012, it carried 88.5 million passengers. To help it do all this, SWB relies on TETRA radio communications. The system handles 1,100 individual calls, 450 group calls and 1.1 million SDS messages every day.
Andreas Giersberg is System Administrator for SWB's TETRA system: "The biggest user group is primarily public transportation," said Andreas, "but parts of the water and electricity departments also use it."
Public transportation is managed from a single control centre. Connected to a similar control centre in a neighbouring Cologne region, the service appears seamless to public transport vehicles moving between the cities.
Location information and situation data such as mileage from all buses, trams and subway trains are transmitted as SDS messages over TETRA into a central traffic management application (ITCS) in Bonn's control centre. Cologne has the same system and when a vehicle leaves one city and enters the other, it automatically appears on the other city's system. Another key TETRA function is the emergency call, activated by pressing a hidden button in the vehicle. This is an important feature for protecting drivers and passengers.
All public transportation vehicles are equipped with TETRA mobile radios that include a GPS receiver. The information is relayed to passenger information systems that display when the next train or bus is coming. Although day-to-day routines are automated, SWB runs Dispatcher Workstations in case the main public transport control system fails.
"The Dispatcher Workstations are our last line of defence," says Andreas. "They are also used during major festivals, for example, to communicate with maintenance staff."
SWB is in the process of modernising its dispatching stations to an IP infrastructure. "When selecting a dispatching solution, we look for reliability, flexibility and availability, with the ability to freely configure the user interface and tailor it to match the operational process. It is like being able to serve every dispatcher's wishes," says Andreas.
Acknowledgements
TCCA would like to thank Hytera, Kapsch, Motorola, Rohill, Sepura, and State Security Networks of Finland for contributing to this article.
Reference
To find out more, please contact

[email protected]

.
Biography
Phil Kidner is Chief Executive Officer of the TETRA + Critical Communications Association (TCCA) which represents a membership of more than 160 organisations around the world and is dedicated to supporting the mobile communications needs of professional users worldwide. In his role as CEO, Phil's main responsibilities include: to promote the TETRA standard and its benefits of security, resilience and interoperability, and manage its evolution to ensure the needs of all users are met; to oversee the work of the TCCA's Critical Communications Broadband Group, which is driving the development and adoption of common global mobile broadband standards and solutions for critical communications users; and to seize opportunities for the TCCA to work with other interested parties to lobby for appropriate harmonised spectrum in which to deploy the critical broadband services and applications of the future. As the communications world converges, Phil is building and strengthening relationships with industry organisations and user groups across the world to help drive the critical communications market forward. Phil joined the TETRA Association, as it was then, in April 2006 from PITO, now the NPIA, in the UK. Having originally joined PITO as a seconded police officer – he retired from the police force in 2003 after 30 years' service – Phil gained an in-depth experience in all stages of major TETRA project implementation, from initial specification through procurement and implementation to service management. He was involved in the UK's Airwave programme from its inception in 1994. Phil represented PITO on the TETRA Association Operators and Users Forum, is a Past President of BAPCO and was Chair of the System Specification Group of Project MESA, an international partnership between ETSI and the US TIA addressing future mobile broadband communications.