When station-to-station becomes door-to-door in Spain
Setting up a MaaS platform is one thing – establishing it as the backbone of commuters' and leisure travellers' mobility choices is another. Watch this webinar to learn from Renfe, Siemens Mobility and NTT DATA about (one of) the biggest public-driven MaaS projects in the world.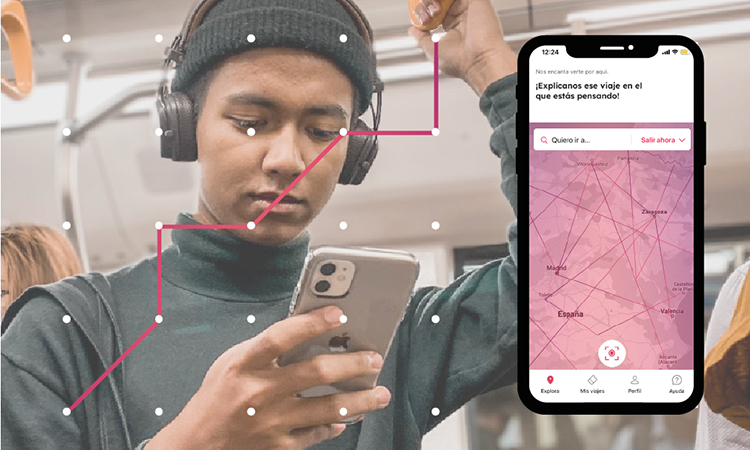 In addition to the 47 million citizens that call the country their home, 84 million tourists travel through Spain every year. The country has one of the world's largest foreign tourism industries and, therefore, a high demand for smart and sustainable mobility concepts.
In Summer 2021, Renfe, the national railway company of Spain, awarded Siemens Mobility and NTT Data with a five-year contract to develop and operate a countrywide, intelligent Mobility-as-a-Service (MaaS) platform.
The comprehensive digital mobility platform, named dōcō, will integrate various modes of public and shared transport – such as train, metro, bus, taxi, e-moped and scooter sharing – so that passengers can easily identify and directly plan, book and ride the trip option that best meets their needs. It will facilitate the shift to more sustainable travel by providing passengers with attractive alternatives to the private car on every route. The platform will soon be available all across Spain, including metropolitan areas like Madrid, Barcelona, Valencia, Bilbao and Sevilla.
In this webinar, Maximilian Kaiser from Siemens Mobility and Pablo Vázquez from NTT DATA will share and explain:
The main objectives of the strategic project
The ecosystem and stakeholders of the MaaS project
How the project is planned and executed
How the platform is structured from a technical perspective
The roll-out plan and roadmap
The communication and marketing strategy
Challenges and lessons learned.
Speakers
Sonia Segade Blanco, Head of Technological Transformation, RENFE

Since March 2020, Sonia Segade has been Head of Technological Transformation at Renfe Operadora and her responsibility is to promote transformation projects that add value to Renfe's business. In addition, she has been professor of postgraduate program "Smart Mobility: Intelligent Systems of Transport" at Universidad Politécnica de Catalunya.
Sonia started her professional career in 2006 and has a wide experience in digital transformation projects for large companies like Everis, Telefónica or Iberdrola among others. She has helped companies to transform their business by taking advantage of disruptive and advanced technologies. Mainly focused on digital transformation projects (e-commerce, digital marketing, content management, etc.), mobility and the latest technology trends (big data, IoT, IA, etc.).
Maximilian Kaiser, International Sales Director & Project Coordinator, Siemens Mobility
Maximilian Kaiser is responsible for international sales and project coordination of the software business within Siemens Mobility, working with public transportation agencies and mobility players across the world. Within the past four years, he contributed to the successful implementation of various projects in the field of MaaS, like the project dōcō. Maximilian holds a Master's Degree in Industrial Engineering and Management, and started to work for Siemens in 2012. One of his recent positions at Siemens was in Singapore for the regional business development of mobility solutions.
Pablo Vázquez Calvo, Head of Mobility-as-a-Service & Project Manager of dōcō, NTT DATA EMEAL
Pablo Vázquez Calvo is a service-oriented professional, with more than 20 years of experience in the Consulting Industry, high involvement in client's needs and challenges, and a board experience in implementing transformational projects in different companies, sectors and competence areas. Pablo is currently the head of the Mobility as a Service area in NTT DATA EMEAL, as well as the manager of the dōcō project implementation
FAQs
Is the webinar free?
Yes – there is no charge to watch the webinar, either live or on-demand.
When will the webinar take place?
The webinar will be taking place on 13 December 2022 at 10:00 CST/ 15:00 GMT/ 16:00 CET.
Can I watch the webinar later?
The webinar will be available to watch on-demand shortly after the live broadcast takes place.
What are the benefits of attending live?
During the live webinar, you will be able to pose questions to the speakers, which will then be answered during the live Q&A session at the end of the webinar.
How long will the webinar be?
The live webinar will last for up to one hour.
Who will be moderating?
Leah Hockley, Editor, Intelligent Transport.
What do I need to watch this webinar?
All you need is a computer with an internet connection. It is advised to use headphones where possible for your own comfort.