Delhi Metro extends e-rickshaw last mile services to 29 stations
The Delhi Metro Rail Corporation has added e-rickshaw services to 12 more metro stations, taking the total of stations to 29 where a fleet of over 1,000 e-rickshaws are operational.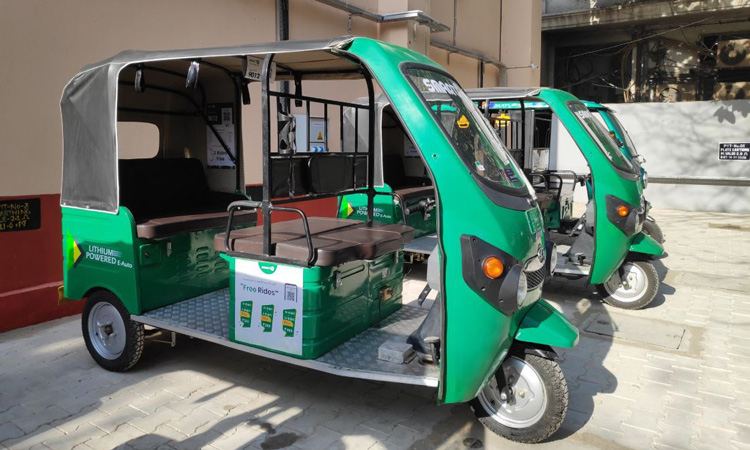 Credit: Delhi Metro Rail Corporation (DMRC)
In a bid to improve last mile solutions, the Delhi Metro Rail Corporation (DMRC) has extended the facility of e-rickshaw services (SmartEs) to 12 more stations across the Delhi Metro network.
To date, over 800 e-rickshaws were in service from 17 stations facilitating over 100,000 passengers to reach their destinations/stations daily. 12 more stations are likely to be extended with the same facility within next two to three months wherein around 500 more e-rickshaws will be put into service to strengthen last mile connectivity.
The GPS enabled SmartEs are said to be specially designed to cover last mile connectivity within an area of three to four kilometres around metro stations, with full cabin coverage for safety. Commuters can book vehicles through the SmartE app and pay digitally for their rides.
In recent years, DMRC has introduced a number of initiatives to ensure a robust last mile connectivity system, which aims to enable commuters to prefer non-polluting public transport modes over personal vehicles. Some of the initiatives taken in recent years are:
Feeder Buses: 174 Non-AC CNG feeder buses are being operated on 32 feeder routes approved by State Transport Authority. The services are available from 69 metro stations
Cab Aggregator Kiosks: Uber Booking kiosks are available at 12 metro stations with 50 more kiosks planned at metro stations by the end of March 2020. In all, kiosks are planned for 210 Metros stations
E-scooter services: rental services are available from four metro stations, with plans for this to be extended to three additional metro stations
Public bicycle sharing services: pedal cycle services are operational from 16 metro stations and battery operated cycle services are operational from 36 metro stations.