Tube Passengers benefit from platform cooling system
Posted: 17 August 2015 | Katie Sadler, Digital Content Producer, Intelligent Transport
A new platform cooling system has been installed at St Paul's London Underground station, pumping cold air onto the eastbound Central line. Transport for London (TfL) has introduced a new chiller system, designed and built by London Underground's cooling team, to lower platform temperatures by up to seven degrees. Fresh air is drawn from the […]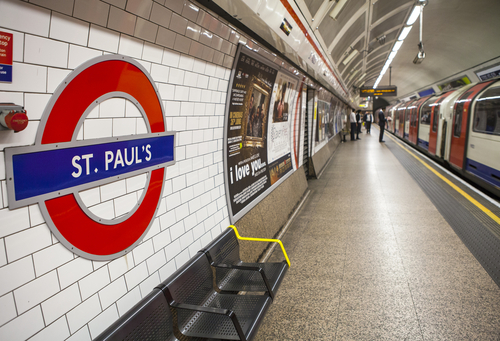 A new platform cooling system has been installed at St Paul's London Underground station, pumping cold air onto the eastbound Central line.
Transport for London (TfL) has introduced a new chiller system, designed and built by London Underground's cooling team, to lower platform temperatures by up to seven degrees. Fresh air is drawn from the street via the systems ventilation fan, it is then cooled by a water chiller system which circulates 16 litres of cold water every second around the pipes in the ventilation shaft cooling the air as it enters the platform. According to TfL the ventilation fan is capable of moving the equivalent of 15 double-decker buses full of air every minute.
Traditional cooling systems have been ineffective or too costly on the 115 year old tunnels and stations of the Central Line. The implemented cooling system will help lower platform temperatures as part of the New Tube for London project. The programme aims to introduce walk-through air-cooled trains to the deep-level Tube network including the Central line in the 2020s.
David Waboso, London Underground's Capital Programmes Director, said: "We know travelling around London during the summer months can be uncomfortable which is why we are always looking for innovative ways to tackle the temperature. Cooling the Tube is a big engineering challenge, but we're making significant steps forward and, by the end of 2016, 40 per cent of the Underground network will be served by air conditioned trains. Projects like the installation of a fan chiller system at St Paul's Tube station demonstrate how London Underground has some of the most skilled, creative people in the business when it comes to developing entirely new ways to cool London's Tube."
In addition, a larger fan chiller system is being installed this summer at a mid-tunnel ventilation shaft on the Victoria line between Walthamstow Central and Blackhorse Road Tube stations. The work is being done to coincide with the period of major improvement works on the Victoria line this month which will enable the operation of 36 trains per hour next year. The new fan chiller system will be ready for next summer and mean more comfortable temperatures for passengers at the northern end of the Victoria line.